HOME | EVENTS | MENU | ABOUT | FAQ |
Artists: for booking go to the FAQ page for the avails calendar and details on making submissions
The CROOKED EYE BREWERY is now at Jamey's House of Music, offering fresh, cold ales on tap!

Try all twelve thirst quenching brews with your dinner, and enjoy the show in high style!

This year will introduce hard ciders and Pennsylvania wines and spirits for your drinking pleasure, at our beautiful new bar!

Crooked Eye will also be barrel aging their hand crafted ales right on site!

It's a bit of irony that we've been awarded this year's "Best of Delco" Award for live music venues. We are so grateful for this recognition of all the love and hard work that we've put into making Jamey's House of Music the very best and thank you from the bottom of our hearts for your support.
The irony is that we've been completely shut down since early March 2020 along with everyone else. Live music venues, restaurants and bars were the first to close, and will be the last to reopen. As a health care professional, I've seen what this virus does to others and have experienced its effects myself. We've been closely following things, and the experts are now predicting a hard winter with both COVID and the Flu hitting at once, and any vaccine will take months to roll out... so, with that fact staring at us, we don't think we can reopen safely until March 2021 at the earliest. We care about our customers and support people over profits.
During this time in shutdown, we have completed major upgrades and renovations to enhance your safety and enjoyment. We exceed CDC recommended best practices in all areas. We utilize continuous interior air quality monitoring and data logging to ensure that our space maintains ASHRAE guidelines for safe air quality. We've added extensive hospital grade HEPA 13 and charcoal room air filtering and negative ionizers, high power germicidal UV-C lights for nightly surface disinfection, plexiglass shields for the tables, hand sanitizer stations, MERV 13 filtering in the central air conditioning, single use disposable and QR code phone readable menus, non-shared salt and pepper shakers, single use condiments, contactless payment options, and a high temperature dishwasher system. We deep sanitize all surfaces in the restrooms and on stage each evening with an electrostatic sprayer and NSF rated disinfectant. We maintain social distancing guidelines, one-way entry and exit flow and mandated capacity limits. Our gloved and masked staff is trained in good infection control high touch cleaning and service procedures and we have complimentary masks available for patrons that arrive maskless. We also sell JHOM branded 3 ply black cotton masks.
We have installed a big new front window and a beautiful music themed stained glass window, and completed construction of a gorgeous new bar with 12 ales on tap and a line chiller system running from the basement walk-in cooler up to the tap tower to keep the brews ice cold right to your glass. We opened up an eight foot section of the 15" thick stone wall between the stage and the library dining room to provide a clear view of the stage from the side. Finally, we repaired and repainted the whole building facade, added a stainless steel website URL sign, and have an awesome new 8' high, bright red, guitar shaped marquee sign with LED lights. The whole roof has been replaced too.
We can't wait to welcome you back to a full weekly concert schedule at the best live music venue in the east!
---
YOU SAID IT...
"BY FAR the best live music venue on the East Coast"
"...the coolest venue in the universe..."
"Best. Venue. Ever."
"We just bought a house in Lansdowne to be closer to Jamey's"
"Truly the very coolest venue for live music ANYWHERE"
The Lightyears: "Jamey's House of Music is in our top 3 all time venues to play along side The 02 Arena & Marquee Club, London"
"Home. It's doesn't get any warmer than being in Jamey's House!"
"We've played every kind of venue imaginable on several world tours, and I have to tell you that this is probably the best venue we have ever played. It's simply brilliant. Thank you for everything done to perfection."
"Jamey Reilly couldn't possibly have created a finer oasis for musicians to perform. It's really a gem. SERIOUSLY! Everybody try and get a date there!!! (Just leave some room for us because we're definitely going back!!!)"
"Amazing! A hidden, intimate live music venue with impeccable sound. Sat at long tables next to total strangers and it felt like being with family. Delicious food (and great craft beer the night I was there). It's rare to find a venue owner who cares this passionately about the music! Two big thumbs up."
"Last night we debuted at Jamey Reilly's Jamey's House of Music. Jamey has outdone himself. He has an incredible backline, and the sound, which he engineers is exquisite. Working with Jamey helps make performing seamless. He knows what he is doing and is an excellent communicator. He is also a musician, which helps a great deal (the man has ears). The food at this venue is incredible. The flavor-I can't begin to find the words to express how excellent it is. If you have not been to Jamey's House of Music, get down there, catch a show. Get there early and enjoy the amazing cuisine. It will blow your mind."
"This small room is by far the best sounding music venue I've ever experienced. It's a truly exceptional labor of love..."
"Not enough room here to tell you how fabulous this venue is—music, people, food, on-tap beer, and staff are all top drawer! Prices are fantastic! The photos are shrimp over grits and a fabulous vegan burger with vegan bacon!"
"THE place to Jam!!! Jamey is the man, the myth, the legend. Great equipment & exceptional drum set."
"Jamey's is the BEST. People who never heard of the band will show up to listen, because they KNOW Jamey books the official bands, has the great food, great sound, great atmosphere...and now great craft beer. WORLD CLASS JOINT, yo!"
"I tell everyone about Jamey and Jamey's House of Music. Everyone in Nashville knows about this place. I play some of the best rooms in the world, like the Bluebird, Douglas Corner, Third and Lindsley, places with great sound systems, and nothing beats the sound in this room. ...This is my favorite place to play in the whole world."
"The sound is absolutely perfect. I could hear every note of every instrument. Just incredible."
"Great pro sound, fantastic food, great beer and an owner that is a super nice human!!!"
"Congratulations to the incredible Jamey Reilly for spending this (COVID shutdown) time improving facilities at the already fabulous Jamey's House of Music, the best music venue in the Philadelphia area."
I'm a "venue snob" and this place is AWESOME ! Cozy, intimate, acoustically A+, comfy seating, bathroom is spotless, people are warm & friendly ... can't wait to return !
"... a dream performance space. Perfect acoustics, top quality production values, a visually lovely setting, and an overall aesthetic ambience that, like a tea ceremony, lifts every gesture to it's highest level. It's perfection, both for the audience and the performers."
"Intimate music venue with great artists. Offers several craft beers on tap— a full bar bar with Pennsylvania spirits and cider is soon to come. The excellent food and friendly service are an added delight. Highly recommend Jamey's for an enjoyable evening of music and dinner at a reasonable price. Also very gluten friendly."
"Totally going again soon! A++++++!!!"
"I can't even explain how delicious everything was."
"One word. ..incredible!"
"Awesome food..."

---
Jamey's House of Music Tee Shirts Are Now Available!
High quality, black, all cotton Champion tagless shirts with 5 color silk screen
in sizes S to XXL. Only $20!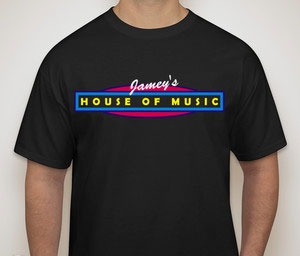 We happily accept cash, and these major charge cards

---
JAMEY'S HOUSE OF MUSIC
Livehouse, Restaurant and Bar
32 S. Lansdowne Ave. Lansdowne PA 19050
Call - 215.477.9985 • Fax - 215-879-1457
jamey@jameyshouseofmusic.com
greg@jameyshouseofmusic.com for booking

Proud Member