HOME | EVENTS | MENU | ABOUT | FAQ |
Artists: for booking go to the FAQ page for the avails calendar and details on making submissions

The CROOKED EYE BREWERY is now at Jamey's House of Music, offering fresh, cold ales on tap!

Try all twelve thirst quenching brews with your dinner, and enjoy the show in high style!

Hard ciders and Pennsylvania wines and spirits round out the offerings for your drinking pleasure, at our beautiful new bar!

Crooked Eye will also be barrel aging their hand crafted ales right on site!


Please note that spaced seating is limited to 30 masked guests due to mandated covid restrictions for the time being. Jamey's has implemented mitigation measures that greatly exceed CDC guidelines to help keep you safe and worry free.
However, if you are not ready to return to live indoor concerts, our full HD stereo pay-per-view option is the perfect alternate way to experience the whole show as it happens.
Friday, April 2, 2021

RUPERT WATES

"A prime figure in American music" - Folk And Acoustic Music Exchange

Concert - $15 online advance / $18 door
Kitchen - 6pm, Showtime - 8pm
Rupert Wates was born in London and studied at Oxford University. He has been a full time songwriter since the late 1990s, when he signed a publishing contract with Eaton Music Limited. In London he worked with some of the best performers in the city. Moving in 2001 to Paris, Wates formed his own quartet and began playing live regularly. In fall 2006 he came to the US. He is now based in New York City and Colorado. Since coming to the US, he has won more than 40 songwriting and performing awards (www.rupertwatesmusic.com/awards).
His music is an eclectic mix of acoustic, melodic art/folk, with flavors of jazz, vaudeville and cabaret. He has released nine solo CDs. They have received outstanding reviews in the international online press and tracks from them have been played on radio all over the world. In addition, Wates' songs have been covered by other artists in the UK, Canada and the US. Two full length tribute CDs to his material have been recorded: 'Crazy Puzzle' (2015) by Nashville-based performer Roxie Rogers, and 'Wide Open Heart' (July 2017) by Los Angeles vocalist Susan Kohler. Both these CDs were initiated and funded entirely by the artists themselves, and comprise exclusively songs taken from Rupert Wates' back catalog. Over 20 recordings featuring Wates's songs by other artists were made in 2016, and more are scheduled for 2017 (full list at www.rupertwatesmusic.com/covers).
In 2010 Wates released Joe's Café, an album of 15 original songs based on true stories, each interpreted by a different vocalist, retelling the stories of ordinary American people. Through them we trace the story of America itself: through two world wars, the Dust Bowl depression, Vietnam and the struggle for Civil Rights, all the way to the present day. Recorded live in the studio in a single weekend, the album's warm sound evokes the welcoming atmosphere of an all-night café, where friends gather to share their stories. Featured virtuoso musicians on the recording include Darol Anger on violin and Michael Manring on bass.
Joe's Café has been presented very successfully at Festivals throughout North America, and in other venues in New York City and in the southeastern United States. The show won Best Music Revue in the 2010 San Francisco Fringe Festival. More information about Joe's Cafe is at www.bitemusiclimited.com.
In 2014, Wates joined forces with Toronto-based virtuoso pianist Bartosz Hadala to form a piano/guitar duo called The Nightwatchers (www.thenightwatchers.com). The duo tour Canada and Europe regularly. In March 2015 they recorded and released a debut CD entitled The Nightwatchers, featuring some of the standout songs of Wates' extensive catalog.
Rupert Wates averages 120 live shows every year, in front of audiences totaling more than 3,500, in acoustic venues in every state in America, in Canada and in Europe. He performs sometimes alone, sometimes with his trio or his quartet. He prefers smaller listening rooms where the audience is up close and the emphasis is on the music. He was voted an Artist Of The Year in both 2013 and 2016 by the international house concert network Concerts In Your Home (www.concertsinyourhome.com), and for five years running he has been the most booked performer on their database of several hundred artists. In 2018, Wates was a Finalist in the Kerrville New Folk Song Contest, and an Emerging Artist at Falconridge Folk Festival.

Despite Wates' British background, and underpinning the universality of his music's appeal, Folk And Acoustic Music Exchange has called him "a prime figure in American music'' (www.acousticmusic.com) and goes on: "This is one gifted sonofabitch... If you're not hip to this guy yet you're missing out."
Audiences everywhere respond to Wates' brand of melodic art/folk—haunting songs that ring true.
Discography: Lamentations (2020), Full Circle (2019),The Lights Of Paris (2017), Colorado Mornings (2016), The Nightwatchers (2015), The Rank Outsiders Ball (2014), At the Losers' Motel (2012), Joe's Café (2010), Dear Life (2008), Coast to Coast (2007) and Sweet or Bitter Wine (2005).
Saturday, April 3, 2021

VENOM BLUES BAND

No strangers at Jamey's, Venom Blues is coming back to kick it up one more time!

Concert - $15 online advance / $18 door
Kitchen - 6pm, Showtime - 8pm
The Mid-Atlantic's hottest Blues band performing original work and remakes of Blues greats such as Muddy Waters, Johnny Winter, Robert Cray, the Chambers Brothers and other Blues legends. Venom Blues appears throughout Delaware, Maryland, New Jersey and Pennsylvania and rolls out several sets of seriously smokin' Blues tracks that will have you out on the floor "stompin' yo' feet". This ain't your Grandmomma's Blues, so come prepared to hear a little something special and don't be surprised if you get bit by the seduction that is "The Blues"!
With the understanding that The Blues is an art form that deserves serious attention to detail, The Blues also leaves a lot of room for interpretation and innovation. Venom Blues carries that one step further into today's music scene with a bit more edge and a lot more energy. The musical dynamics and variety of styles presented at a Venom Blues show always leaves the crowd "wantin' mo", so c'mon down y'all, don't be shy. Give Venom Blues a try!
Venom Blues was formed in late 2005 by veterans of the Delaware and Northeast music scene, who collectively, have well over a hundred years of musical experience. They were brought together by an extreme desire to rekindle the flames of the artistry known as The Blues and carry it forward to a new generation. Delaware has seen it's share of the best Blues musicians that have toured the world. Venom Blues seeks to carry on that tradition, so keep your eyes open - The Blues can strike real fast...
We'd definitely like to give appreciation to those lovers of "da blues" who continue to make every show special and who have moved us to #4 locally in Wilmington and #33 regionally in Philadelphia on Reverbnation's charts. We thank you!
Due to the dedication of our fans the blues continues its dominance in the musical world!
Remember...
We don't play the blues, we release it!
Make sure you check out the fourth and latest CD from Venom Blues! Just Waiting!...
Every Sunday! Starting 4/4/21


SUNDAY BLUES BRUNCH & JAM

• Philly Blues Society Meet-up
• featuring the Philly Blues Kings

No Cover Charge! 12:00 pm to 3:00 pm
Blues lovers and players have made Jamey's their home away from home, and know that this is the best place to come for some really good and inexpensive eats, ales on tap from Crooked Eye Brewery, fresh ground coffee and espresso, great music, and friendly people. The vibe is home-like and cool, and the sound is out of this world. Jamey's provides a full professional grade backline, so players only need to bring their instrument to jump up on stage and jam.
The open mic jam runs from noon to 2 pm, and the smoking hot Philly Blues Kings lays down a set from 2 to 3 pm.
The Philly Blues Society hosts the weekly meet-up where members new and old can come to play, eat, drink, chat and enjoy a day soaked in the blues. Many guests also like to host gatherings or parties during the brunch, as there are tables and chairs for dining, and comfortable seats to listen to the music - and it does not cost them a thing to meet up there! Plus, it is wheelchair accessible, and has plenty of free local parking. Being right in the center of downtown Lansdowne, next to the train station, there is abundant public transportation as well.
Check out the mouth watering brunch menu on our menu page.
No reservations are needed. Just load up some friends and head on down!
http://www.phillyblueskings.com
Every Thursday! Starting 4/8/21


THURSDAY NIGHT JAZZ JAM

• featuring the Dave Reiter Trio

No Cover Charge! 6:00 pm Kitchen - Jam 8:00 to 10:30 pm
Jamey's is proud to be the newest home base for the Philadelphia region's world class jazz community. We welcome players and lovers of all things jazz to come and hang your hat and enjoy an evening of outstanding live music, at no charge, in our cool and classy listening room and restaurant. We feature a full professional backline including a dual manual Hammond organ with leslie, Nord keyboard, Bucks County drums and an assortment of top quality amplifiers... not to mention the best sound system of any small club on the east coast.
The Dave Reiter Trio lays down the backing for some out of this world jazz to happen, and you never know who might show up to join in. Reiter is a long time jazz pro, and is equally at home on the 7 string guitar, Nord keyboard or our top of the line Hammond organ setup. Bill Marconi is on drums, his name is known to jazz aficionados around the world. Holding down the bottom on most nights, is first-call Philly bassist, George Livanos.
Doors open at 6pm for dinner, no reservations needed, and the music generally starts at 8pm. There is abundant local free parking, and we are a few steps from the Lansdowne train from Philly. We feature fresh cold ales on tap from the Crooked Eye Brewery, Fresh brewed Green Street Coffee, espressos and our excellent dinner menu earns rave reviews... all at modest prices. Our friendly staff is at your service.
Won't you join us for a great night out?
---
YOU SAID IT...
"BY FAR the best live music venue on the East Coast"
"...the coolest venue in the universe..."
"Best. Venue. Ever."
"We just bought a house in Lansdowne to be closer to Jamey's"
"Truly the very coolest venue for live music ANYWHERE"
The Lightyears: "Jamey's House of Music is in our top 3 all time venues to play along side The 02 Arena & Marquee Club, London"
"We can't wait until you have your venue up and running again!! It's recognized as one of the top small venues in the region, if not in the entire country!!"
- Black Oak Artists
"Home. It's doesn't get any warmer than being in Jamey's House!"
"We've played every kind of venue imaginable on several world tours, and I have to tell you that this is probably the best venue we have ever played. It's simply brilliant. Thank you for everything done to perfection."
"Jamey Reilly couldn't possibly have created a finer oasis for musicians to perform. It's really a gem. SERIOUSLY! Everybody try and get a date there!!! (Just leave some room for us because we're definitely going back!!!)"
"Amazing! A hidden, intimate live music venue with impeccable sound. Sat at long tables next to total strangers and it felt like being with family. Delicious food (and great craft beer the night I was there). It's rare to find a venue owner who cares this passionately about the music! Two big thumbs up."
"Last night we debuted at Jamey Reilly's Jamey's House of Music. Jamey has outdone himself. He has an incredible backline, and the sound, which he engineers is exquisite. Working with Jamey helps make performing seamless. He knows what he is doing and is an excellent communicator. He is also a musician, which helps a great deal (the man has ears). The food at this venue is incredible. The flavor-I can't begin to find the words to express how excellent it is. If you have not been to Jamey's House of Music, get down there, catch a show. Get there early and enjoy the amazing cuisine. It will blow your mind."
"This small room is by far the best sounding music venue I've ever experienced. It's a truly exceptional labor of love..."
"Not enough room here to tell you how fabulous this venue is—music, people, food, on-tap beer, and staff are all top drawer! Prices are fantastic! The photos are shrimp over grits and a fabulous vegan burger with vegan bacon!"
"THE place to Jam!!! Jamey is the man, the myth, the legend. Great equipment & exceptional drum set."
"Jamey's is the BEST. People who never heard of the band will show up to listen, because they KNOW Jamey books the official bands, has the great food, great sound, great atmosphere...and now great craft beer. WORLD CLASS JOINT, yo!"
"I tell everyone about Jamey and Jamey's House of Music. Everyone in Nashville knows about this place. I play some of the best rooms in the world, like the Bluebird, Douglas Corner, Third and Lindsley, places with great sound systems, and nothing beats the sound in this room. ...This is my favorite place to play in the whole world."
"The sound is absolutely perfect. I could hear every note of every instrument. Just incredible."
"Great pro sound, fantastic food, great beer and an owner that is a super nice human!!!"
"Congratulations to the incredible Jamey Reilly for spending this (COVID shutdown) time improving facilities at the already fabulous Jamey's House of Music, the best music venue in the Philadelphia area."
I'm a "venue snob" and this place is AWESOME ! Cozy, intimate, acoustically A+, comfy seating, bathroom is spotless, people are warm & friendly ... can't wait to return !
"... a dream performance space. Perfect acoustics, top quality production values, a visually lovely setting, and an overall aesthetic ambience that, like a tea ceremony, lifts every gesture to it's highest level. It's perfection, both for the audience and the performers."
"Intimate music venue with great artists. Offers several craft beers on tap— a full bar bar with Pennsylvania spirits and cider is soon to come. The excellent food and friendly service are an added delight. Highly recommend Jamey's for an enjoyable evening of music and dinner at a reasonable price. Also very gluten friendly."
"Totally going again soon! A++++++!!!"
"I can't even explain how delicious everything was."
"One word. ..incredible!"
"Awesome food..."

---
Jamey's House of Music Tee Shirts Are Now Available!
High quality, black, all cotton Champion tagless shirts with 5 color silk screen
in sizes S to XXL. Only $20!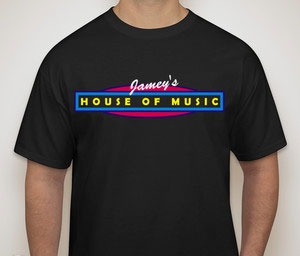 We happily accept cash, and these major charge cards

---
JAMEY'S HOUSE OF MUSIC
Livehouse, Restaurant and Bar
32 S. Lansdowne Ave. Lansdowne PA 19050
Call - 215.477.9985 • Fax - 215-879-1457
jamey@jameyshouseofmusic.com
greg@jameyshouseofmusic.com for booking