HOME | TICKETS | MENU | ABOUT | FAQ |
(Open Friday or Saturday nights only if a show is scheduled)
Friday and Saturday Concerts
6:00 PM to 11:30 PM
Sunday Blues Brunch
11:30 AM to 4:30 PM
Every Sunday Rain or Shine

SUNDAY BLUES BRUNCH AND BLUES JAM SESSION



Hosted by the PHILLY BLUES KINGS, featuring two sets of flaming hot blues (12 to 2) followed by an open mic (2 to 4:30) for blues players.



$4 at the Door, 11:30 am to 4:30 pm
No reservations needed. Grab your favorite axe, a bottle of wine and some friends and head on over. Delicious brunch will be served all day. What a great way to begin the new week with a happy stomach and an ear full of some of the best blues in the east.
http://www.phillyblueskings.com
Saturday, December 2, 2017

DAN MAY BAND



"The annual Birthdaypalooza concert is back!!"

CONCERT - $18 Online/$20 Door, 8:00 pm
Singer-songwriter Dan May's career path has taken more twists and turns than a corkscrew in a hurricane. He has worked as a grave-digger, television cameraman, short-order cook, nuclear missile security guard, gas station attendant, ice cream truck driver, delivery man, amusement park worker and greenhouse laborer; all before the age of 25.

While studying music composition in college, he inadvertently stumbled upon an international opera career that forced him to leave a promising future as a songwriter behind. Cut to 15 years later, and after a vocal cord surgery that left him no longer able to meet the demands of opera, Dan returned to doing what he does best; writing and performing his own songs.
Dan May has a way of crafting a song that immediately resonates with the listener. Referred to by the Philadelphia Inquirer as "a master storyteller," he's released 6 albums of Americana songs in a short 10-year span, and his latest CD, "Heartland," like the other five, has met with critical acclaim. And whether those songs are about pain or joy, the listener feels like a part of the story being sung. In addition to his songs, his live shows include excerpts read from his new book "Adventures In Grocery Shopping, named as one "Best Books of 2016" by the Philadelphia Inquirer.
Saturday, December 9, 2017

VICTOR WAINWRIGHT
& THE TRAIN



BB King Entertainer and Band of the Year, and three time Pinetop Perkins Piano Player of the Year!

CONCERT - $30 Online/$35 Door, 8:00 pm
One of the most exciting piano performers on the roots music scene today, Wainwright has been making a very big name for himself. Known for his raucous, high-octane boogie-woogie performances, Victor is a crowd pleaser with Memphis soul to spare. As American Blues News put it, "he is always entertaining and madly talented. You will never see Victor play a room and not go over with the crowd in a big way."
Victor consistently places in the top ten in every blues and roots chart, and has earned a place alongside greats like Bobby Rush, Buddy Guy, Tab Benoit, Luther Allison, Albert Collins, Little Milton, Koko Taylor, Stevie Ray Vaughan, Clarence "Gatemouth" Brown & Bobby 'Blue" Bland."
Victor Wainwright and the Train is: Victor Wainwright - Lead Vocals and Keyboards, Terrence Grayson - Bass Guitar and Vocals, Patrick Harrington - Guitar and Vocals, Billy Dean - Drums and Vocals.
Sunday, December 31, 2017

MINAS QUARTET
A Night in Rio!



"A New Year's Eve Celebration - Lansdowne Style!"

CONCERT - $40 Online/$45 Door
8:30 pm to 10:30 pm - dinner, 10:30 pm to 1:00 am Minas in Concert.
A very special New Year's Eve - Lansdowne Style is in the works, so mark your calendars now! Featuring Lansdowne's own Minas, great Brazilian recipes from Jamey's kitchen, BYOB and YOU! We're bringing Carnaval and a taste of Rio to New Year's Eve! Minas will hand out percussion instruments at midnight to lead the audience in drumming in the new year!
Minas Quartet featuring Orlando Haddad (guitar, vocals, percussion), Patricia K. Haddad (keys, vocals, percussion), Jim Stager (bass, percussion), Tom Cohen (drums, percussion)
Featuring core-members Orlando Haddad and Patricia King, internationally acclaimed Minas is one of the most established Brazilian Jazz musical groups in the US today. With a few decades experience performing and recording, the music of Minas creates an intimate and unforgettable musical tapestry that transports and inspires listeners. Indicated for 3 Grammy awards for their 2009 CD release Bossa Nova Day, and 4 Grammies for the 2015 Symphony in Bossa, Minas has performed in Brazil, Scotland, and in US major national venues such as Lincoln Center in New York, Kennedy Center in Washington DC, and the Kimmel Center in Philadelphia.
Founded in 1978 when Orlando and Patricia were students at University of North Carolina School of the Arts, drawing from Brazilian traditions of samba, bossa nova, baião, axé, combined with American jazz, blues, and folk, as well as classical music, Minas mixes north and south seamlessly.
Jamey's House of Music will whip up Feijoada, the Brazilian national dish for dinner (included in the ticket price). It is a hearty dish featuring rice, black beans (with meat or vegetarian option), greens, oranges, and salsa on the side.
Our regular menu will also be available.
We'll be fixing up delicious bauru sandwiches, for a separate charge. This is Brazil's answer to the Philly cheesesteak, and features roast beef (or vegetarian beef) smothered with mozzarella, tomatoes and pickles on a Portugese roll. A free glass of Yards draft ale will be given with each bauru sandwich!
As always, it is BYOB, so remember the champagne for the stroke of midnight. Go ahead and dress up... it's Carnaval in Lansdowne!

---
YOU SAID IT...
"BY FAR the best live music venue on the East Coast"
"Last night we debuted at Jamey Reilly's Jamey'a House of Music. Jamey has outdone himself. He has an incredible backline, and the sound, which he engineers is exquisite. Working with Jamey helps make performing seamless. He knows what he is doing and is an excellent communicator. He is also a musician, which helps a great deal (the man has ears). The food at this venue is incredible. The flavor-I can't begin to find the words to express how excellent it is. If you have not been to Jamey's House of Music, get down there, catch a show. Get there early and enjoy the amazing cuisine. It will blow your mind."
"This small room is by far the best sounding music venue I've ever experienced. It's a truly exceptional labor of love..."
"THE place to Jam!!! Jamey is the man, the myth, the legend. Great equipment & exceptional drum set."
"We've played every kind of venue imaginable on several world tours, and I have to tell you that this is probably the best venue we have ever played. It's simply brilliant. Thank you for everything done to perfection."
"I tell everyone about Jamey and Jamey's House of Music. Everyone in Nashville knows about this place. I play some of the best rooms in the world, like the Bluebird, Douglas Corner, Third and Lindsley, places with great sound systems, and nothing beats the sound in this room. ...This is my favorite place to play in the whole world."
"The sound is absolutely perfect. I could hear every note of every instrument. Just incredible."
"Best. Venue. Ever."
"... a dream performance space. Perfect acoustics, top quality production values, a visually lovely setting, and an overall aesthetic ambience that, like a tea ceremony, lifts every gesture to it's highest level. It's perfection, both for the audience and the performers."
"Totally going again soon! A++++++!!!"
"I can't even explain how delicious everything was."
"One word. ..incredible!"
"Awesome food..."

---
Jamey's House of Music Tee Shirts Are Now Available!
High quality, black, all cotton Champion tagless shirts with 5 color silk screen
in sizes S to XXL. Only $20!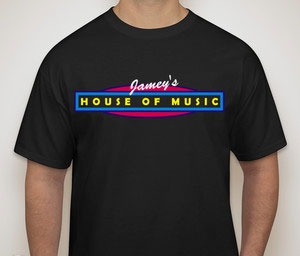 We happily accept cash, and these major charge cards

---
JAMEY'S HOUSE OF MUSIC
Livehouse and BYOB Cafe
32 S. Lansdowne Ave. Lansdowne PA 19050
Call or text - 215.477.9985 • Fax - 215-879-1457
jamey@jameyshouseofmusic.com