HOME | TICKETS | MENU | ABOUT | FAQ |
Artists: for booking go to the FAQ page for the avails calendar and details on making submissions
Thursday Night Jazz Jam
(FREE ADMISSION)
6:00 pm dinner (no reservations needed)
~ 8:00 pm jam time
Friday and Saturday Concerts
(or canned music if no band)
6:00 pm dinner (no reservations needed)
8:00 pm show time
Sunday Blues Brunch
(FREE ADMISSION)
12:00 pm to 3:00 pm
The CROOKED EYE BREWERY is now at Jamey's House of Music, offering fresh, cold ales on tap!

Try all of the thirst quenching brews with your dinner, and enjoy the show in high style!

This year will introduce hard ciders and Pennsylvania wines and spirits for your drinking pleasure, at our soon to be built bar!

Every Sunday!


SUNDAY BLUES BRUNCH & JAM

• Philly Blues Society Meet-up
• featuring the Philly Blues Kings

FREE ADMISSION! 12:00 pm to 3:00 pm
Blues lovers and players have made Jamey's their home away from home, and know that this is the best place to come for some really good and inexpensive eats, ales on tap from Crooked Eye Brewery, fresh ground coffee and espresso, great music, and friendly people. The vibe is home-like and cool, and the sound is out of this world. Jamey's provides a full professional grade backline, so players only need to bring their instrument to jump up on stage and jam.
The open mic jam runs from noon to 2:00 pm, and the smoking hot Philly Blues Kings lays down a set from 2:00 to 3 pm.
The Philly Blues Society hosts the monthly meet-up where members new and old can come to play, eat, drink, chat and enjoy a day soaked in the blues. Many guests also like to host gatherings or parties during the brunch, as there are tables and chairs for dining, and comfortable seats to listen to the music - and it does not cost them a thing to meet up there! Plus, it is wheelchair accessible, and has plenty of free local parking. Being right in the center of downtown Lansdowne, next to the train station, there is abundant public transportation as well.
Check out the mouth watering brunch menu on our menu page.
No reservations are needed. Just load up some friends and head on down!
http://www.phillyblueskings.com
Every Thursday!


THURSDAY NIGHT JAZZ JAM

• featuring the Dave Reiter Trio

FREE ADMISSION! 6:00 pm to 10:30 pm
Jamey's is proud to be the newest home base for the Philadelphia region's world class jazz community. We welcome players and lovers of all things jazz to come and hang your hat and enjoy an evening of outstanding live music, at no charge, in our cool and classy listening room and restaurant. We feature a full professional backline including a dual manual Hammond organ with leslie, Nord keyboard, Bucks County drums and an assortment of top quality amplifiers... not to mention the best sound system of any small club on the east coast.
The Dave Reiter Trio lays down the backing for some out of this world jazz to happen, and you never know who might show up to join in. Reiter is a long time jazz pro, and is equally at home on the 7 string guitar, Nord keyboard or our top of the line Hammond organ setup. Bill Marconi is on drums, his name is known to jazz aficionados around the world.
Doors open at 6pm for dinner, no reservations needed, and the music generally starts at 8pm. There is abundant local free parking, and we are a few steps from the Lansdowne train from Philly. We feature fresh cold ales on tap from the Crooked Eye Brewery, Fresh brewed Green Street Coffee, espressos and our excellent dinner menu earns rave reviews... all at modest prices. Our friendly staff is at your service.
Won't you join us for a great night out?
Friday, January 24, 2020

THE DUVETS






Concert - FREE ADMISSION
Dinner - 6pm, Showtime - 8pm

The Duvets are Rich Pena and George Gaston, a couple of accomplished musicians here to entertain you with a vast repertoire of cover songs.
https://www.facebook.com/theduvetsphilly/
Saturday, January 25, 2020

MICHAEL SPEAR DUO
featuring SMILIN' ED

JULIA LEVTINA opening

Folkin' smokin' original Americana with a social conscience. Yeah, I write that one.

Concert - $15 online advance / $18 door
Dinner - 6pm, Showtime - 8pm
The Michael Spear Duo featuring Smiling Ed is a Philly-based duo and Philadelphia Folksong Society Music Co-op member, featuring multi-instrumentalist Smiling Ed and singer-songwriter, guitarist and occasional pianist Michael Spear. Michael is a prolific songwriter, having written over two thousand songs. Smiling Ed is a wizard of the strings including banjo, mandolin, dobro, guitar and bouzouki, and has studied with banjo legend Pete Wernick. Ed is a sought after sideman and plays with many local and regional acts including the Manatees.
Michael Spear Duo was a co-winner of the Godfrey Daniels 2016 best of Godfrey's open mic and have played at Bethlehem's Musikfest and multiple times at the Philadelphia Folk Festival.
Their home venues include Malelani Café, Philadelphia Folksong Society, WaR3house 3, and the Mermaid Inn. They are also long-time members of the decades old weekly unnamed night jam group, jamming regularly with a number of well-known local musicians including Phyllis Chapell of Siora; Jay Popky of Beaufort, and The Cornerstones; Katherine Rondeau; Ken Ulansey of the Ken Ulansey Ensemble; Stacy Weathers of The Cornerstones and other bands; and, Jefferson Berry of the Urban Acoustic Coalition—who included a cover of Michael's "Circus Song" on the their 2018 EP.
Their all original songs cover topics such as the political system ("Get Back Hope," "Children of the Corn") USA-born children of immigrants ("Call Me An Immigrant"), juvenile criminal sentencing ("Life Without Parole"), freedom ("No More Russian Lullaby"), homelessness ("We Need A Home"), the #MeToo movement ("For All of the Hurt"), and Black Lives Matter ("Already Dead"). They aren't just all doom and gloom and politics however. Funny songs ("Circus Song") & love songs ("Done Fly Away in the Morning") round out their traditional-sounding yet original tunes.
Like them on Facebook at https://www.facebook.com/spearduo/
Born and raised in Odessa, Ukraine, but now calling Philadelphia her home, singer-songwriter Julia Levitina is bringing a global perspective to her unique brand of Americana. Subtly blending in Russian and French folk influences from her youth, Julia's newly released debut EP, Take Your Time Loving Me, is a snapshot of an artist who has literally and figuratively crossed oceans and seas to pursue her dreams. Julia's songs are upbeat, thoughtful, sometimes tongue-in-cheek musings about what it takes to live life to the fullest and find courage to to that.
Already an established sculptor, Julia sees her musical adventure as part of a continuum, where one art form flows seamlessly into another at the hands of an artist who has something significant to say.
Julia's musical influences include chanson française, i.e. Serge Gainsbourg and Francis Cabrel, and great Russian bards, such as Vladimir Vysotsky. They find an unexpected home alongside her current favorites, like Josh Ritter.
Julia has played the Tin Angel, World Café Live, the Grape Room, Bourbon & Branch and the Random Tea Room in Philadelphia; Saxbys and Evermore Coffee Roasters in New Jersey; Burlap & Bean in Newtown Square and Chesapeake Art Center in Baltimore, among others.
https://www.facebook.com/julialevitinamusic/
Friday, January 31, 2020

THE BLUE CHIPS TRIO

We are a trio of seasoned musicians who have come together to play an interesting mix of Cafe Jazz, Pop, and Nostalgia.




Concert - $15 online advance / $18 door
Dinner - 6pm, Showtime - 8pm
Blue Chips Trio play an eclectic blend of Jazz Standard Instrumentals, Pop Nostalgia, Groove Based Blues, Ballads, Café Jazz, 60's Pop, Rock n Roll. A three piece band of guitar, piano, bass with a male vocalist. The perfect blend of music that will delight easy listeners, played at a volume for small settings where a small groovy combo can enhance your event, gathering, party, scene, patio, deck, courtyard, garden, night club, soiree. Just simply a delightful blend of interesting music.
Guitar/Vocals: Chip Wilkins - hails from Houston Texas. He is a skilled guitarist /singer/ songwriter /troubadour/recording artist/studio musician and record producer. He has released two 2 CDs with Soulfellow Records (BMI). He was the guitarist/vocalist with The New Cairo Trio, Austin Texas.
Bass: James Bolno - A veteran of the Philadelphia music scene, former bass player for The Subterranean's. Skilled player, Jazz enthusiast and producer with advanced Jazz studies.
Piano: Dr. Chris Pastore - Professor of Transdisciplinary Studies and Director of the Thomas Jefferson University Jazz Band. Chris is a local Philly musician who has played with Ben Vaughn Combo, Junior Mints, Monday Blues Jazz Orchestra, and Straight Ahead Big Band amongst others.
https://www.facebook.com/pg/bluechipsjazz/
Saturday, February 1, 2020

THE ELSA NILSSON QUARTET

Winner of the 2018 National Flute Associations Bi-annual Jazz Flute competition

nyu jazz master of music




Concert - $15 online advance / $18 door
Dinner - 6pm, Showtime - 8pm
"I wrote this music to feel less alone" -Elsa Nilsson
Music is both a reaction to and an influence on its culture. The flute is her voice and on "Hindsight" Elsa Nilsson uses it to translate the language of movement politics. The band comes together to demonstrate their solidarity in this time with a unified vision of making their statement through music. This record imbibes the energy of Rock N Roll, the cadence of street protest, the visceral improvisations of Jazz and the compositional language of Classical music. The resulting sound reflects the urgency of her generation. A generation that is fully aware of their self destruction, and the rebellious disdain against the societal systems that allow this destruction to continue - our world through their reactions, their passions, and their emotions.
With Elsa Nilsson on flutes and compositions this versatile New York City band also includes guitarist Jeff McLaughlin, Bassist Alex Minier and drummer Cody Rahn. This album began with one song that Nilsson wrote the night after the 2016 election. As things kept spiralling in the world she was compelled to write more music. Whenever an issue that she cared about came to the front of our collective minds she wrote a song as her reaction. In bringing the music to the band and playing it live around New York City it grew beyond her and into a statement of solidarity and a call to action. This is Elsa's, and her band's, truest form of resistance.

https://www.elsanilssonmusic.com/
Friday, February 7, 2020

RUSTIC MUSIC SERVICE

EMMANUEL ANGEL

Rockabilly, roots and blues, and a guy who plays his guitar for research

Concert - $15 online advance / $18 door
Dinner - 6pm, Showtime - 8pm
Ed Russakoff plays guitar and harmonica in Rustic Music Service. Ed is the resident songwriter in the band and lead vocalist. Rustic Music Service songs draw on American Roots styles such as blues, rockabilly and country. Ed's interest in playing music dates to his early years in junior high school. Although music was one of his least favorite subjects at the time, his interest in music grew; especially Blues music. He had the opportunity to see many great artists perform while growing up in the Philadelphia area. Eventually, he started playing shows himself, mostly in bars, both as a soloist and in a variety of different bands. His music took him to many places around the world including Denmark, Germany, Sweden, Norway and Iceland. In 1990, Ed returned to the US after an eight-year stint living in Copenhagen, which is around the time he formed the rockabilly band, The Rustics. He continues to play regularly, mostly on the home-front these days with Rustic Music Service and as a solo artist, too. In addition, Ed is the owner of Rustic Music, a guitar/record store which he started in Philadelphia in 1995.
Bernie Carville handles the bass and vocals in the band. For 29 years Bernie was the bassist & vocalist for the Philadelphia-based band, The Flamin' Caucasians. You might remember them as the live house band for the Morning Zoo with John DeBella on 93.3FM WMMR in Philadelphia. Bernie backed artists that appeared on the Morning Zoo such as: Warren Zevon, Julian Lennon, Greg Allman, Little Feat, Flo & Eddie (The Turtles) and Donovan. Bernie was also a member of the house band on the ESPN TV Show, The Lighter Side of Sports with host, Jay Johnstone. He was part of the house band for the Jeff & Jeff Show on XL 102 FM in Richmond, VA doing live studio & remote work, backing such artists as Pat DiNunzio (The Smithereens) and Tom Cochran.
Scott Burgess is the percussionist/drummer in the band. Scotts brings the beat; which is rooted in Blues with heavy influences from Afro-Cuban, Latin and African Music to Jazz. Scott is a multi-instrumentalist and composer. His work has been heard in over 200 theatrical productions, films, commercials, and other various multimedia projects.
Dr. Emmanuel Angel is a musician and researcher who has studied the personality characteristics and occupational stress of musicians. For the past few years, Angel has lived and traveled in Europe with his guitar, performing in venues and playing the streets. From the U-Bahn metro tunnels of Berlin to pedestrian streets of Copenhagen, Malmö, and Helsinki, he has performed and supported his travels using a battery-powered amplifier and a compact looping device. He has experienced freedom and autonomy in music making.
Coming from a family of classical musicians, Angel studied classical piano early. Although his main instrument is the guitar, he has also studied bassoon, performing in college and community orchestras. Angel studied counterpoint and composition analysis with the late composer, Nicolas Roussakis, former president of The American Composer's Orchestra.
https://www.facebook.com/EA440/
Saturday, February 8, 2020

MINAS

America's favorite Brazilian duo will whip up some hip shaking music to get you ready for Valentine's Day and Mardi Gras!

Bring your favorite hand drums and noise makers!




Concert - $15 online advance / $20 door
Dinner - 6pm, Showtime - 8pm
Love is in the air whenever Minas takes the stage! This is the time of year to begin calling in the Spring-time. Join us to shake off the Winter!
Minas Quartet takes Brazilian and American roots to create a sound that is fresh and innovative, from ballads tinged with melancholic traits of Blues and Choro, to Folk coasting on the subtle coolness of a Bossa Nova pulse, to upbeat Sambas elaborated with instrumental jazz improvisation, scat singing and whimsical whistling. With recordings of original music and a collection of over 100 songs, Orlando and Patricia's compositions have been compared to classics by Cole Porter and Antonio Carlos Jobim. Capturing the essence of great songwriting with memorable melodies, inventive harmonies, and poetic lyrics, the music of Minas is engaging and timeless.
Saturday, February 15, 2020

MICHAEL LONDON AND FRIENDS

Love Songs From Rumi & Other Places




Concert - $15 online advance / $18 door
Dinner - 6pm, Showtime - 8pm
Hope you can join Michael London, Paul Butler, Joey Tayoun, Larry Cohen & Lisa DeVuono on this Valentines celebration of love in all its forms, featuring songs from Rumi, the 13th century Sufi mystic. We'll intersperse favorite jazz ballads with ecstatic poetry in song. Special guests may also surprise.
Michael London, vocals, guitar and composition
Paul Butler, sax & clarinet
Joey Tayoun, drums
Larry Cohen, bass
Lisa DeVuono, spoken word
Michael London
Michael London is a Philadelphia Area musician with a soulful voice and a great touch on acoustic and electric guitars. London is also a passionate interpreter of Rumi's poetry, the great 13th century Sufi poet. He offers us a musical window into the ecstatic poems, which reveal and make tangible our connection with the self, humanity, nature and beyond. His CD's and original songs, inspired by this mystical poet speak directly to us, and get to the central themes and issues of living with passion and true joy. His musical journey began with singing folk songs and show tunes with his family and he found it brought warmth, connectedness and bonding like nothing else. He was especially inspired singing songs by James Taylor, Cat Stevens, Richie Havens and Marvin Gaye and began to write songs and to develop his own musical voice. An accomplished songwriter, Michael is adept at many guitar styles, has his own recording studio and is a soulful and moving singer. He is also a college Professor by day, and has a PhD in Organizational Behavior and serves on the faculty at Muhlenberg college. Today, his many influences come together in his heartfelt explorations of "Rumi In Song". He also performs with Cabin 23, an Americana jam band and the Spiritual Window Shoppers, an eclectic folk ensemble.
"I heard Michael's music for the first time on WXPN (Gene Shay's show) and was blown away by the ways in which he wove the exquisite poetry of Rumi with his own inspired musical creations. Hearing him in concert less than a week later, the intensity of the passion and magic increased 100-fold. Sitting in the audience, surrounded by souls listening with rapt attention, I was moved with a certainty that the poet himself was whispering in Michael's ear throughout the performance. At turns, deeply peaceful and vibrantly energetic. What a gift!" - Edie Weinstein Moser LSW
Joseph Tayoun
Joseph Tayoun, a second generation Lebanese American, is an accomplished Middle Eastern percussionist. He started playing by the early age of eight at his family's renowned Middle East Restaurant in Philadelphia where live, authentic Arabic, Turkish, Persian, Armenian, Greek and Israeli music and dance were performed nightly for over forty years. Learning from the area's top Middle Eastern musicians, Joe became adept at the many styles of drumming within these different ethnicities.
He performs with various Middle Eastern and World Music ensembles locally, regionally, and internationally, as well as conducting workshops and master classes at schools and universities. Joseph has been the recipient of several noteworthy grants from such organizations including the: NEA, PCA, PAEP, and the State Department. He is currently active in a wide variety of projects both as a performer and a educator.

Paul Butler
Paul embraces numerous styles, including Jazz, Dixieland, Chamber music, and Klezmer. He holds a Bachelor of Music Education from Mansfield University. He served as US government-sponsored cultural ambassador to the middle east, bringing jazz to multiple countries, including Syria, Morocco, and Tunisia.
Paul has over 20 years of teaching experience, as well as extensive performance experience, including performances with Grammy-nominated cellist David Darling.
Larry Cohen
Larry Cohen's ability as a monster bass player, musical arranger and record producer first earned him public recognition through his work with the highly innovative bluegrass band Tony Trischka and Skyline.
During his Skyline tenure, Larry toured extensively throughout North America, Europe and Japan and accompanied many top musicians including Alison Krauss, Bela Fleck, Darol Anger, Mike Marshall, Jerry Douglas, Mark O'Connor, Peter Rowan, David Bromberg, Vassar Clements and Nanci Griffith. He has since produced albums for Barry Mitterhoff, Jay Ansill, Akira Satake and Mark Cosgrove and enjoys a busy performing and teaching schedule.
A joy to watch on stage as well as to listen to, Larry's approach is informed by his comprehensive background in classical, jazz and rock music as well as by his innate musicality.

Lisa DeVuono

Lisa DeVuono is a poet and workshop facilitator living in the Philadelphia area. She was the co-founder of IT AIN'T PRETTY, a women's writing collective
that performed in a variety of places including bookstores, cafes, radio and prison. For ten years she worked as coach and mentor-trainer in the Artist Conference Network,
a nationwide coaching community for artists doing creative work.
She has facilitated creativity and poetry workshops at conferences, festivals, retreats, hospitals and business settings. Additional work has been with teenagers in recovery, cancer patients, and ALS patients and their families. She has also written a peer-based poetry curriculum for facilitating workshops with individuals living with mental health challenges. Her poetry has been published in several literary reviews, and her chapbook, is entitled "Poems from the Playground of Risk."

---
YOU SAID IT...
"BY FAR the best live music venue on the East Coast"
"...the coolest venue in the universe..."
"We just bought a house in Lansdowne to be closer to Jamey's"
"Truly the very coolest venue for live music ANYWHERE"
The Lightyears: "Jamey's House of Music is in our top 3 all time venues to play along side The 02 Arena & Marquee Club, London"
"Jamey Reilly couldn't possibly have created a finer oasis for musicians to perform. It's really a gem. SERIOUSLY! Everybody try and get a date there!!! (Just leave some room for us because we're definitely going back!!!)"
"Last night we debuted at Jamey Reilly's Jamey's House of Music. Jamey has outdone himself. He has an incredible backline, and the sound, which he engineers is exquisite. Working with Jamey helps make performing seamless. He knows what he is doing and is an excellent communicator. He is also a musician, which helps a great deal (the man has ears). The food at this venue is incredible. The flavor-I can't begin to find the words to express how excellent it is. If you have not been to Jamey's House of Music, get down there, catch a show. Get there early and enjoy the amazing cuisine. It will blow your mind."
"This small room is by far the best sounding music venue I've ever experienced. It's a truly exceptional labor of love..."
"THE place to Jam!!! Jamey is the man, the myth, the legend. Great equipment & exceptional drum set."
"We've played every kind of venue imaginable on several world tours, and I have to tell you that this is probably the best venue we have ever played. It's simply brilliant. Thank you for everything done to perfection."
"I tell everyone about Jamey and Jamey's House of Music. Everyone in Nashville knows about this place. I play some of the best rooms in the world, like the Bluebird, Douglas Corner, Third and Lindsley, places with great sound systems, and nothing beats the sound in this room. ...This is my favorite place to play in the whole world."
"The sound is absolutely perfect. I could hear every note of every instrument. Just incredible."
I'm a "venue snob" and this place is AWESOME ! Cozy, intimate, acoustically A+, comfy seating, bathroom is spotless, people are warm & friendly ... can't wait to return !
"Best. Venue. Ever."
"... a dream performance space. Perfect acoustics, top quality production values, a visually lovely setting, and an overall aesthetic ambience that, like a tea ceremony, lifts every gesture to it's highest level. It's perfection, both for the audience and the performers."
"Totally going again soon! A++++++!!!"
"I can't even explain how delicious everything was."
"One word. ..incredible!"
"Awesome food..."

---
Jamey's House of Music Tee Shirts Are Now Available!
High quality, black, all cotton Champion tagless shirts with 5 color silk screen
in sizes S to XXL. Only $20!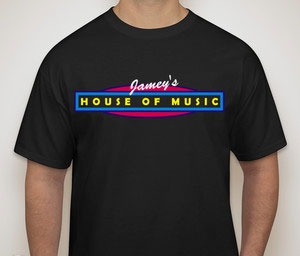 We happily accept cash, and these major charge cards

---
JAMEY'S HOUSE OF MUSIC
Livehouse and Cafe
32 S. Lansdowne Ave. Lansdowne PA 19050
Call - 215.477.9985 • Fax - 215-879-1457
jamey@jameyshouseofmusic.com
greg@jameyshouseofmusic.com for booking