HOME | TICKETS | MENU | ABOUT | FAQ |
Artists: for booking go to the FAQ page for the avails calendar and details on making submissions
Only open if a show is booked... check below!
Friday and Saturday Concerts
6:00 pm dinner, 8:00 pm showtime
Sunday Blues Brunch
12:00 pm to 3:00 pm
Every Sunday


SUNDAY BLUES BRUNCH
and blues jam open mic


Hosted by the PHILLY BLUES KINGS, featuring an open mic (12 to 1:30) for blues players followed by the Philly Blues Kings (1:30 to 3).

$4 at the Door, 12:00 pm to 3:00 pm
No reservations needed. Grab your favorite axe, a bottle of wine and some friends and head on over. Mouth watering brunch, coffee and espressos will be served all day. What a great way to begin the new week with a happy stomach and an ear full of some of the best blues in the east.
http://www.phillyblueskings.com
Friday, Novermber 23, 2018

BETTERDUCKS

CLIFF HILLIS


BetterDucks are unique with the pure warmth and honesty in their song-writing coupled with distinctive 70's vintage imagery and lack of pretense. Their music touches upon a range of emotions spanning both their upbeat to mellow songs, guiding listeners through their unique take on life's memorable moments. 

Cliff Hillis is one of the finest contemporary American songwriters.
Concert - $15 online advance / $18 door
Dinner - 6pm, Showtime - 8pm
Based out of Berwyn, PA but forged through iterations of original bands in Berlin, BetterDucks are an Indie Alt Rock band fronted by German born vocalist, guitarist and primary songwriter Dirk Externest. Better Ducks sound is - to curl up with on rainy days or to dance to in a sun-soaked summer. They fuse a driving rhythm section with vocal harmonies, melodic guitar work, with the deep richness of Dirk's lead vocals… think Wilco meets Knopfler with an occasional live encounter with The Drive By Truckers.
BetterDucks are unique with the pure warmth and honesty in their song-writing coupled with distinctive 70's vintage imagery and lack of pretense. Their music touches upon a range of emotions spanning both their upbeat to mellow songs, guiding listeners through their unique take on life's memorable moments.

The skillfully balanced harmonies gently unfold the narratives, with the soulful richness of Dirk's lyrics and voice. Dave Faunce backing vocals and keyboards accompany along with balanced clean and edgy melodic embellishments of Nick Voutsakis' guitar solos and passages backed by the driving rhythm section of Mark Betterly's Bass Lines and John Morgan's Drum work. The combination leaves the listener with a memorable live and studio experience.

BetterDucks are headlining locally and opening for national touring bands at some the area's most intimate music venues. Check out a show and their first release "And Then Some" or sign up for their mailing list.

https://externest.bandzoogle.com
Cliff Hillis has released a new 6 song EP "Many Happy Returns" through San Francisco's TallBoy Records on Friday June 9th. The title lightheartedly refers to Hillis revisiting his pop roots, most evident on the kickoff track of the same name, which meshes sunny harmonies with a memorable sing-along chorus.
Hillis's lyrics hits more serious notes on the jangle-rocker "Time An Evangelist", a reflection on today's fractured political landscape, and the sneakily smooth 70's sounding breakup song "Superfluous".
The 6 songs feature Hillis's playing at the forefront, but he gets by with a little help from his musical friends including Ben Arnold, Greg Maragos, Pat Berkery (War On Drugs, Clap Your Hands Say Yeah), David Kershner, Fred Berman (Amos Lee), Corin Ashley, Amy Fairchild and others. Co-writes include noted songwriters Dan Bern and Bill DeMain.
Although each track has it's own distinct sound, there's no mistaking Cliff Hillis' voice ringing through clear as a bell, backed by lush instrumentation, driving guitars and floating synth sounds. Hillis's songs are sure to find you making many happy returns to this EP.
Hillis' work has recently garnered praise from notable songwriters:
"Cliff is taking some chances while also delivering some solid pop production, the stuff you'd expect from a big fan of big pop. it's a blast to listen to." - Mike Viola, acclaimed recording artist, producer, and composer
"You know who's really good? Cliff Hillis." - Rhett Miller, singer/songwriter, Old '97s
Saturday, Novermber 24, 2018

WINDBORNE


"A quartet the likes of which I haven't seen since… Coope, Boyes and Simpson, the Watersons, or The Voice Squad. Just absolutely phenomenal!"
-BBC Traveling Folk

"The best musical discovery of the year…Stunningly powerful vocal harmony…Windborne sets a new bar for folk harmony singing today"
- Brian O'Donovan WGBH, National Public Radio

Concert - $15 online advance / $18 door
Dinner - 6pm, Showtime - 8pm
The four Windborne singers grew up immersed in the traditional song and dance communities of New England and discovered a love of world folk music in their teens. Over the past decade, Windborne has sought out masters of traditional singing styles in the US and around the world to study a variety of vocal music. Through these collaborations, they have developed the vocal agility and authentic sound for which they are known. Their dynamic concert programs include songs from Corsica, the Republic of Georgia, Bulgaria, Quebec, and Basque country, as well as traditional and original American folk music. They believe deeply in the power of music to change hearts.
Windborne Teaching Workshop - In addition to performing in New England and around the world, Windborne has taught workshops in schools, community centers, singing camps, and universities. Seasoned teachers and song-leaders, they delight groups young and old with enthusiastic, clear, and nuanced instruction for musicians of all levels of experience. Singers not only learn the notes of a song, but also work on the varied vocal styles, language pronunciation, and gain an understanding of the song in its original cultural context.
In 2014, Windborne was one of 10 groups selected by American Music Abroad and the US Department of State to tour as cultural ambassadors through music. They traveled to Turkmenistan, Kyrgyzstan, and Angola, touring with internationally known artists, performing at sold-out national theaters, and collaborating with traditional musicians in each country. They also taught music and dance workshops to schoolchildren, English-language learners, dance schools, choirs, and music conservatories.
History of Windborne
Windborne has existed in many capacities throughout its 10+ year history, appearing as a duo, trio, and now, as a quartet. A group of vocal chameleons, they grew up in musical families, going to singing parties, taking classical voice and instrumental lessons, and seeking out folk music from around the world. Now, they draw upon their collective five decades of experience as performers and teachers to switch effortlessly between drastically different styles of singing within the same concert, all the while regaling the audience with their vocal energy and carefully crafted arrangements. Their repertoire includes music from the Republic of Georgia, Corsica, Bulgaria, the Basque region, and Quebec, but they remain deeply rooted in American folk singing traditions as well.
Windborne is Lynn Mahoney Rowan, Will Thomas Rowan, Lauren Breunig, and Jeremy Carter-Gordon. All four have traveled extensively in the US and throughout the world with Village Harmony, Northern Harmony and the Renewal Chorus, leading workshops and giving concerts. Windborne has toured New England several times, and in 2010 their vocal agility and power won them first place in Young Tradition Vermont's Showcase Competition. Since then, they have appeared at the Flurry Festival, the Shelburne Harvest Festival, the Young Tradition Vermont Reunion Concert, and have taught master classes at Keene State College. In January 2014, AMA sent Windborne on a month-long tour to Turkmenistan, Kyrgyzstan, and Angola performing and teaching as musical ambassadors for the US!
Throughout the past decade, they have had the distinct pleasure of studying under a variety of music masters, including Corsican music scholar and composer Jean-Etienne Langianni; Georgian singers and members of Zedashe, Shergil Pirtskhelani and Ketevan Mindorashvili; director of the London Bulgarian Choir Dessislava Stefanova; and Matlakala Bopape, who leads the Polokwane Choir in South Africa. Closer to home, they count folk music legends Tony Barrand, the Amidon family, Don Jamison, Neely Bruce, Val Mindel, and Suzannah Park among their friends and mentors.
Specializing in close harmony singing, the quartet has a vibrant energy and a strong connection, which is evident in their engaging performance. They educate as they perform, telling stories about the music and explaining the characteristicsand stylistic elements of the traditions in which they sing. Mary DesRosiers, folk musicologist for the Monadnock Folklore Society, acclaims Windborne for "the purity of their voices, strength of their material, and attention to detail in their arrangements."
"The singers of Windborne have a deep understanding, both musically and culturally, of the traditions from which they draw much of their repertoire. Their singing is a feast of a cappella harmony."

http://www.windbornesingers.com/
Friday, Novermber 30, 2018

HIPPIES AND HILLBILLIES


"One of Jefferson Berry's better ideas"
Concert - $15 online advance / $18 door
Dinner - 6pm, Showtime - 8pm



Composed of core members from the Urban Acoustic Coalition, Hippies and Hillbillies goes all in for folk grass - Texas style. With influences by Old and in the Way, Grateful Dead, Bob Dylan, Jerry Garcia, they draw big crowds of adoring fans.
Jefferson Berry guitar, vocals
Bud Burroughs mandolin. vocals
Beth Mead. banjo, vocals
Ron Ward electric bass,vocals
Hank Berry Banjo
https://www.facebook.com/Hippies-and-Hillbillies-165165586956269/
Saturday, December 1, 2018

FAST EDDIE AND THE SLOWPOKES


"Ed and band kicked ass...looking forward to catching a set at the IBC"
- Phil Pemberton, Roomful of Blues
"Most Excellent"
- Mark Wenner, The Nighthawks
Concert - $15 online advance / $18 door
Dinner - 6pm, Showtime - 8pm


2017 International Blues Challenge Semi-Finalists!
2016 Winner of the DC Blues Society Battle of the Bands!
2013 WAMMIE nominated Best Blues/Traditional R&B Duo/Group!
2013 International Blues Challenge Participants!
2012 Winner of the DC Blues Society Battle of the Bands!
Fast Eddie & The Slowpokes are guaranteed to get you up on your feet! The Slowpokes playlist is inspired by classic blues material from Chicago to West Coast Swing, Motown to Muscle Shoals, and all the rock n' roll in between.
Fast Eddie & The Slowpokes have performed throughout the DC – Maryland- Virginia region, from The Kennedy Center to festivals to roadhouses. They have shared the stage with Victor Wainwright (2016 BMA Entertainer of the Year), The Nighthawks, The Andy T Band, Jimmy Thackery, and Phil Pemberton of Roomful of Blues. They won the 2016 and 2012 DC Blues Society Battle of the Bands and represented the DC Blues Society at the 2017 and 2013 The International Blues Challenge in Memphis! In 2017, they were Semi-Finalists at the International Blues Challenge!
The Slowpokes bring varied musical histories to the stage. Ed Crowley (harp/vocals) has shared the stage with Al Chesis (Delta Sonics), Bad Influence, and The Nighthawks. Dave Gorozdos (keys/vocals) has shared the stage with local favorites such as Ronnie Dove, Jonny and the Stingrays, The Lady Rose Blues Band and many others. Scott Chadwick (drums) has played with Lady Rose Band, Big Money Band, and the Walker Blues Band to name a few. "Cookie" Cooke (bass) has played with US Military bands, Cooking With Gas, and many others. Scott Mattern (guitar) has played with the fabulous Ursala Ricks, Cherry Gasoline, and many other great Baltimore and DC artists.

https://www.facebook.com/pg/FastEddieandTheSlowpokes
Friday, December 7, 2018

KORA FEDER


"brilliant and life changing"
- Joe Craven 

"I pin my hopes for the future upon musicians such as this." 
- Frank Gutch Jr.
Concert - $15 online advance / $18 door
Dinner - 6pm, Showtime - 8pm
Delicate but bold, Kora Feder (Feder rhymes with cedar) is known for spinning modern day woes into carefully crafted songs that tenderly push listeners into reflection of their own place in this world.
Now based in New York, she makes regular appearances at the Rockwood Music Hall and other hip venues. With a voice reminiscent of Iris Dement and a repertoire of poignant, often satiric songs, she's been getting some serious national attention recently: She was a finalist at the Kerrville Folk Festival in Texas, and she's been picked as a finalist in the singer-songwriter competition at the Telluride Bluegrass Festival in Colorado, and was a main stage act at Northern California's acclaimed Strawberry Music Festival along with Greg Brown, Nicki Bluhm and Del McCoury.  Music veteran Joe Craven described her Strawberry set as "brilliant and life changing." 
Performing both as a solo singer-songwriter and supporting instrumentalist since the age of 15, Feder has appeared on stages across the world: from a weekend special on Thai PBS in Bangkok, to town halls in Ontario, Canada, to festivals throughout California and house concerts across the United Kingdom.
Feder holds a degree in Global Studies with a focus on songwriting as empowerment in indigenous and migrant communities. She spent two years wielding a backpack and guitar in places like China, India, Thailand and Italy.
Saturday, December 8, 2018

THE PHILLY BLUES KINGS
and
LISA CHAVOUS & THE PHILADELPHIA BLUES MESSENGERS


A night of blues, blues, blues guaranteed to have you on your feet and cheering!
Concert - $15 online advance / $18 door
Dinner - 6pm, Showtime - 8pm


The Philly Blues Kings is straight-ahead, low-down, hard-driving, hip-shaking, and super-hot electric blues...
PBK has been rocking blues fans in Philadelphia for many years, and has gone through numerous iterations based around bassist Jamey Reilly and guitar/keyboard master David Reiter. The current group has enjoyed the solid playing of Carol Moog on harp, and Bill Marconi on drums for a few years now, and has recently added the vocal powerhouse Ramona Hunter to the group. Each member has long histories playing professionally.
Lisa Chavous and the Philadelphia Blues Messengers are a rock-solid innovative Philadelphia blues band. They have established their reputation as a good-time jam band by playing and singing the soulful music of Muddy Waters, Little Walter, and Elmore James. And their original compositions reflect the band's respect for and interest in groove-driven roots music.
They have forged a connection to world beat music and avant-garde jazz through their long association with Philly saxophone legend Byard Lancaster and didgereedoo guru and percussion powerhouse Harold Smith. The Blues Messengers believe in the power of music to bring all people together, and in the power of the blues as an ancient connection to basic life energy.
http://thebluesmessengers.com/
Friday, December 14, 2018

THE NAKED SUN

LOVE? SAID THE COMMANDER


Cutting edge music growing in Philadelphia
Concert - $15 online advance / $18 door
Dinner - 6pm, Showtime - 8pm

The Naked Sun may or may not have coined the phrase, but "honest rock" has unquestionably been their ethos since their start back in 2011—and few bands embody its spirit like they do. With songs that echo the rawness and sincerity of the cities around which its members grew up—Detroit, Baltimore, Philadelphia—the band blends the basics of roots rock and folk with layers of bolstering piano and organ, intricate pedal steel leads, and melodic choruses backed by satisfying vocal harmonies. Rooted in the songwriting of frontman Andrew Wesley Harris, The Naked Sun strive equally toward Petty's pop genius, Springsteen's storytelling, Dylan's social consciousness, and the energy of My Morning Jacket.
Love? said the Commander is a duo from the Philadelphia area made up of Kate Hall, a sad gal who sings and plays guitar and bass, and Chris Bishop, a less sad guy who plays guitar. Both have been playing music in different projects for many years, but the pair met in the winter of 2018 via a Craigslist ad. It was Kate's desperate, last ditch effort at finding a musical partner and Chris's first all too easy attempt at meeting that perfect singer - a fact that has created a grudge Kate will hold on to for many years to come.
https://www.facebook.com/lovesaidthecommander/
Saturday, December 15, 2018

TRACY GRAMMER


"Tracy Grammer is a brilliant artist and unique individual. Her voice is distinctive, as is her mastery over the instruments she plays."
- Joan Baez

"One of the finest pure musicians anywhere in folkdom."
​- Boston Globe

"Her pure voice conveys the simple truths of these songs; her gifts as a musician are like that of a painter who is a master of chiaroscuro, offering light and shadow at every turn.... A treasured part of my music collection."
- Mary Chapin Carpenter
Concert - $15 online advance / $18 door
Dinner - 6pm, Showtime - 8pm
TRACY GRAMMER is one of contemporary folk music's most beloved artists. Renowned for her springwater-clear alto, perfectly intoned violin, and guitar playing that is by turns percussive and delicate, Grammer is also a gifted storyteller whose incantations add a rare mixture of vulnerability, intimacy, and hard-won insight to her performances. As one fan puts it, "With Tracy, it's never just about the music; it's a soul journey."
And what a journey it has been. Grammer rose to acclaim as half of the "postmodern, mythic American folk" duo, Dave Carter & Tracy Grammer. From 1998-2001, the duo released three internationally celebrated, chart-topping albums featuring Carter's mytho-poetic Americana songcraft and in 2002, toured with Joan Baez, both as featured artists and Baez's bandmates. Called "the new voice of modern folk music," the duo was clearly in its ascendancy when in July, 2002, Carter suffered a fatal heart attack mid-tour. He was 49; Grammer, 34.
Determined to honor the duo's trajectory and bring Carter's songs, and those of other favorite writers, to broader audiences, Grammer kept to the road, releasing several solo and archival recordings, including 2012's LITTLE BLUE EGG (Red House Records), the #1 most-played album on Folk Radio in 2012 with that year's #1 most-played song.
Grammer is currently on tour celebrating the release of LOW TIDE, her first album of original songs. "I've been a writer all my life, but it was never my intention to be a songwriter," she says. "However, the road has curves we can't see at the outset of the journey. At some point along the path, writing songs became the most effective medicine for the pains and unresolved questions of my life. LOW TIDE is an album of revelations, confessions, and ultimately, healing. I am proud of the writing and utterly thrilled with the sounds. I took risks. I tried new approaches. I told the truth, and delivered my multitudes. My eleventh album is the first one that really sounds like me." Co-produced with long-time touring partner Jim Henry, LOW TIDE was released January 19, 2018 on Grammer's own label, Tracy Grammer Music, and is available through Fish Records in the U.K.
Grammer plays theaters, coffeehouses, and festivals across the United States and Canada regularly, and has traveled to Europe and Japan. She holds the record for the most consecutive appearances at the Falcon Ridge Folk Festival and performs in a variety of configurations, with Jim Henry (Mary Chapin Carpenter, Burns Sisters, Susan Werner), Paul Kochanski (Lori McKenna, Threesies, Nields), Lorne Entress (Lori McKenna, Catie Curtis, Mark Erelli) and David Chalfant (Nields, Stephen Kellogg) rounding out her ensembles.
In addition to touring, Grammer is the director of the Dave Carter Legacy Project. Her publishing company, Tracy Grammer Music, administers licenses for Carter's catalog of music. She is writing a memoir and curating a new musical monologue called words + music based on her life with, and beyond, Dave Carter. Tracy lives in Greenfield, Massachusetts with her beloved Miss Kitty.

Friday, December 21, 2018

ROOTOLOGY

KICKING DOWN DOORS


Rootology: " ......their raw, fluid brand of Americana sounded aged and smoky, soaked in Kentucky whiskey - most apparent when they did their gypsy-jiving best on a cover of the traditional "Deep Elem Blues."
- Phila Inquirer

KDD: The music of songwriting team Autumn Walden (vocals) and Ernie Tokay (guitar/vocals) with special guests. Coming to you from Little Spiders Music Studio in Phoenixville, Pennsylvania.
Concert - $15 online advance / $18 door
Dinner - 6pm, Showtime - 8pm
Rootology is a great new Roots/Americana band featuring some of the best musicians and vocalists in the area. Under the big tent of American music, their repertoire includes, Electric and Acoustic blues, Bluegrass and Old-time music, Folk, Folk Rock and Jazz. Wanamaker Lewis is on electric and acoustic guitars, banjo and vocals, Larry Feldman is on mandolin, fiddle, lap-steel and electric guitars. Larry has played with many luminaries including Lester Chambers. Larry cohen is on electric bass. Larry is a tremendous musician who was a founding member of Skyline a ground breaking bluegrass band featuring world reknowned banjoist Tony Trischka. Highlights of the band include Larry's tasty and dynamic bass solos. Rounding out the band is Drummer Chuck Lindsey. With a deep, smoky baritone voice, Chucks adds a great flavor to the band both on lead and harmony vocals. All together this versatile band create very exciting, and satisfying Americana/Roots music.

Kicking Down Doors (KDD) hails from Philadelphia and is a multicultural roots/rocker, soul and folk group and its sound is influenced by the diversity of its members and their musical backgrounds. Together with the group's instrumentation and arrangements led by Ernie Tokay and the vocal stylings of lyricist Autumn Walden, KDD has been leaving patrons in venues wanting more at every listen. The band's songbook of original tunes range from rock to easy listening, to energetic dance/groove to blues, country and folk and is ripe with simple introspective, memorable and relatable poetic lyrics penned by Walden, that are poignant, captivating, and in the moment reflective. Kicking Down Doors has recently released a collection of 10 original songs on its new CD – NOW, a mélange of music that takes you with them on their evolutionary ride that defines the Kicking Down Doors sound.
https://kickingdowndoorsband.com/
Saturday, December 22, 2018

PHILLY GUMBO


For more than three decades Philly Gumbo has been bringing its unique mix of New Orleans R & B, blues, funk, soul and reggae to East Coast audiences. It is groove music that inevitably leads to dancing.
Concert - $15 online advance / $18 door
Dinner - 6pm, Showtime - 8pm
Philadelphia Sunday Sun - One Saturday night 35 years ago at Taker's Cafe in Maplewood Mall in Germantown two men began to play music for an eclectic crowd, one pounding an old upright piano and the other delivering soulful vocals via a beat-up microphone and tiny amplifier. Within a few songs they had people up and dancing. That was the beginning of Philly Gumbo, perhaps Philadelphia's longest-living current band, which has been bringing a unique mix of black music styles—New Orleans R & B, funk, blues, soul. Reggae, even Afrobeat—ever since. Indeed Philly Gumbo championed authentic New Orleans music in Philadelphia, not the "Dixieland" jazz most people associated with New Orleans back then but R & B and "Mardi Gras Indian" music that at that time was not widely known. The band instigated annual Mardi Gras celebrations in Philadelphia, a tradition which continues today. With a mixed racial line-up and sometimes political lyrics, Philly Gumbo has played most every venue in Philadelphia, opened for such legends as Buddy Guy & Jr. Wells, Dr. John, The Mighty Diamonds, Rick Danko & Levon Helm of The Band, Mutabaruka and others, and often had such noted musicians as Todd Rundgren, David Lindley, Fats Domino guitarist Teddy Royal, avant-jazz sax player Byard Lancaster and others sit in with them. As the Philadelphia Inquirer declared that Philly Gumbo is "the area's tastiest musical ragout of New Orleans parish soul, blues, reggae and dense funk" while Vintage Guitar Magazine noted that "On South Street, Philly Gumbo ruled the funk scene when The Roots were mere seedlings." Twice a "Best of Philadelphia" selection by Philadelphia Magazine, Philly Gumbo remains the area's best groove band, a musical force that crosses ethnic boundaries that will no doubt have people up and dancing again when they return to the Northwest and take the stage at Alma Mater in Mt. Airy on Saturday, April 2, 2016.
Four of the six members of Philly Gumbo live in Germantown or Mt. Airy and four out of six have been with the group since 1980; a fifth has played off and on with the group since the Eighties. Of the four original members, drummer Tim Hayes has played with such greats as Wilson Pickett, Little Milton and Johnny Shines, guitarist Pete Eshelman, who also leads Zydeco A-Go-Go, was the only American member of Philadelphia reggae band Roots Vibration, bass player Bert Harris was a member of African music ensemble He Kuumba and leads Jazz Planet, and keyboardist Randall Grass played with the Nigerian pop group Bongoes & The Groovies. Saxophone/flute/trumpet player Richard Orr, who last year became a full-time member after being first-call substitute for decades, has played with Harold Melvin & The Blue Notes among other top R & B groups as well as the ground-breaking world-fusion band Siembra. Powerhouse vocalist India Rex, the latest in a long line of great Philly Gumbo singers, is a generation younger than the other members of the band but despite her youth has a tremendous feel for "old school" R & B and blues singing. The diverse backgrounds of the band members makes for extraordinary versatility and an ever-shifting mix of music.
"We never set out to be recording artists or famous," notes founding member Randall Grass." Our only goals were to play the music with authenticity and to be the best groove band in the area. It's funny, in our early years people thought our material was mostly original because the New Orleans R & B and much of the reggae just wasn't well-known. Now, after many years of the New Orleans Jazz & Heritage Festival and tv shows like Treme', all of a sudden we're playing familiar material."
Philly Gumbo was the catalyst for one of the most unique musical and cultural scenes Philadelphia has ever known, when they pioneered live music at Bacchanal at 1320 South St. The bar, owned in part by artists Joe Tiberino and Ellen Powell Tiberino, brought together a unique mix of people, poetry , art and music; Philly Gumbo played there to packed houses virtually every Saturday night for 10 years.
"There's never been a place like Bacchanal in Philadelphia before or since," notes Grass. "All kinds of people came in there—young, old, black, white, Latino and Asian, gay and straight, artists, students, doctors, bikers, lawyers, drug dealers, working people, people from the projects even the occasional movie star. It was a kind of free zone."
The band, was also a regular at the fabled J.C. Dobbs, and appears in the documentary film "Meet Me On South Street" and kicked off the first annual Jambalaya Jam at Penn's Landing.

https://www.facebook.com/phillygumbo/
Monday, December 31, 2018

ANNUAL NEW YEAR'S BASH


Welcome to our second annual New Year's Eve Bash featuring the music of MINAS and a delicious late dinner and BYOB celebration... complete with drums and a samba line!

Buy your tickets early, last year was a sellout!
$45 online advance / $50 door - space permitting
10:00pm until 1:30am


Join us for our second New Year's Eve Bash!
After their smash Dec. 31 show here, the MINAS Quartet returns with equal, if not more energy, playing upbeat sambas and originals, leading up to an exciting count-down to midnight with everyone playing percussion and parading around the venue. Bring drums, percussion and noise makers from home, then top it off with some dancing. We promise you a memorable night - the ones who attended last year are still talking about it, and can't wait for this year's party!
Guests will arrive at 10:00pm and enjoy an all-you-can-eat smorgasbord buffet from 10 to 11pm. A delicious roast beef au jus dinner complete with mashed potatoes and gravy, candied yams, broccoli au gratin, cranberry sauce, dinner rolls and cheesecake dessert will be served. A vegetarian spinach lasagna casserole option will be available, as well as fresh ground and brewed coffee. BYO wine or champagne is welcome. The music will begin at 10:30pm. The festivities will include audience participation in a samba line complete with hand drums, noise makers, and a count-down to midnight. Chairs will be available, but most people will be on their feet moving to the music!
Minas Quartet takes Brazilian and American roots to create a sound that is fresh and innovative, from ballads tinged with melancholic traits of Blues and Choro, to Folk coasting on the subtle coolness of a Bossa Nova pulse, to upbeat Sambas elaborated with instrumental jazz improvisation, scat singing and whimsical whistling. With recordings of original music and a collection of over 100 songs, Orlando and Patricia's compositions have been compared to classics by Cole Porter and Antonio Carlos Jobim. Capturing the essence of great songwriting with memorable melodies, inventive harmonies, and poetic lyrics, the music of Minas is engaging and timeless.
---
YOU SAID IT...
"BY FAR the best live music venue on the East Coast"
"Jamey Reilly couldn't possibly have created a finer oasis for musicians to perform. It's really a gem. SERIOUSLY! Everybody try and get a date there!!! (Just leave some room for us because we're definitely going back!!!)"
"Last night we debuted at Jamey Reilly's Jamey'a House of Music. Jamey has outdone himself. He has an incredible backline, and the sound, which he engineers is exquisite. Working with Jamey helps make performing seamless. He knows what he is doing and is an excellent communicator. He is also a musician, which helps a great deal (the man has ears). The food at this venue is incredible. The flavor-I can't begin to find the words to express how excellent it is. If you have not been to Jamey's House of Music, get down there, catch a show. Get there early and enjoy the amazing cuisine. It will blow your mind."
"This small room is by far the best sounding music venue I've ever experienced. It's a truly exceptional labor of love..."
"THE place to Jam!!! Jamey is the man, the myth, the legend. Great equipment & exceptional drum set."
"We've played every kind of venue imaginable on several world tours, and I have to tell you that this is probably the best venue we have ever played. It's simply brilliant. Thank you for everything done to perfection."
"I tell everyone about Jamey and Jamey's House of Music. Everyone in Nashville knows about this place. I play some of the best rooms in the world, like the Bluebird, Douglas Corner, Third and Lindsley, places with great sound systems, and nothing beats the sound in this room. ...This is my favorite place to play in the whole world."
"The sound is absolutely perfect. I could hear every note of every instrument. Just incredible."
"Best. Venue. Ever."
"... a dream performance space. Perfect acoustics, top quality production values, a visually lovely setting, and an overall aesthetic ambience that, like a tea ceremony, lifts every gesture to it's highest level. It's perfection, both for the audience and the performers."
"Totally going again soon! A++++++!!!"
"I can't even explain how delicious everything was."
"One word. ..incredible!"
"Awesome food..."

---
Jamey's House of Music Tee Shirts Are Now Available!
High quality, black, all cotton Champion tagless shirts with 5 color silk screen
in sizes S to XXL. Only $20!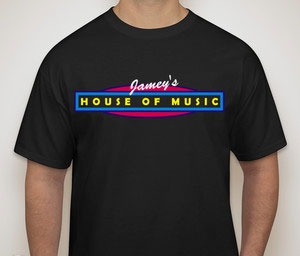 We happily accept cash, and these major charge cards

---
JAMEY'S HOUSE OF MUSIC
Livehouse and BYOB Cafe
32 S. Lansdowne Ave. Lansdowne PA 19050
Call or text - 215.477.9985 • Fax - 215-879-1457
jamey@jameyshouseofmusic.com