HOME | EVENTS | MENU | ABOUT | FAQ |
Artists: for booking go to the FAQ page for the avails calendar and details on making submissions
The CROOKED EYE BREWERY is now at Jamey's House of Music, offering fresh, cold ales on tap!

Try all twelve thirst quenching brews with your dinner, and enjoy the show in high style!

This year will introduce hard ciders and Pennsylvania wines and spirits for your drinking pleasure, at our beautiful new bar!

Crooked Eye will also be barrel aging their hand crafted ales right on site!

We've been completely shut down since early March along with everyone else. The governor of PA has placed new restrictions on restaurants and bars effectively continuing the shutdown. Sadly, we've now canceled all of our September shows, and will play it by ear for October and beyond. We hope to be able to reopen soon.
During this time, we have completed major upgrades and renovations to enhance your safety and enjoyment. We've added extensive hospital grade HEPA 13 and charcoal room air filtering and negative ionizers, high power germicidal UV-C lights for nightly surface disinfection, plexiglass shields for the tables, hand sanitizers, MERV 13 filtering in the central air conditioning, QR code phone readable menus, contactless payment options, and a high temperature dishwasher system. We maintain social distancing guidelines and mandated capacity limits. Our staff is trained in good infection control service procedures and we have masks available for patrons that arrive maskless. We also sell JHOM branded 3 ply black cotton masks.
We have installed a big new front window and a beautiful music themed stained glass window, and completed construction of a gorgeous new bar with 12 ales on tap and a line chiller system running from the basement walk-in cooler up to the tap tower to keep the brews ice cold right to your glass. We opened up an eight foot section of the 15" thick stone wall between the stage and the library dining room to provide a clear view of the stage from the side. Finally, we repaired and repainted the whole building facade and have an awesome new 8' high, bright red, guitar shaped sign with marquee lights. The whole roof is also being replaced.
We can't wait to welcome you back to a full weekly concert schedule!
On Hold


SUNDAY BLUES BRUNCH & JAM

• Philly Blues Society Meet-up
• featuring the Philly Blues Kings

FREE ADMISSION! 12:00 pm to 3:00 pm
Blues lovers and players have made Jamey's their home away from home, and know that this is the best place to come for some really good and inexpensive eats, ales on tap from Crooked Eye Brewery, fresh ground coffee and espresso, great music, and friendly people. The vibe is home-like and cool, and the sound is out of this world. Jamey's provides a full professional grade backline, so players only need to bring their instrument to jump up on stage and jam.
The open mic jam runs from noon to 2:00 pm, and the smoking hot Philly Blues Kings lays down a set from 2:00 to 3 pm.
The Philly Blues Society hosts the weekly meet-up where members new and old can come to play, eat, drink, chat and enjoy a day soaked in the blues. Many guests also like to host gatherings or parties during the brunch, as there are tables and chairs for dining, and comfortable seats to listen to the music - and it does not cost them a thing to meet up there! Plus, it is wheelchair accessible, and has plenty of free local parking. Being right in the center of downtown Lansdowne, next to the train station, there is abundant public transportation as well.
Check out the mouth watering brunch menu on our menu page.
No reservations are needed. Just load up some friends and head on down!
http://www.phillyblueskings.com
On Hold


THURSDAY NIGHT JAZZ JAM

• featuring the Dave Reiter Trio

FREE ADMISSION! 6:00 pm Kitchen - Jam 8:00 to 10:30 pm
Jamey's is proud to be the newest home base for the Philadelphia region's world class jazz community. We welcome players and lovers of all things jazz to come and hang your hat and enjoy an evening of outstanding live music, at no charge, in our cool and classy listening room and restaurant. We feature a full professional backline including a dual manual Hammond organ with leslie, Nord keyboard, Bucks County drums and an assortment of top quality amplifiers... not to mention the best sound system of any small club on the east coast.
The Dave Reiter Trio lays down the backing for some out of this world jazz to happen, and you never know who might show up to join in. Reiter is a long time jazz pro, and is equally at home on the 7 string guitar, Nord keyboard or our top of the line Hammond organ setup. Bill Marconi is on drums, his name is known to jazz aficionados around the world. Holding down the bottom, is first-call Philly bassist, George Livanos.
Doors open at 6pm for dinner, no reservations needed, and the music generally starts at 8pm. There is abundant local free parking, and we are a few steps from the Lansdowne train from Philly. We feature fresh cold ales on tap from the Crooked Eye Brewery, Fresh brewed Green Street Coffee, espressos and our excellent dinner menu earns rave reviews... all at modest prices. Our friendly staff is at your service.
Won't you join us for a great night out?
---
YOU SAID IT...
"BY FAR the best live music venue on the East Coast"
"...the coolest venue in the universe..."
"Best. Venue. Ever."
"We just bought a house in Lansdowne to be closer to Jamey's"
"Truly the very coolest venue for live music ANYWHERE"
The Lightyears: "Jamey's House of Music is in our top 3 all time venues to play along side The 02 Arena & Marquee Club, London"
"Home. It's doesn't get any warmer than being in Jamey's House!"
"We've played every kind of venue imaginable on several world tours, and I have to tell you that this is probably the best venue we have ever played. It's simply brilliant. Thank you for everything done to perfection."
"Jamey Reilly couldn't possibly have created a finer oasis for musicians to perform. It's really a gem. SERIOUSLY! Everybody try and get a date there!!! (Just leave some room for us because we're definitely going back!!!)"
"Amazing! A hidden, intimate live music venue with impeccable sound. Sat at long tables next to total strangers and it felt like being with family. Delicious food (and great craft beer the night I was there). It's rare to find a venue owner who cares this passionately about the music! Two big thumbs up."
"Last night we debuted at Jamey Reilly's Jamey's House of Music. Jamey has outdone himself. He has an incredible backline, and the sound, which he engineers is exquisite. Working with Jamey helps make performing seamless. He knows what he is doing and is an excellent communicator. He is also a musician, which helps a great deal (the man has ears). The food at this venue is incredible. The flavor-I can't begin to find the words to express how excellent it is. If you have not been to Jamey's House of Music, get down there, catch a show. Get there early and enjoy the amazing cuisine. It will blow your mind."
"This small room is by far the best sounding music venue I've ever experienced. It's a truly exceptional labor of love..."
"Not enough room here to tell you how fabulous this venue is—music, people, food, on-tap beer, and staff are all top drawer! Prices are fantastic! The photos are shrimp over grits and a fabulous vegan burger with vegan bacon!"
"THE place to Jam!!! Jamey is the man, the myth, the legend. Great equipment & exceptional drum set."
"Jamey's is the BEST. People who never heard of the band will show up to listen, because they KNOW Jamey books the official bands, has the great food, great sound, great atmosphere...and now great craft beer. WORLD CLASS JOINT, yo!"
"I tell everyone about Jamey and Jamey's House of Music. Everyone in Nashville knows about this place. I play some of the best rooms in the world, like the Bluebird, Douglas Corner, Third and Lindsley, places with great sound systems, and nothing beats the sound in this room. ...This is my favorite place to play in the whole world."
"The sound is absolutely perfect. I could hear every note of every instrument. Just incredible."
"Great pro sound, fantastic food, great beer and an owner that is a super nice human!!!"
"Congratulations to the incredible Jamey Reilly for spending this (COVID shutdown) time improving facilities at the already fabulous Jamey's House of Music, the best music venue in the Philadelphia area."
I'm a "venue snob" and this place is AWESOME ! Cozy, intimate, acoustically A+, comfy seating, bathroom is spotless, people are warm & friendly ... can't wait to return !
"... a dream performance space. Perfect acoustics, top quality production values, a visually lovely setting, and an overall aesthetic ambience that, like a tea ceremony, lifts every gesture to it's highest level. It's perfection, both for the audience and the performers."
"Intimate music venue with great artists. Offers several craft beers on tap— a full bar bar with Pennsylvania spirits and cider is soon to come. The excellent food and friendly service are an added delight. Highly recommend Jamey's for an enjoyable evening of music and dinner at a reasonable price. Also very gluten friendly."
"Totally going again soon! A++++++!!!"
"I can't even explain how delicious everything was."
"One word. ..incredible!"
"Awesome food..."

---
Jamey's House of Music Tee Shirts Are Now Available!
High quality, black, all cotton Champion tagless shirts with 5 color silk screen
in sizes S to XXL. Only $20!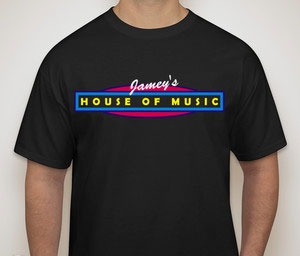 We happily accept cash, and these major charge cards

---
JAMEY'S HOUSE OF MUSIC
Livehouse, Restaurant and Bar
32 S. Lansdowne Ave. Lansdowne PA 19050
Call - 215.477.9985 • Fax - 215-879-1457
jamey@jameyshouseofmusic.com
greg@jameyshouseofmusic.com for booking

Proud Member