HOME | TICKETS | MENU | ABOUT | FAQ |
Artists: for booking go to the FAQ page for the avails calendar and details on making submissions
Thursday Night Jazz Jam
(FREE ADMISSION)
6:00 pm dinner (no reservations needed)
~ 8:00 pm jam time
Friday and Saturday Concerts
(or canned music if no band)
6:00 pm dinner (no reservations needed)
8:00 pm show time
Sunday Blues Brunch
(FREE ADMISSION)
12:00 pm to 3:00 pm
The CROOKED EYE BREWERY is now at Jamey's House of Music, offering fresh, cold ales on tap!

Try all of the thirst quenching brews with your dinner, and enjoy the show in high style!

This year will introduce hard ciders and Pennsylvania wines and spirits for your drinking pleasure, at our soon to be built bar!

Every Sunday!


SUNDAY BLUES BRUNCH & JAM

• Philly Blues Society Meet-up
• featuring the Philly Blues Kings

FREE ADMISSION! 12:00 pm to 3:00 pm
Blues lovers and players have made Jamey's their home away from home, and know that this is the best place to come for some really good and inexpensive eats, ales on tap from Crooked Eye Brewery, fresh ground coffee and espresso, great music, and friendly people. The vibe is home-like and cool, and the sound is out of this world. Jamey's provides a full professional grade backline, so players only need to bring their instrument to jump up on stage and jam.
The open mic jam runs from noon to 2:00 pm, and the smoking hot Philly Blues Kings lays down a set from 2:00 to 3 pm.
The Philly Blues Society hosts the weekly meet-up where members new and old can come to play, eat, drink, chat and enjoy a day soaked in the blues. Many guests also like to host gatherings or parties during the brunch, as there are tables and chairs for dining, and comfortable seats to listen to the music - and it does not cost them a thing to meet up there! Plus, it is wheelchair accessible, and has plenty of free local parking. Being right in the center of downtown Lansdowne, next to the train station, there is abundant public transportation as well.
Check out the mouth watering brunch menu on our menu page.
No reservations are needed. Just load up some friends and head on down!
http://www.phillyblueskings.com
Every Thursday!


THURSDAY NIGHT JAZZ JAM

• featuring the Dave Reiter Trio

FREE ADMISSION! 6:00 pm Kitchen - Jam 8:00 to 10:30 pm
Jamey's is proud to be the newest home base for the Philadelphia region's world class jazz community. We welcome players and lovers of all things jazz to come and hang your hat and enjoy an evening of outstanding live music, at no charge, in our cool and classy listening room and restaurant. We feature a full professional backline including a dual manual Hammond organ with leslie, Nord keyboard, Bucks County drums and an assortment of top quality amplifiers... not to mention the best sound system of any small club on the east coast.
The Dave Reiter Trio lays down the backing for some out of this world jazz to happen, and you never know who might show up to join in. Reiter is a long time jazz pro, and is equally at home on the 7 string guitar, Nord keyboard or our top of the line Hammond organ setup. Bill Marconi is on drums, his name is known to jazz aficionados around the world.
Doors open at 6pm for dinner, no reservations needed, and the music generally starts at 8pm. There is abundant local free parking, and we are a few steps from the Lansdowne train from Philly. We feature fresh cold ales on tap from the Crooked Eye Brewery, Fresh brewed Green Street Coffee, espressos and our excellent dinner menu earns rave reviews... all at modest prices. Our friendly staff is at your service.
Won't you join us for a great night out?
Friday, February 28, 2020

BIG BOY BRASS

"...BIG BOY BRASS IS ONE OF THE CITY'S MOST JOYOUS LIVE ACTS..."
- Fly After 5 (entertainment Magazine)

Concert - $15 online advance / $18 door
Kitchen - 6pm, Showtime - 8pm
Big Boy Brass is an eight-piece brass band from Lancaster, Pennsylvania. They play energetic jazz based brass band music, that pulls inspiration from many of the brass bands that came before them as well as rock, pop, and funk influences. Adding variety to their shows, Big Boy Brass can often be found with different instrumentations, depending on the event and venue.
The band first got their start during the summer of 2016, playing on the street corners of Lancaster, PA. Big Boy Brass had the opportunity to play every Sunday on the roof top of Tellus 360, and the bands music grew from there.
Current Members:
Connor Devlin - Sousaphone
Matt Woodson - Drums
Vincent Shickora - Trumpet
Ben Ewing - Trumpet
Sam Yoder - Trombone / Guitar
Dominic Mascaro - Trombone
Darnell Scott- Trombone
Nick Franks - Saxophone
Paul Berry- Saxophone
Saturday, February 29, 2020

THE BLUE PLATE SPECIALS

Proud Members of The Blues Collaborative & Second Story Blues Alliance

Blue Plate Specials were international superstars for 43 seconds on NPR's CarTalk



Concert - $15 online advance / $18 door
Kitchen - 6pm, Showtime - 8pm
The Blue Plate Specials (BPS) join legends Dibbs Preston and The Rockats, Charlie Gracie, and Robert Gordon on Lancaster, PA-based Lanark Records. BPS recorded "Servin' It Up!" their first full-length album with the Lanark family in September, 2014, and it was a scorcher! They are a 5-piece Jump/Swing/Blues/Rockin'/Roots band with smokin' tunes and tight arrangements that hit the ground running, hold the corners, stop on a dime and give 9 cents change. When BPS hits the stage the party starts and the joint jumps until closing time.
"...hot-rodded style of roadhouse boogie ...mixing up classic jump blues and vintage Chicago blues sounds, delivering a horn-infused attack that's suitable for both dancing and drinking. Featuring tunes like 'Whiskey Costs Money,' 'Heartache and Cigarettes,' 'I Need a Car,' and 'Blue Plate Boogie,' 'Servin' It Up!' documents the
Blue Plate Specials' live sound with hip-shaking accuracy and a powerful sense of good, not-too-clean fun."
--Mark Deming, All Music
"The only problem you'll have is not being able to put it down once you get a taste of it."
--Grant Britt, No Depression Magazine
The Blue Plate Specials are:
Charlie Frey - Guitar & Vocals
Walter Beier - Tenor & Baritone Saxes, Clarinet, Flute
Frank Hosking - Keys
Brad Haberle - Bass & Vocals
Mark Cubranich - Drums
http://www.blueplatespecials.net/
Friday, March 6, 2020

THE JIMMY PRITCHARD BLUES BAND

The new album "Meet Me In Memphis" is now available



Concert - $18 online advance / $22 door
Kitchen - 6pm, Showtime - 8pm
With a career spanning four decades, acclaimed bassist and front-man, Jimmy Pritchard has established himself as a true force in today's blues scene.
It all started at age 11 when Jimmy saw B.B. King appear on an episode of Sanford & Son. Eyes-wide, this moment was something he would never forget. Just a few years later, he was able to pick up his first bass.
After playing most of the 80s supporting heavy metal guitarist Vinnie Moore, Pritchard felt a calling to return to the blues. The 90s saw him touring throughout the U.S, Canada, and Europe, supporting acts such as Sonny Rhodes, Georgie Bonds and the Blueskeepers, Socco, and Lonnie Shields.
As his reputation grew into the 2000s, he found himself in ever-increasing demand. Artists like Big Jack Johnson, Richard Ray Farrell, and Roger Girke asked him to accompany them on tour. This is also the time when he established a long-time friendship and working relationship with harmonica ace, Mikey Junior.
Jimmy's first effort as a front-man was the well-received, "Shopping for the Blues" album from 2004. The North Jersey Blues and Jazz society nominated the recording for The Blue Foundation's CD competition. Six years later, he followed up with the impressive, "Goin' Down 9", which was nominated by the Diamond State Blues Society to The Blues Foundation's International Blues Challenge CD Competition.
The bassman backed Mikey Junior at the 2011 International Blues Challenge, where they reached the semi-finals. In 2012 they returned to the IBCs, this time reaching the finals. For 2014, he returned once again, but this time with the Jimmy Pritchard Band, again reaching the semi-finals.
A gig with Florida's blues-rock heavyweight Albert Castiglia took Pritchard away from the spotlight for the next three years
The blues veteran returned to the northeast and resumed front-man duties for his 2019 release, "Meet Me in Memphis." The all-star lineup includes guitarist J.P. Soars, and percussionist Chris Peet. Guest appearances on the album include guitarists Albert Castiglia and Paul DesLauriers, bassist Greg Morency, drummer Sam Harrisson, harp players Rockin' Jake, Albert "Big Daddy" Lambertson, and Mikey Junior, keyboard player and Allman Brothers alum Johnny Neel, and the vocals of Rachelle Coba. The Jimmy Pritchard Band is now touring in support of this album.
Saturday, March 7, 2020

STEVIE AND THE BLUESCASTERS

"You guys are the REAl deal!"
- Ana Popovic

"Few but mighty, Stevie and the Bluescasters demonstrate without a doubt that there IS such a thing as an intimate powerhouse! Just (but not merely!) a trio, their brand of deep-fried acoustic blues will rock your soul. From Stevie Nolan's gutsy-yet-sweet vocalizing to her backdoor man Paul Nolan's inventive, driving guitar to Seth Holzman's spine-tingling harmonica (both unamplified and green-bulleted), this is a blues band with a no-nonsense take-no-prisoners craftsmanship and bone-deep conviction. Whatever your ills, the Bluescasters are your miracle cure. Wellness is just a Wild-Ox Moan away!"
- Rusty Cloud (Keyboards) Blues Brothers Blues Band, Southside Johnny and the Asbury Jukes

Concert - $15 online advance / $18 door
Kitchen - 6pm, Showtime - 8pm
Stevie and the Bluescasters is an acoustic trio playing unique arrangements of ALL KINDS OF BLUES. Their sound covers an array of blues styles including Chicago, Delta, Country, Piedmont Gospel, and international blues sung in other languages. They have opened for many blues artists including, most recently, Ana Popovic ,
The Nighthawks, and Tab Benoit. Their lineup includes Stephanie (Stevie) Nolan: vocals, guitar and percussion; Seth Holzman: harmonica and Paul Nolan: acoustic and steel guitars, mandolin and vocals. They began their journey together over 15 years ago crafting a one -of-a- kind sound based upon skill, performing, and a driving passion for blues history and styles.
Stevie sends deep, soulful vibrations through every note. The imaginative arrangements of harmonica and guitar lines backed by Stevie's rock-solid rhythm guitar create a rich and full band sound.
Since releasing their CD "All Kinds of Blues" Stevie and the Bluescasters have received a wide range of radio play, performed a number of sold-out shows and music festivals throughout Delaware, New York, New Jersey, and Pennsylvania.
www.stevieandthebluescasters.com
Friday, March 13, 2020

VALENTINA SOUNDS
with JACOPO DE NICOLA

Italian born, Philadelphia based Valentina Raffaelli (former front of Sunshine Superman/Sparkle Pony) is excited to release her first solo album, "Bring On The Fire."

Joining Valentina will be Philly favorite, Jacopo De Nicola, who also happens to hail from Italy.

Concert - $15 online advance / $18 door
Kitchen - 6pm, Showtime - 8pm
"Bring on the Fire" is the story about the end of a long-term relationship told in a relatable, true to life way. The songs portray the array of emotions of hope, sarcasm, determination, compassion and of course anger and sadness felt during a trying time, while still living life among the surrounding world.
Valentina's music is a fusion of catchy melodies and pop tunes, perfectly blended with a background in jazz vocals and a love for composition.
I'm hoping my songs will inspire people that are not happy with their current situation to make a change in their lives, no matter how hard and impossible it might seem. There is a light at the end of the tunnel
https://www.valentinasounds.com/
Jacopo hails from Torino, Italy. Writing and singing in Italian and English, he carries on the tradition of the Italian Cantautori.
In his tattered old suitcase he packs humor, angst, poetry and socio-political reflections, sharing the journey with the listeners that roll with him on a fast moving train.
Revving up his songs with a mix of Balkan and Latin rhythms collected during his travels, his live performances are punctuated by multilayered kazoo melodies that have become a signature of his unique style.

www.jacopodenicola.com
Saturday, March 14, 2020

JEFFERSON BERRY
and the URBAN ACOUSTIC COALITION

It's a show. A Coalition of Players, some of the best musicans in Philadelphia (or any town we find ourselves in) take their places on the stage to help me tell my stories. Stories of the city. This Coalition of players, much like a cast, rotate in and out, setting up a pacing for the evening that keeps each tale fresh.

Concert - $15 online advance / $18 door
Kitchen - 6pm, Showtime - 8pm
From the drunk on the town to the cop on the take, there's an interesting tale in the songs of Jefferson Berry. These songs are performed by a collection of unique players: The Urban Acoustic Coalition. The band is anchored by the virtuosity of Bud Burroughs and Dave Brown. 2017's release of The Habit is the fourth collaboration between Berry and keyboard and mandolin wizard Burroughs. Brown and Berry's musical relationship came together with benefit shows for Katrina victims and has grown in the fest campgrounds. Brown plays electric guitar, keyboards, dobro, banjo, mandolin and fretless bass as needed. Complementing this with a variety of guitar styles, Berry's projects bring a danceable style and contemporary point of view to a unique wing of the folk scene.
Singing songs about the city, Berry's Urban Acoustic themes bridge the broad sensibilities of the Americana genre with the tales of city living. Helping out with this singing have been a cadre of excellent female vocalists: Irene Lambrou (lead singer for Almshouse), Emily Drinker (named 2017's Philadelphia Songwriter of the Year), Briana Berry (lead singer for The Berrys) and studio pro Becka Cooper.
Marky B, one of the area's premier chromatic and blues harmonica players deepens the band's soulful approach. And while appealing to jam band and folk audiences, the band is driven by the bass & drums cadre of Dean McNulty and David Rapoport into what is best described as high-end Folk Rock
https://www.jeffersonberry.com/
Friday, March 20, 2020

BROOKS WILLIAMS

Throughout 2020 Brooks Williams is celebrating 30-years of touring and recording with back-to-back tours and the release of a new album. And what a year it is turning out to be!

Concert - $15 online advance / $18 door
Kitchen - 6pm, Showtime - 8pm
For his 30th anniversary, Brooks has recorded an album of favorites from his back catalogue, re-imagined and re-recorded. Work My Claim shows off the full range of his voice, guitar styles and musical influences. The album features contributions by some of his closest musician friends including John McCusker (Mark Knopfler, McCusker-McGoldrick-Doyle, Heidi Talbot, Phil Cunningham-Ally Bain); Christine Collister (Richard Thompson, Daphne's Flight); Jim Henry (Eliza Gilkyson, Tracy Grammer, The Boxcar Lillies); Aaron Catlow (Yola Carter, Sheelanagig, Hawes & Catlow), Ralf Grottian and Phil Richardson (Claypath).
Work My Claim illustrates why some of the most respected names on the acoustic music scene hold him in such high regard. Long-time friend and personal hero Martin Simpson has called him "a great writer - the real thing."
Brooks may now call the UK home, but his music and manner are firmly rooted in his Statesboro, Georgia, birthplace. On leaving Georgia at 19, he moved to Boston, ostensibly to attend Berklee School of Music, which never then happened. Instead he cut his teeth performing in the coffee houses and bars around Boston. Soon, his reputation developed to the extent that he was appearing on stage alongside the likes of Nanci Griffith, Chris Smither, Leo Kottke, Shawn Colvin, and Taj Mahal.
A guitarists' guitarist, Brooks' wide smile and gentle grace immediately puts his audience at ease. He has a highly sophisticated, versatile, fingerstyle expertise, and he has a mean bottleneck slide technique too. The groove he sets up on his battered Atkin J-43 is second-to-none in acoustic music. After watching or listening to Brooks it becomes immediately apparent why he's such a favourite, and has been ranked as one of the Top 100 Acoustic Guitarist's. His innate musicality and skill shines through everything he does.
As if that weren't enough, AmericanaUK says, "He has a beautiful voice that you just melt into." That voice earned Brooks a nomination for "Best Male Vocalist" by Spiral Earth.
He is "at the top of his game," says Blues In Britain, adding: "It is pure talent, hard work and relentless touring which has brought him to the pinnacle of his career."
Brooks has pretty much released an album a year over the course of 30-years on a variety of labels including Green Linnet, Silo, Reveal Records and Signature Sounds. His first album, released in 1990, received a glowing review from The Washington Post which inspired National Public Radio to give him some serious attention. That interview was broadcast coast-to-coast across the USA, and that's where it all began.
From the beginning, Williams has toured in ever-widening circles across the USA and up into Canada, with appearances at The Birchmere in Greater Washington, DC, Freight and Salvage in Berkeley, CA, Newport Folk Festival, Winnipeg Folk Festival, and the Philadelphia Folk Festival. Later, his tour dates also included festivals in the UK like Cropredy, Shrewsbury and Glastonbury, and Blues au Chateau in France, The Jazz Club in Vienna and The Blue Room Sessions in The Netherlands.
Saturday, March 21, 2020

LAURA CHEADLE
with NORMAN TAYLOR

"She is perpetual motion, boundless energy, and shares her love of music with everyone present … Laura is incapable of standing still, staying on the stage, or even keeping her shoes on." STAGE Magazine

Concert - $15 online advance / $18 door
Kitchen - 6pm, Showtime - 8pm
The city of Philadelphia has a well-documented history of producing some of the most original, trend-setting, popular music in the world, and in keeping with that sacred tradition, is proud to present one of the area's most gifted and exciting talents, Laura Cheadle, whose voice and performance style is an exciting blend of bluesy, soulful raw energy with a smooth, polished control.
Recently endorsed by Traveler Guitar as a Brand Ambassador, Laura has opened for some of the biggest names in the industry, won numerous awards, including the "Best Indie Jazz/Blues Band" at WXPN sponsored Tri- State Indie Music Awards, and Best R&B Vocalist. She has performed on stages from NYC to London, appeared on 6ABC's "Tuned In" as the very first viewer's choice, the "NBC 10″ Show, the national reality show "Next Great Family Band," and declared a "Super Woman" in South Jersey Magazine for her active charity work and mentoring of youth. A versatile, powerhouse vocalist, as well as a seasoned songwriter who has had one of her original composition on a popular TV show, Laura embodies positivity and confidence, and is a light-bearer for women's empowerment and equality as she lives that message through her music and example.
With a funk-infused vocal style that is a mesmerizing blend of blues, soul, and timeless rock, she puts her own stamp on every song she sings regardless of the genre she takes on. Whether it's a concert stage, an intimate club, or a giant festival, what you see and hear is what you'll get: the undeniable, unmistakable sound of Laura Cheadle.
Norman Taylor is a singer/songwriter/acoustic blues and soul performer from the Philadelphia area. His musical style is based in the country blues of people like Robert Johnson and Skip James, and contemporary acoustic blues men like Keb Mo, Eric Bibb and Guy Davis. Norman also draws influence from country, 70's rock, soul, gospel and a variety of musical forms.
Taylor has been an opening act for blues men Guy Davis, Corey Harris, singer-songwriter Phil Roy, Pat Wictor, Alexis P Suter, Warner Willams and Jay Summerour, Chris Smithers, Marcia Ball, Trombone Shorty, Janiva Magness, Popa Chubby,Cedric Burnside Project,Jarekus Singelton, Bobby Rush and the legendary rock band ZZ Top. In addition to these openers Norman has also played festivals such as Piccolo Speleto Early Bird Blues festival in Charleston SC, Down Home Blues Festival Charleston SC, Jersey Shore Jazz and Blues Festival, Lehigh River Blues Jam, 2nd Street Festival in Philadelphia, South street Festival in Philadelphia, Nerfa Covention, Briggs Farm Blues Festival, Camp Jam in the Pines–where he played on the same bill as headliners Ronnie Baker Brooks–and the State Street Blues Stroll in Media PA where he performed on the same bill with headliners Rory Block, Lonnie Shields, and Sharrie Williams, Alvin Young Blood Heart. Norman has also played the Roots Ramble Festival in Media PA and the Philadelphia Folk Festival.
Norman's music has been played on Jonny Meister's Blues Show on WXPN in Philadelphia and Tony Colter BB Kings Bluesville on SiriusXM Radio. Norman's Blue Soul CD on Soul Stew Records was nominated for best acoustic blues album for 2014.
Friday, March 27, 2020

AUSTIN MacRAE
JESSICA GRAAE
LISA JEANETTE

An evening not to be missed. Three stunning artists with breathtaking voices will grab you by the heart and leave you feeling better about the world.

Concert - $15 online advance / $18 door
Kitchen - 6pm, Showtime - 8pm
Shimminering lyrics, deft finger-picking and soaring melodies--Austin MacRae is a singer/songwriter from Ithaca, NY, whose music is known for its lyrical and vocal intensity. With a sensitive finger-picking style, MacRae crafts songs rich in wordplay and story. He has performed at venues such as Club Passim, Kerrville Folk Festival (New Folk Finalist), Falcon Ridge Folk Festival (Emerging Artist), Turtle Hill Folk Festival (New Voices Showcase), Ithaca Festival, Oswego Music Hall, Homer Center for the Arts, Bill Knowlton's Bluegrass Ramble Picnic and many other venues. His debut album, Bats in the Attic, won a Syracuse Area Music Award (SAMMY) for Best Folk Recording of 2015. His second album, Keeper, won a SAMMY for Best Americana in 2018. His music has also been featured on a variety of radio stations and shows, including the Sundilla Radio Hour, hosted by Kelly Walker. In 2017 MacRae was one of three winners of the South Florida Folk Festival's singer/songwriter competition in Ft. Lauderdale.
Jessica Graae blends her folk-rock style and classical training to create haunting, soulful songs. She has been twice named WSTW's Hometown Heroes' Best Female Solo Artist, is a PHL Live Center Stage and twice a Philadelphia Folk Factory People's Choice finalist.
Jessica's original music is featured in WHYY's local music project. She has played the Philadelphia Folk Festival, Delmarva Folk Festival, Haverford Music Festival and the Ladybug Festival.
She is currently recording her fourth studio album, to be released this year.
Lisa Jeanette is a native Philadelphian and performing singer-songwriter who has recently released her debut album, Chasing Happy. The youngest of nine siblings, Lisa took to time-sharing her brothers' guitars growing up. Since then, she's become a multi-instrumentalist accompanying herself on piano, guitar and bass. The best way to describe Lisa's style of music is Kaleidoscope Folk, which represents a wide variety of genres in a diverse collection of songs.
Lisa recently performed at the Falcon Ridge Folk Festival, the Ladybug Fest, the Turks Head Fest, The Downingtown Arts Fest, the Wayne Porchfest, and the Chester County Restaurant Fest. Her music can be found on Spotify, iTunes, CDBaby and Amazon music.

Saturday, March 28, 2020

THE JEFF UMBEHAUER BAND

Concert - $15 online advance / $18 door
Kitchen - 6pm, Showtime - 8pm
Singer songwriter, Jeff Umbehauer, has been pleasing diverse audiences for twenty - five years. His acoustic folk style and vocal warmth is creative and energizing. Jeff is an original who's songs and arrangements come from the heart and mind. He will take you on a journey mixing his songs with music from the last century that is a sure delight. His performances incorporate styles anywhere from folk to reggae.
Currently, Jeff has four CD's, "Shoot The Breeze" "Bright Lights" and "2nd Day," with one on the way including the songs, "Sweet Talkin Momma", The Wind," and "Until The Kids Come Home" ( already recorded)! All original works and one with his bluegrass band, Blackjack. Umbehauer has performed at many clubs, fairs, and festivals in the tri-state region.

http://www.umbehauergoldenfieldsmusic.com/
Friday, April 3, 2020

BENJAMIN VO BLUES BAND

The Benjamin Vo Blues Band represented the Billtown Blues Association at the 2020 IBC in Memphis

Concert - $15 online advance / $18 door
Kitchen - 6pm, Showtime - 8pm
Born on October 20th, I guess that makes me a Libra-Scorpio cusp, huh? Don't know if that's a good thing or a bad thing, but at least I'm alive and well. Well, I've got the blues. And with the help of a few of my good friends, I was able to get some of it on tape. A lot of it is slow burning electric blues but I threw in a couple acoustic pieces in there as well. Hope you enjoy, thanks for listening - Benjamin
"...intense yet tasteful playing, heartfelt singing with attractive vibrato and warm vocal tone, and a directness to the songs." - Bruce Iglauer (Alligator Records)
"The Bandcamp website is ideal for picking up an unprecedented blues rock talent from time to time. In this case, it is the thirty-year-old guitarist and singer Benjamin Vo." - Peter Marinus (Blues Magazine)
"...powerful voice, compelling songs, and sheer brilliance on guitar." - Sam Campbell (Gig Spots)
"The blues were solid from the young performer, and the talk around me showed every person there was paying attention." - Tory Gates (Broadway World Music)
"These guys laid down some truly unforgettable slow and powerful blues and Benjamin's guitar work was purely amazing, you could feel every note pouring from his soul..." - Tom Butler (Billtown Blues Notes)
"You play like a motherfucker!" - Bernie Worrell (Funkadelic/Parliament)
https://benjaminvo.bandcamp.com/
Saturday, April 4, 2020

SWEET LEDA

One of our all time favorites is coming back to rock you silly. These people know how to have fun!

Concert - $15 online advance / $18 door
Kitchen - 6pm, Showtime - 8pm
Powered by Julie Cymek's sultry, commanding vocals and electrifying stage presence, Sweet Leda is taking the diverse mid-Atlantic music scene by storm as one of the most exciting and accomplished live acts on the rise. In fact, Lou Plaia (co-founder of Reverbnation) describes them as "the highlight of every festival they play." With its rich blend of new school funk, psychedelic rock, soul and pop, Sweet Leda's heartfelt original music can best be described as a female-fronted, soul-based, Zeppelin meets Chili Peppers!
Sweet Leda's sophomore album Let It In captures the live and raw essence of what can only come from years of steady gigs, blood, sweat, and a few tears. To capture this essence, the band recorded all together in one room, tracking analog to 2" tape. What came out of the process is an intimate, in-your-face, edgy sound that exemplifies Sweet Leda live, and at their best. Let It In was recorded and engineered at WrightWay in Baltimore by IRKO (Jay-Z, J Lo, Pitbull, Talib Kweli), mastered by Brian Lucey (Black Keys, Arctic Monkeys, Beck, Dr John), and produced by Sweet Leda's very own "fifth Beatle," Stephen Joseph Antonelli, who also produced and recorded the band's first album, Need The Music.
Among the band's many milestone achievements are: four Tri State Indie Music Awards, including the Groupie's Choice Award in 2012; Best Emerging Artist DC/Baltimore in The Deli Magazine's reader's poll in 2011; sharing the stage with bands like Galactic, 311, and Jefferson Starship; performing at festivals with the likes of Citizen Cope, G Love, Cake, Live, Lake Street Dive, and Tedeschi Trucks; writing the end-credit title track for the feature film Lovely Molly by Ed Sanchez (Blair Witch Project); being hand-picked by Allman Bros. drummer Butch Trucks to open for his band at the Roots Rock Revival Masters Camp; and performing at Summerfest in Milwaukee 2013 and 2015.
Sweet Leda regularly features tenor-saxophonist Ron Holloway who is listed in the Biographical Encyclopedia of Jazz where veteran jazz critic Ira Gitler described Holloway as a "bear-down-hard-bopper who can blow authentic R&B and croon a ballad with warm, blue feeling." Holloway has worked with the likes of Susan Tedeschi, Dizzy Gillespie, Gil Scott-Heron, Little Feat, and Root Boy Slim. He is currently a member of The Warren Haynes Band in addition to fronting the Ron Holloway Band.

Friday, April 10, 2020

ERIN HARPE COUNTRY BLUES DUO

"Erin has it all to be the next star in the acoustic blues: the musical skills as an exceptional guitar fingerpicker, the musical heritage and knowledge, a wonderful voice, great stage presence and star-quality good looks to boot."
–Frank Matheis on thecountryblues.com

Concert - $15 online advance / $18 door
Kitchen - 6pm, Showtime - 8pm
Erin Harpe's CBD is good for not just the body, but also the soul! The CBD, which stands for "Country Blues Duo", is also a double-entendre touching on the new medicinal product that comes from hemp, popular in Erin's home state of Massachusetts (as well as around the world!). Good for what ails ya! Erin Harpe's CBD plays foot-stomping down-home acoustic blues, featuring Erin Harpe on acoustic guitar, foot percussion and kazoo, and Jim Countryman on ukelele bass. Sometimes the duo will add a third special guest on harmonica, guitar or saxophone (like Roomful of Blues saxman Mark Earley).
Erin also released an instructional guitar DVD in 2016, Women of the Country Blues Guitar (through Stefan Grossman's Guitar Workshop). Erin also teaches finger style guitar and gives workshops! She will be teaching this July 12th-17th at Augusta Blues & Swing Week in West Virginia, along with Phil Wiggins, Jontavious Willis, and many other greats in the acoustic blues scene.
Erin has played with acoustic blues artists Phil Wiggins (of Cephas and Wiggins), Warner Williams & Jay Summerour, Eleanor Ellis, and many more (she once jammed with James Montgomery on jug at the Onset Blues Fest!). She's also opened for some of the greats including ZZ Top, T-Model Ford, Honeyboy Edwards, Roy Bookbinder and James Cotton. She's played at the House of Blues, Caffe Lena, Club Passim, the International Blues Challenge, South by Southwest, the New York State Blues Festival and many other festivals and venues around the US. Her Country Blues Duo has toured the UK twice and also Spain. Look for them at a venue near you, now booking 2020 and beyond!
https://www.erinharpe.com/erin-harpe-acoustic-cbd
Saturday, April 11, 2020

MURRAY KINSLEY AND WICKED GRIN

"Dark, bluesy ruminations on love and loss featuring the weathered vocals and nasty guitar of Kinsley, who must have sold his soul to achieve such depths of sonic wickedness." – Lynn Saxberg, Ottawa Citizen

Concert - $15 online advance / $18 door
Kitchen - 6pm, Showtime - 8pm
Reviewers have described this Maple Blues Award-winning band as stripped-down, hellaciously rockin' new blues with the distinctive voice and guitar-work of Murray Kinsley, awesome harmonica, and a rhythm section that swings with reckless, casual precision (Leigh-Anne Stanton on bass and Bruce Saunders on drums).
Based in Ottawa, Canada, the band brings their innovative original blues to venues and festivals across Canada, the US, England, and Germany.
Wicked Grin's bassist Leigh-Anne Stanton has been nominated as 2018 Maple Blues Awards Bassist of the Year, and the act was a semifinalist at the International Blues Challenge in Memphis, January 2019.
Wicked Grin's latest album "Murder Creek," released October 2018, has earned widespread industry acclaim and was a semi-finalist for the 2019 IBC Best Self-Produced CD Award.
• 2019 IBC Best Self Produced CD Semi Finalist - Murder Creek
• 2019 International Blues Challenge Semi Finalists
• 2019 and 2018 Winner, Maple Blues Awards Bassist of the Year - Laura Greenberg
• 2018 Winner of Loyal Blues Fellowship Road To Memphis Challenge
• 2015 International Blues Challenge Participants
• 2015 Blues Rock Album of the Year - Stormy Water - Blues Underground Network
• 2015 Top 20 Canadian Blues Album - Stormy Water - Brent Morrison, Rockin' Blues Show
• 2014 Maple Blues Award - Best New Group
• 2014 Runner Up - Toronto Blues Society New Talent Search
• 2014 Blues Rock Album of the Year - Shame On Me - Blues Underground Network
• 2014 Winner of Ottawa Blues Society Road to Memphis Challenge
Friday, April 17, 2020

A FORMER FRIEND
with JAMES DALTON

If you ever find the truth put it to good use. But don't tell me what to do because I'm a simple fool. It's all about the greater good. Be the person that you should. I've held the ground on which I've stood. I won because I could.

Peace be unto you my son. Don't take no guff from anyone. The fall comes before you're done and I'm a loaded gun. Fair thee well to you my boy. Raise a glass to the destroyed. Find some silence in the noise 'cuz you're
my baby boy.

Concert - $15 online advance / $18 door
Kitchen - 6pm, Showtime - 8pm
A Former Friend is the brainchild project of the founding member of the band Former Friends of Young Americans. Heavily influenced by his time playing, touring and living in the south, AFF weaves through genres creating a soundscape that builds on the American songbook to back a lyrical styling that is profoundly relevant. His aim is to harken to a time when genre distinctions did not govern popular music and greats like Cole Porter, Hank Williams, George Gershwin, Dizzy Gillespie and Chet Atkins were only revered for their prolific pursuit of art in music. He tours frequently as a solo act, though he is often joined by his partner in all things who provides soulful backing vocals and ethereal flute accompaniment. The two can also be seen as a full band with upright bass, mandolin and drums.
https://www.aformerfriend.com/
James Dalton is a performer. He is a storyteller and a poet, a musician and a giver. He's huffed it around, reaching audiences the hard way:one person at a time, on stages and subway platforms, in living rooms and radio studios. Stomping his feet, hootin and hollerin, banging on guitars, strumming autoharps and making mandolins weep. Sharing secrets and laughs, mixing breathtaking vocals with exciting harmonica playing.

Across many states and countries, James Dalton has had the privilege to make music with such artists and characters as Valerie June, Ron Pope, Jerry Joseph, Nicole Atkins, David Bryan(Bon Jovi), Bill Sims Jr, Dave Schools(Widespread Panic), Chris Thomas King, Bernard Purdie, King Famous, Vinny Lopez(E Street Band), Michael Powers, Keaton Simons, Jenny Conlee-Drizos(the Decemberists), Jon Fishman(Phish) and numerous others.

James has been featured in several books on New Jersey music, has appeared on tv and radio shows across North America and Europe as well as in Asia. 
https://www.facebook.com/pg/jamesdaltonmusic
Saturday, April 18, 2020

BROCK ZEMAN

"With a voice that recalls early Tom Waits crossed with Johnny Dowd, a talking blues style, and backing instrumentation that lays down a slinky late night groove Zeman makes MUSIC THAT FILLS THE SOUL… Discovery of the year so far."

Concert - $15 online advance / $18 door
Kitchen - 6pm, Showtime - 8pm
When it comes to storytelling, Brock Zeman is a master craftsman. The Canada-based singer-songwriter has spent the past 12 years carving and chiseling Americana soundscapes, drawing from roots-rock and alternative country. But what separates Zeman from his contemporaries isn't a willingness to speak truth – it's his unwillingness to conform to the rules of Nashville and the traditional framework of genre. What gives Zeman's stories force isn't that he's just singing a narrative – he's living it.
Over the course of his career, Zeman has released 12 studio albums, one live record, toured North America extensively and received praise from numerous press outlets. "His songs have more depth than can be realized first time through, which only enhances with each listen," wrote Penguin Eggs. Zeman has also won a slew of songwriting awards, including 2nd place at both 2016's Unsigned Only Competition as well as the International Songwriting Competition (ISC) for his track "Pulling Your Sword Out Of The Devil's Back." In 2017 he returned to ISC as a finalist with his song "Dead Man's Shoes."
"I was inspired to write from the feeling I got when I listened to music," Zeman recalls about his childhood. "I always hoped I could pass on the same overwhelming feeling to others."
Beginning his career as a punk rocker, Zeman's musical tastes gradually expanded to a love for country, bluegrass and roots. After years of experimentation, and with the help of longtime collaborator Blair Hogan, he carved a place for himself in the realm of Americana. His discography spans 12 albums – plus one live record – over 12 years, including his most recent releases: The Carnival is Back in Town (2017), Pulling Your Sword Out of the Devil's Back (2015) and Rotten Tooth (2013).
With an acoustic guitar and rhaspy voice, à la Greg Brown, Tom Waits and Mickey Newbury, Zeman has managed to preserve the DIY ethos of his punk rock upbringing. He's an engineer and producer who not only tracks his own material, but has recorded other artists in his Ontario studio (called The Big Muddy), including Nashville troubadour David Olney.
Brock will appear with guitar slinger Blair Hogan.
Friday, April 24, 2020

BORIS GARCIA

How bands begin is a perfect mix of the accidental - Keith meets Mick at a train station and spots the record under his arm, Bob hears Jerry playing banjo on a winter night, Paul decides to go to the Woolton Garden Fete and sees John - and the predestined; bands happen because they're meant to be, because they contain an energy that simply must find expression.

Concert - $15 online advance / $18 door
Kitchen - 6pm, Showtime - 8pm
In the past six years since inception, BORIS GARCIA has set about trouncing genre "lines in the sand" and has fused Pop, Bluegrass and Jam into their own undeniable sound. BORIS GARCIA was born when friends recorded for fun only to find an audience beyond their wildest dreams. "We put together a band of the best local musicians for a one-off gig," "It worked so well we did it again, and again, and again." BORIS GARCIA quickly evolved into one of the most unique Americana / Jam bands in the land. They masterfully blend acoustic and electric instrumentation with American roots sensibility and melody that envelopes like a warm robe.
Their brand new CD "Around Some Corner" was produced by Railroad Earth fiddler Tim Carbone and is their fifth national release. Eleven new tunes showcase Boris Garcia's ability to tell a story and forge a lasting melody. Love and compassion, tales of higher order and sometimes personal disorder, songs that speak to the human condition.
Boris Garcia has seen significant commercial airplay charting AAA and Americana pacing them "outside" most of the Jamband crowd," real song's that resonate" despite any monikers or genre classification. Boris Garcia's "Once More Into The Bliss" factored in the Jambands.com charts and placed top 10 for over 8 months peaking at #6 overall.
https://www.facebook.com/Boris-Garcia-187834267930391/
Saturday, April 25, 2020

SLIM AND THE PERKOLATORS

Hot off The IBC Blues Challange semi-finals - the boys are back in town. Catch them on their return to Jamey's!

Concert - $15 online advance / $18 door
Kitchen - 6pm, Showtime - 8pm
Hey ya'll I'm Harmonica Slim and I'd love to share the ride with you! Born and raised just outside of Philadelphia I grew up in a blue collar neighborhood where things are simple, the Eagles were a way life, and a good day meant playing hockey without getting in a fist fight with your buddy. I love it all, and its molded me into the passionate blues man I am today. The harp is my life, the blues is my savior, and the fans are why I exist to play it!
I began my journey with the blues at the the age of 24. By this point I had been playing harp for 2 years, but I really didn't know what I was doing. I wasn't raised with the blues on my radio and I had no sense of what harp players were supposed to sound like. Through trial and error I spent the first two years learning how to bend notes, play scales, and imitate the guitar riffs of players like Jimmy Page and Duane Allman. It wasn't until I walked into one of the best blues joints in my home city of Philadelphia that I heard a master of the instrument play it right. Mikey Junior who runs the famous Twisted Tail Blues Jam on Sundays was on stage with the house band giving me a true lesson of what the blues is all about. I heard tunes by Little Walter, Sonny Boy Williamson, Junior Wells, and original stuff by Mikey himself. Later I had the privilege of witnessing more mastery of the instrument from one of the east coast's kings of harp Steve Guyger and I knew the blues was my calling in life. Steve was as close to those old masters as I had ever heard and he still wows me to this day. Those moments were the inspiration for my journey, which has led me to become one of the finest harp players in the Philly area. Along the way I met The Perkolator at a Little Red Rooster Band Show where they graciously let me sit in with them. From there it didn't take us long to realize we were gonna be ripping up on some blues together. Now I play with Tim "The Perkolator" Perks both in a duo and in a full band known as Slim and The Perkolators!
Since I began playing the blues live and became a professional, I've been lucky enough to share the stage with many local greats. I've been on stage with harp giants Mikey Junior (PA Blues Hall of Famer), Steve Guyger (Jimmy Rodgers harp player for 17 years and PA Blues Hall Of Famer), "Big Daddy" Albert Lamberson, Doctor Harmonica (Delaware Blues Hall of Famer), guitar greats Filthy Rich McPherson (New York Hall of Famer), Roger Girke (Former Foghat guitarist and Delaware Blues Hall of Famer), "Gypsy" Joe Alves, Joey Fulkerson, Georgie "The Blacksmith" Bonds (PA Blues Hall of Famer) Kevin McCann (Little Red Rooster Band and PA Blues Hall of Famer), bass virtuoso's like Jimmy Pritchard, Tony "TNT" Jones (Bass player for both Sister Sledge and Nina Simone throughout their careers and the only local one to tour with Buddy Guy and Big Mama Thornton), Bj Muntz (Lower Case Blues Band and Delaware Blues Hall of Famer), and drummers like Russ Joel (Delaware Hall of Famer), Howard Burton (toured with the Delphonics), Larry Hinkel, and Dave Marabella( former Robert Hazard drummer). One of my fondest moments was playing the Phoenixville Blues Festival with up and coming future guitar star Radka Kasparcova and her band Time Gap. I also had the honor of being invited to play with my old friend Logan Carpenter at the 1st annual Trenton Porkroll Festival.
---
YOU SAID IT...
"BY FAR the best live music venue on the East Coast"
"...the coolest venue in the universe..."
"We just bought a house in Lansdowne to be closer to Jamey's"
"Truly the very coolest venue for live music ANYWHERE"
The Lightyears: "Jamey's House of Music is in our top 3 all time venues to play along side The 02 Arena & Marquee Club, London"
"Jamey Reilly couldn't possibly have created a finer oasis for musicians to perform. It's really a gem. SERIOUSLY! Everybody try and get a date there!!! (Just leave some room for us because we're definitely going back!!!)"
"Last night we debuted at Jamey Reilly's Jamey's House of Music. Jamey has outdone himself. He has an incredible backline, and the sound, which he engineers is exquisite. Working with Jamey helps make performing seamless. He knows what he is doing and is an excellent communicator. He is also a musician, which helps a great deal (the man has ears). The food at this venue is incredible. The flavor-I can't begin to find the words to express how excellent it is. If you have not been to Jamey's House of Music, get down there, catch a show. Get there early and enjoy the amazing cuisine. It will blow your mind."
"This small room is by far the best sounding music venue I've ever experienced. It's a truly exceptional labor of love..."
"THE place to Jam!!! Jamey is the man, the myth, the legend. Great equipment & exceptional drum set."
"We've played every kind of venue imaginable on several world tours, and I have to tell you that this is probably the best venue we have ever played. It's simply brilliant. Thank you for everything done to perfection."
"I tell everyone about Jamey and Jamey's House of Music. Everyone in Nashville knows about this place. I play some of the best rooms in the world, like the Bluebird, Douglas Corner, Third and Lindsley, places with great sound systems, and nothing beats the sound in this room. ...This is my favorite place to play in the whole world."
"The sound is absolutely perfect. I could hear every note of every instrument. Just incredible."
I'm a "venue snob" and this place is AWESOME ! Cozy, intimate, acoustically A+, comfy seating, bathroom is spotless, people are warm & friendly ... can't wait to return !
"Best. Venue. Ever."
"... a dream performance space. Perfect acoustics, top quality production values, a visually lovely setting, and an overall aesthetic ambience that, like a tea ceremony, lifts every gesture to it's highest level. It's perfection, both for the audience and the performers."
"Totally going again soon! A++++++!!!"
"I can't even explain how delicious everything was."
"One word. ..incredible!"
"Awesome food..."

---
Jamey's House of Music Tee Shirts Are Now Available!
High quality, black, all cotton Champion tagless shirts with 5 color silk screen
in sizes S to XXL. Only $20!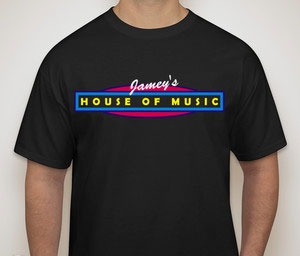 We happily accept cash, and these major charge cards

---
JAMEY'S HOUSE OF MUSIC
Livehouse and Cafe
32 S. Lansdowne Ave. Lansdowne PA 19050
Call - 215.477.9985 • Fax - 215-879-1457
jamey@jameyshouseofmusic.com
greg@jameyshouseofmusic.com for booking