HOME | TICKETS | MENU | ABOUT | FAQ |
Artists: for booking go to the FAQ page for the avails calendar and details on making submissions
Only open if a show is booked... check below!
Friday and Saturday Concerts
6:00 pm dinner, 8:00 pm showtime
First Sunday Blues Brunch
12:00 pm to 3:00 pm
First Sunday Each Month


FIRST SUNDAYS BLUES BRUNCH
• and blues jam open mic
• and Philly Blues Society Meet-up

FREE ADMISSION! 12:00 pm to 3:00 pm
We've decided to get rid of our already small cover charge for our popular Blues Brunch and Jam to help you stretch your budget even further! We have also changed from a weekly schedule to the first Sunday of every month and are delighted that the New Philly Blues Society will host their monthly meet-up, and invites members new and old to join us!
Blues lovers and blues players have made Jamey's their home away from home for over a year now, and know that this is the best place to come for some really good and inexpensive eats, fresh ground coffee and espresso, great music, and friendly people. The vibe is home-like and cool, and the sound is out of this world. Jamey's provides a full professional grade backline, so players only need to bring their instrument to jump up on stage and jam.
The open mic jam runs from noon to 1:30 pm, and the smoking hot Philly Blues Kings lays down a set from 1:30 to 3 pm.
Many people like to host gatherings or parties during the brunch, as there are tables and chairs for dining, and comfortable seats to listen to the music - and it does not cost them a thing to meet up there! Plus, it is wheelchair accessible, is BYOB, and has plenty of free local parking. Being right in the center of downtown Lansdowne, next to the train station, there is abundant public transportation as well.
Check out the brunch menu on our menu page.
No reservations are needed. Just load up some friends and head on down!
http://www.phillyblueskings.com

Friday, February 22, 2019

NORMAN NARDINI


Pittsburgh's Rock n Roll Legend
Concert - $15 online advance / $18 door
Dinner - 6pm, Showtime - 8pm


As bass player for the 1970's Pittsburgh rock n' roll band, Diamond Reo, Norman Nardini got his career started. After a very brief stay at Berklee School Of Music and more than a few special moments….while still in high school he rented his Hammond B-3 organ and roadied for Billy Preston and Sly and the Family Stone when they came to town…..was hired to play guitar and keys in fake versions of The Sonics and The Cherry People…………backed up Little Anthony and the Imperials, The Detroit Emeralds, and The Manhattans in pickup bands…..played guitar behind Big Mama Thorton and George Harmonica Smith at The Jazz Workshop in Boston Mass. At Fox studio he had the opportunity to play on recordings by Jimmy Beaumont and the Skyliners, Lou Christy, Terry Bradshaw……Nardini played bass on "The Pennsylvania Polka" Steeler fight song. After doing an arrangement of "Dancing In The Street" that got picked up by RCA he did an arrangement of Marvin Gaye's "Ain't That Peculiar" that brought an album deal with Big Tree Records that got Diamond Reo started. With a single on the charts The Diamonds appeared on Dick Clark's American Bandstand and did shows with Aerosmith, Rush, Ted Nugent, Kansas, Canned Heat, Blue Oyster Cult……they opened up for Kiss at Cobo Hall in Detroit the night they recorded Kiss Alive. Dirty Diamonds, they're second release was on the Buddah label and was produced by Adrian Barber who had done Aerosmith's first LP……although it didn't do so well at the time, Dirty Diamonds is currently being re-released on Rock Candy Records and is considered to be a classic piece of work……Nardini produced Ruff Cuts The Diamonds third and final LP. Norman Nardini and the Tigers started tearin' up rock n' roll shows in 1979 opening shows for bands like The Romantics, Joan Jett, and Beaver Brown. In the fall of 1980 The Tigers played Asbury Park's Fast Lane and opened the show for The Rest, one of Jon Bon Jovi's early bands, he and Jon remain friends to this day. Jon had Nardini open his 2011 performance at Pittsburgh's Consol Energy Center. Recorded at Cleveland's legendary Agora Nightclub, Eat n' Alive, which received a 4 star review from Rolling Stone Magazine was released in '81 and kept The Tigers on the road constantly. CBS released Norman Nardini and the Tigers in '83, ole buddy Jon Bon sang BG vocals. With the Tigers broken up, Nardini did one more release with CBS, Love Dog, which featured Rick Derringer, Dr John, and Paul Shaffer and hit in '86 and was followed by a tour with The Radiators. A tour of Germany as opening act for The Blues Brothers came about because "Smoke Two Joints", the single off the Circumstantial LP, This Ole Train was hitting the airways just after the Berlin wall came down and folks were exercising their freedom to rock and smoke. Two more LP's on Circumstantial followed, 1993's Breakdown In Paradise and 95's It's Alive.
Saturday, February 23, 2019

BLUE PLATE SPECIALS


Original Jump, Swing, Rock and Blues
Concert - $15 online advance / $18 door
Dinner - 6pm, Showtime - 8pm


The Blue Plate Specials have just joined legends Dibbs Preston and The Rockats; Charlie Gracie; and Robert Gordon on Lancaster, PA-based Lanark Records. The Blue Plate Specials recorded their first full- length album with the Lanark family in September, 2014, and it's a scorcher! BPS is a 5-piece Jump/Swing/Blues/Rockin'/Roots band with smokin' tunes and tight arrangements that hit the ground running, hold the corners, stop on a dime and give 9 cents change. When they hit the stage the party starts and the joint jumps until closing time.
Charlie does the songwriting and is out front with vocals and guitar. He loves to interact with the crowd and never fails to get them dancing and make them a part of the show. When The Blue Plate Specials serve it up, adult beverages is consumed, commandments is broke, babies is conceived and a rockin' time is had by all.
The Blue Plate Specials are:
Charlie Frey - Guitar & Vocals
Walt Beier - Tenor & Baritone Saxes, Clarinet, Flute
Alan Sheltzer - Keys
Brad Haberle - Bass & Vocals
Larry Hinkel - Drums
Nerissa Wolfson - Vocals
http://www.blueplatespecials.net/
Sunday, February 24, 2019


JAZZ BRUNCH
and sign-up event for Lansdowne voters to support liquor licensing in Lansdowne


Come and meet your neighbors! Enjoy some great live jazz and delicious inexpensive brunch. All are welcome to attend!

FREE ADMISSION! 12:00 pm to 3:00 pm
No reservations needed. Would you like to come to Jamey's House of Music and have the option to enjoy adult beverages with your meal and concert? If so, please support this effort. Please share the news with your neighbors, attend information and petition-signing events, and please vote YES!
https://lansdownesfuture.org/thirsty-for-change/
Saturday, March 2, 2019

HIROYA TSUKAMOTO


"...chops, passion and warmth. Zealously recommended!" -Jazz Review.com

"HiroyaTsukamoto plays with fluid mastery, pristine tone, and great warmth. "
-Celine Keating (author / Acoustic Guitar Magazine / minor7th)

"HiroyaTsukamoto takes us to an impressionistic journey " -Boston Herald
Concert - $15 online advance / $18 door
Dinner - 6pm, Showtime - 8pm


Hiroya Tsukamoto is a one-of-a-kind guitarist and composer based in NYC.
He was born and grew up in a small town outside of Kyoto, Japan. Hiroya began playing banjo when he was thirteen years old and a year after, he started playing guitar. In 2000, he received a scholarship to Berklee College of Music and came to the US. Hiroya formed a group called Interoceanico (Inter-Oceacnic) which consists of eight musicians from different countries including Latin Grammy Colombian singer Marta Gomez and they released three acclaimed records.
Hiroya has been leading concerts internationally including several appearances at Blue Note in NYC and Japanese National Television (NHK). Hiroya developed a unique solo style combing looping and storytelling and he has been playing around 130 shows a year across the country and internationally. In 2018, he won 2nd place in International Finger Style Guitar Championship
Sunday, March 3, 2019


BLUES BRUNCH with the Philly Blues Kings, and sign-up event for Lansdowne voters to support liquor licensing in Lansdowne


Come and meet your neighbors! Enjoy some great live blues and delicious inexpensive brunch. All are welcome to attend!

FREE ADMISSION! 12:00 pm to 3:00 pm
No reservations needed. Would you like to come to Jamey's House of Music and have the option to enjoy adult beverages with your meal and concert? If so, please support this effort. Please share the news with your neighbors, attend information and petition-signing events, and please vote YES!
Grab your favorite axe, a bottle of wine and some friends and head on over. Mouth watering brunch, coffee and espressos will be served all day. What a great way to begin the new week with a happy stomach and an ear full of some of the best blues in the east.
https://lansdownesfuture.org/thirsty-for-change/
Saturday, March 9, 2019

VENOM BLUES


Dedicated to the art of the blues since 2005. One of the top ranked bands in the northeast
Concert - $15 online advance / $18 door
Dinner - 6pm, Showtime - 8pm


The Mid-Atlantic's hottest Blues band performing original work and remakes of Blues greats such as Muddy Waters, Johnny Winter, Robert Cray, the Chambers Brothers and other Blues legends. Venom Blues appears throughout Delaware, Maryland, New Jersey and Pennsylvania and rolls out several sets of seriously smokin' Blues tracks that will have you out on the floor "stompin' yo' feet". This ain't your Grandmomma's Blues, so come prepared to hear a little something special and don't be surprised if you get bit by the seduction that is "The Blues"!
With the understanding that The Blues is an art form that deserves serious attention to detail, The Blues also leaves a lot of room for interpretation and innovation. Venom Blues carries that one step further into today's music scene with a bit more edge and a lot more energy. The musical dynamics and variety of styles presented at a Venom Blues show always leaves the crowd "wantin' mo", so c'mon down y'all, don't be shy. Give Venom Blues a try!
Venom Blues was formed in late 2005 by veterans of the Delaware and Northeast music scene, who collectively, have well over a hundred years of musical experience. They were brought together by an extreme desire to rekindle the flames of the artistry known as The Blues and carry it forward to a new generation. Delaware has seen it's share of the best Blues musicians that have toured the world. Venom Blues seeks to carry on that tradition, so keep your eyes open - The Blues can strike real fast...
http://www.venomblues.com/main.asp
Sunday, March 10, 2019


JAZZ BRUNCH
and sign-up event for Lansdowne voters to support liquor licensing in Lansdowne


Come and meet your neighbors! Enjoy some great live jazz and delicious inexpensive brunch. All are welcome to attend!

FREE ADMISSION! 12:00 pm to 3:00 pm
No reservations needed. Would you like to come to Jamey's House of Music and have the option to enjoy adult beverages with your meal and concert? If so, please support this effort. Please share the news with your neighbors, attend information and petition-signing events, and please vote YES!
https://lansdownesfuture.org/thirsty-for-change/
Friday, March 22, 2019

LOS VAGOS


Latin Jazz Reimagined and Redefined
Concert - $15 online advance / $18 door
Dinner - 6pm, Showtime - 8pm


Los Vagos Band's strength of character comes from the sum of its' parts. While collectively a delicious texture of sounds, the members have gigged internationally, nationally, and, locally all of whom have billed as leaders for many years.
Jocko Macnelly is a mult-instrumentalist, composer, arranger, and teacher. At any given moment, he is as likely to break into a calypso tune as to be writing a choral arrangement of an African Soukous song. He has performed with such diverse talents as Billy Eckstein, Lou Donaldson, Phyllis Diller, Archie Bell, A House of Freaks, the Richmond Virginia Symphony Orchestra, Carter Beauford, and Tim Reynolds.  www.theotherjocko.com
Dylan Taylor  is an American bassist, cellist, composer, and arranger. Dylan's compositions display his music diversity by weaving together AfroCuban, Fusion, Straight-Ahead, Blues, and Avant-garde. He has provided the bottom anchor for artists such as Lee Konitz, Freddie Hubbard, Mose Allison, and Larry Coryell. Taylor's musical score for the feature film, "Takao Dancer" was premiered at the Tokyo Film Festival. www.dylantaylor.com
Percussionist, Jim Hamilton, performs Brazilian, Turkish, Arab, Israeli, global, Avant-garde, Jazz, and Progressive Rock. He has traveled the world and performed with Boyz II Men, Toni Braxton, Paul Winter, Jamaladeen Tecuma, Calvin Weston, and Gerald Alston. After touting Japan and Europe, Jum has settled in his hometown of Philadelphia, Pa. To open recording studio and concert venue, Rittenhouse Soundworks. www.rittenhoussoundworks.com
Kelly Meashey is a vocalist, flautist, and songwriter whose voice "reflects the study of horns (as seen through her phrasing) as well as the passion of Soul and Jazz performers." (Cadence magazine). She has performed in concert at The Chestnut Cabaret, Steel City, Chaplin's, The Music Cafe, The Uptown Jazz Hour series, The Art Museum of Phila., Berks Jazzfest, and Jazzbridge's Jazz in the Wood. Whether she is singing in a cover band, with Philly's Jazz masters, or as a solo voice with dancers, her style is highly improvisational. She co-led on two recordings: Inner Urge with Randy Sarles in the Dreambox Media label, and, Songs of Living with Dylan Taylor on C.I.M.P. (Creative Improvised Music Projects)  www.kellymeasheymusic.com
Together, Los Vagos performs a collage of textures including African, Brazilian, Carribean and American Jazz and popular music, as well as originals.
https://www.facebook.com/LosVagosBand/
Saturday, March 23, 2019

BONOMO

SKIP DENENBERG & COMPANY


Adam Bonomo: "...everything that is serene, smooth, and soulful"
-Quiet Lunch

"The end result is elegance for the ears to behold—something truly captivating"
-popmatters

"an instantly soothing yet rich sound"
-Moxipop


Skip Denenberg, praised by artist Peter Himmelman as "an organic songwriter of the finest caliber" and by music critic, Chris Smith as "proof that there is hope for the American song", Skip is earning a loyal following everywhere he plays, one fan at a time. 
Concert - $15 online advance / $18 door
Dinner - 6pm, Showtime - 8pm


Formed by NYC musician Adam Bonomo, indie acoustic outfit BONOMO is a project that pulls at the heart strings with symphonic resonance and a distinct take on indie-folk music. Influenced by the sounds of folk, jazz, gospel, and classical music, BONOMO is a melting pot of true artistry and the finest pioneering genres of all time. On a mission to unify musical traditions and audiences alike, the ensemble is set of visionaries inspired by the sounds of yesterday while simultaneously crafting a resonance all their own.
BONOMO is a winner of the John lennon songwriting competition and the CASC Songwriting Competition. Bonomo is the RECIPIENT of the audience choice award for their video "water" by director and photographer marian sell. They have also won spots in the Top 5 at the Indie International Songwriting Competition, the Top 3 at the New Song Music Competition, and Third Place in the Nashville Film Festival.
 It isn't writing the theme song "Don't Bet The Farm" that Skip Denenberg remembers most about Farm Aid. Nor is it playing the song for over 5000 people with Willie Nelson and the band backing him up, nor being described by Willie as one of his favorite new songwriters, nor even sharing the stage with his heroes Steve Earle, Neil Young, and Willie Nelson. The most memorable moment for Skip came after the show when the caterer approached him backstage to tell him how much Skip's songwriting had touched him, and he just had to come back and tell him so. 
This is the magic of Skip and his music -- honest, powerful songs that brush against the elusive common nerve that every songwriter seeks to tap. Skip's music has a distinct American feel that seems instantly familiar and comfortable. As a film and television composer, Skip has scored programs and promos ranging from Sesame Street to Olympic Highlight reels, and was a contributing writer for the 2012 Grammy winning Best Children's Album, along with being nominated for 7 Mid-Atlantic Emmys.   
He has shared stages with such artists as Willie Nelson, Donovan, John Oates, Warren Zevon, Richie Havens, Steve Earle, Dar Williams, Al Kooper, Steve Forbert, Jerry Jeff Walker, Ron Sexsmith, the Saw Doctors, The Neville Brothers, and many others. 
He is the songwriter for the Philadelphia Phillies, and can be heard on WIP's Sports Radio's "Morning Show". His popular children's songs are regularly featured on WXPN's "Kid's Corner". 
Friday, March 29, 2019

MALCOLM HOLCOMBE


"I think for most songwriters, songs are like clothing. Malcolm's songs are his skin," writes fellow Nashville tunesmith David Olney. "They are a direct expression of who is as a man."

"People like to say Malcolm Holcombe is a national treasure, and they got that right," adds R.B. Morris, an East Tennessee singer-songwriter, playwright and the former poet laureate of the City of Knoxville. "He stands on all the old American music traditions and takes them his own way into a very individual music expression."
Concert - $15 online advance / $18 door
Dinner - 6pm, Showtime - 8pm


Malcolm Holcombe grew up in western North Carolina, home to some of the planet's oldest mountains and some of America's deepest musical traditions. Radio and TV fueled Malcolm's musical passions as a kid, and music became even more important after he lost both his parents relatively young.
He toured with bands and landed in Nashville, where he took up an inconspicuous station at the back of the house - the very back - at Douglas Corner, one of the city's best singer/songwriter venues. Stories began to circulate about the mysterious dishwasher with the subterranean voice and oracle-like talent. Sadly so did stories of wildly inconsistent behavior - profound sweetness crossed by bouts of stunning abrasiveness.
He flirted with an official music career. But his stunning debut album made for Geffen Records was abruptly shelved, producing melodrama that only exacerbated Malcolm's drinking and depression. A business that once had a place for complicated genius turned its back on him, and he teetered near the edge.
Moving back to the North Carolina hills proved a powerful tonic. Holcombe let in help where before he'd pushed it away. With deep faith in God and a commitment to his art, Holcombe repaired himself and his career.
And that's a pretty good nod to the effect of hearing Holcombe sing. If you've not seen him in a live setting, this is what you have to do. His presence is spooky and timeless, as one imagines it was like to see Son House or Leadbelly. No emotional stone is left unturned.
While you plan for this important experience, collect Malcolm Holcombe albums... He is cryptic, demanding, polarizing, bold, passionate and free, a combination badly needed in our time of infinite trivia. He's even more interesting for having made a remarkable journey of recovery and discovery.
https://www.malcolmholcombe.com
Saturday, March 30, 2019

DURHAM COUNTY POETS


"There's something about the Durham County Poets that leaves you feeling that everything might be OK in the world after all. There's a human spirit that lives in these people and their music is the medium that allows that spirit to roam free."

"The band is anchored by lead vocalist Kevin Harvey, who has to be one of Canada's most underrated blues singers"
Concert - $15 online advance / $18 door
Dinner - 6pm, Showtime - 8pm


The Durham County Poets are a lively and soulful group, who write and perform an eclectic blend of blues and folk, with tinges of gospel and swing tossed in for good measure. They are five seasoned musicians, all of whom are songwriters, who work together individually and collaboratively in composing their music. Delving into a variety of styles and genres, their musical influences include a broad range of artists. From The Band to James Taylor, Muddy Waters to Dire Straits...They have managed to put it all together to create their own musical style. The obvious joie de vivre expressed while performing together is reflected in the good-time feel that the band creates, which has been captivating their audiences consistently since their inception in 2011.
Fronted by Kevin Harvey, a self proclaimed blues crooner on lead vocals, The Durham County Poets also feature David Whyte on electric guitars and vocals, Neil Elsmore on guitars and vocals, Carl Rufh on double bass and vocals and Rob Couture (formerly of The Echo Hunters) on drums and percussion.
Durham County Poets sont originaires de la Vallée de la Châteauguay situé au Québec, Canada. Leurs influences sont variées, du blues au folk, du jazz au ragtime, entre autres. Chaque membre apporte un fond musical différent qui se marie au son folk soul du groupe. À ce jour, ils ont enregistré deux albums et ont joué un grand nombre de festivals, concerts et clubs de la côte Est des États-Unis et du Canada.
https://www.durhamcountypoets.com
Saturday, April 6, 2019

ROBERT KIMBROUGH SR.
BLUES CONNECTION

Robert Kimbrough Sr Blues Connection took home the 1st place band trophy in the International Blues Society's 15th Annual Mississippi Delta Regional Blues Challenge in Indianola, Mississippi. Robert and the band will be bringing their world renowned delta blues style to Jamey's
Concert - $15 online advance / $18 door
Dinner - 6pm, Showtime - 8pm


Robert Kimbrough Sr continues the Cotton Patch Soul Blues style created by his father, the legendary Junior Kimbrough. From an early age, Robert was steeped in the sounds and life of North Mississippi and its distinctive style of blues. Growing up, Robert listened, first-hand to Mississippi blues royalty that played with his father at home, at Junior's Juke Joint Club, and the ever frequent weekend house party and porch jam session. The blues was simply part of everyday life as a Kimbrough. Robert continues his father's musical tradition, along with some of his siblings. You can often find many of them sharing the stage on any given night in Mississippi. The Kimbrough name, along with the Burnside name, is part of a blues dynasty that remains strong today, bringing people from all over the world to see and hear them play.
The Cotton Patch Soul Blues style that Robert plays is a straight link to the music that his father originated in North Mississippi. It is a deep soul sound that can be linked back to his ancestors coming from the cotton fields, singing and 'hollering' as they worked in the tall rows of Mississippi cotton. This distinct and somewhat underground style of blues is rooted in hypnotic, rhythms and dance-able grooves. The Black Keys released an entire album in 2006 of Junior Kimbrough cover songs called Chulahoma: The Songs of Junior Kimbrough. Up until the mid 80s, the only way to hear this music was to visit a church-turned-blues-den founded by Junior Kimbrough in Chulahoma, MS that unfortunately burned down in 2000.
Friday, April 12, 2019

ARIELLE

A singer, a songwriter, a musician, an activist, Arielle is a believer, a seer, an engineer, an innovator. She's a natural born talent with a proficiency for mind-bending musicianship, on par with the world's finest. With soul baring lyrics and melodies that burrow in your brain, she effortlessly emotes refrains with a four-octave range. It resonates, it reverberates, it nourishes the great escape. Arielle will appear with her band on her US Suspension/Dimension Tour.
Concert - $15 online advance / $20 door
Dinner - 6pm, Showtime - 8pm


Discovered in 2010 by guitarist Nuno Bettencourt, known for his work with Extreme and Rihanna, she signed with an indie record label. In the years that followed, she made a name for herself touring throughout North America and the UK, opening and playing with Heart, Joan Jett, Graham Nash, Joe Bonamassa, Guns N Roses, members of Deep Purple, Eric Johnson, Gregg Allman and Cee Lo Green, which included a main stage slot at Coachella.
Good fortune ensued when Arielle was handpicked by guitarist Brian May for a key role in the London based musical, "We Will Rock You" a production based on the songs of his band Queen. The notoriety and acclaim she received from her performances for one of West End's most-beloved, and longest running musicals, was a great accomplishment. From the cover of Guitar Player Magazine, to being recognized by country superstar Vince Gill as one of the "Top 5 Best New Guitarists", to being cast as a guitar player on the hit TV show Nashville, Arielle is quickly becoming a force on the scene.
Arielle is considered a music industry triple threat because she could enjoy an impressive career solely as a singer, songwriter or guitar player, but she has combined all three of those gifts to create a unique artistry that defies genres and borders.
She recently opened for Eric Johnson on his 3-month long tour earlier this year, as well as played and/or opened for Vince Gill, Gregg Allman, Heart, Joan Jett, Country Joe McDonald, Eric Johnson, Paul Gilbert, Andy Timmons, and many more. She has already made the cover of Guitar Player magazine and released the single "California," which reached No. 3 on CMT Pure Charts.
She is the guitar player for Avery in the TV show Nashville, where she currently resides. Her voice gains comparison to Karen Carpenter and Eva Cassidy for the purity with a fouroctave range.
Arielle has an associate degree from the Musician's Institute in L.A. and studied at London's Institute of Contemporary Music Performance. Queen's Brian May created a guitar role specifically for her in the West End musical We Will Rock You. She also played guitar on tour with Cee Lo Green.
Her most recent release, 'My Gypsy Heart,' her classic folk rock release debuted for 8 weeks on the Billboard Charts in 11 different categories.
Arielle is also a dolphin and whale activist, and is currently working on a unique guitar line, based off her custom prototype, Two-Tone, with Brian May (Queen). Whether it's her guitar playing or singing, she never feels the need to show off. Indeed, she adheres to the philosophy that less can be more when it comes to expressing experiences through her songs. "The hardships and the insecurities are the reasons why I'm able to be vulnerable and real" she says.
Saturday, April 13, 2019

JOHN BYRNE BAND

"..a powerful, deeply moving work that will stay with you long after you have heard it"
- Sing Out

"The Vibe of it (The Immigrant and the Orphan) is, at once, as rough as rock and as elegant as a calm ocean..each song on this album carries an honesty, integrity and quiet passion that will draw you into its world for years to come" - Terry Roland - No Depression
Concert - $15 online advance / $20 door
Dinner - 6pm, Showtime - 8pm


The John Byrne Band is led by Dublin native and Philadelphia-based John Byrne. Their debut album, After the Wake, was released to critical acclaim on both sides of the Atlantic in 2011. With influences ranging from Tom Waits to Planxty, John's songwriting honors and expands upon the musical and lyrical traditions of his native and adopted homes. John and the band followed up After the Wake in early 2013 with an album of Celtic and American traditional tunes. The album, Celtic/Folk, pushed the band on to the FolkDJ Charts, reaching number 36 in May 2015. Their third release, another collection of John Byrne originals, entitled "The Immigrant and the Orphan", was released in Sept 2015. The album, once again, draws heavily on John's love of Americana and Celtic Folk music and with the support of DJs around the country entered the US FolkDJ Charts at number 40. Critics have called it "..a powerful, deeply moving work that will stay with you long after you have heard it" (Michael Tearson-Sing Out); "The Vibe of it (The Immigrant and the Orphan) is, at once, as rough as rock and as elegant as a calm ocean...each song on this album carries an honesty, integrity and quiet passion that will draw you into its world for years to come" (Terry Roland - No Depression); "If any element of Celtic, Americana or Indie-Folk is your thing, then this album is an absolute yes" (Beehive Candy); "It's a gorgeous, nostalgic record filled with themes of loss, hope, history and lost loves; everything that tugs at your soul and spills your blood and guts...The Immigrant and the Orphan scorches the earth and emerges tough as nails" (Jane Roser - That Music Mag)
The album was released to a sold-out crowd at the storied World Cafe Live in Philadelphia and 2 weeks later to a sold-out crowd at the Mercantile in Dublin, Ireland. John has toured with or opened up for acts as diverse as The Hothouse Flowers, Ian Gillan (of Deep Purple), Gaelic Storm, Murder by Death, Finbar Furey, Luka Bloom, The Saw Doctors, The Solas, Sharon Shannon, The Young Dubliners and The Greencards.
In 2017, John returned to his Irish roots, recording an album with his father, brother and other noted musicians. The album, "John J.Byrne and the Twangmen" consisted of old Dublin Street songs along with some American/Canadian folk tunes, with John's Dad taking the vocals. Special appearances by Andy Keenan (Amos Lee, Jennifer Nettles) and Robbie Malone (Lir, David Gray) along with members of the Irish band Home Brew helped get the attention of the Irish National Archives, who almost immediately added the album to their collection of folk recordings.
Both as a solo/acoustic act, and a full 6-piece band, John logs in over 150 shows per year, building a loyal and devoted following. His next record, another collection of John Byrne originals, is scheduled for release in 2019.
---
YOU SAID IT...
"BY FAR the best live music venue on the East Coast"
"Jamey Reilly couldn't possibly have created a finer oasis for musicians to perform. It's really a gem. SERIOUSLY! Everybody try and get a date there!!! (Just leave some room for us because we're definitely going back!!!)"
"Last night we debuted at Jamey Reilly's Jamey's House of Music. Jamey has outdone himself. He has an incredible backline, and the sound, which he engineers is exquisite. Working with Jamey helps make performing seamless. He knows what he is doing and is an excellent communicator. He is also a musician, which helps a great deal (the man has ears). The food at this venue is incredible. The flavor-I can't begin to find the words to express how excellent it is. If you have not been to Jamey's House of Music, get down there, catch a show. Get there early and enjoy the amazing cuisine. It will blow your mind."
"This small room is by far the best sounding music venue I've ever experienced. It's a truly exceptional labor of love..."
"THE place to Jam!!! Jamey is the man, the myth, the legend. Great equipment & exceptional drum set."
"We've played every kind of venue imaginable on several world tours, and I have to tell you that this is probably the best venue we have ever played. It's simply brilliant. Thank you for everything done to perfection."
"I tell everyone about Jamey and Jamey's House of Music. Everyone in Nashville knows about this place. I play some of the best rooms in the world, like the Bluebird, Douglas Corner, Third and Lindsley, places with great sound systems, and nothing beats the sound in this room. ...This is my favorite place to play in the whole world."
"The sound is absolutely perfect. I could hear every note of every instrument. Just incredible."
I'm a "venue snob" and this place is AWESOME ! Cozy, intimate, acoustically A+, comfy seating, bathroom is spotless, people are warm & friendly ... can't wait to return !
"Best. Venue. Ever."
"... a dream performance space. Perfect acoustics, top quality production values, a visually lovely setting, and an overall aesthetic ambience that, like a tea ceremony, lifts every gesture to it's highest level. It's perfection, both for the audience and the performers."
"Totally going again soon! A++++++!!!"
"I can't even explain how delicious everything was."
"One word. ..incredible!"
"Awesome food..."

---
Jamey's House of Music Tee Shirts Are Now Available!
High quality, black, all cotton Champion tagless shirts with 5 color silk screen
in sizes S to XXL. Only $20!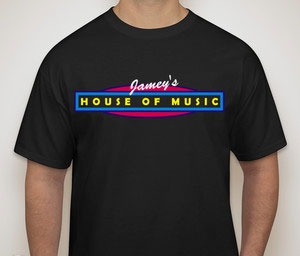 We happily accept cash, and these major charge cards

---
JAMEY'S HOUSE OF MUSIC
Livehouse and BYOB Cafe
32 S. Lansdowne Ave. Lansdowne PA 19050
Call or text - 215.477.9985 • Fax - 215-879-1457
jamey@jameyshouseofmusic.com