HOME | EVENTS | MENU | ABOUT | FAQ |
Artists: for booking go to the FAQ page for the avails calendar and details on making submissions

The CROOKED EYE BREWERY is now at Jamey's House of Music, offering fresh, cold ales on tap!

Try all twelve thirst quenching brews with your dinner, and enjoy the show in high style!

Hard ciders and Pennsylvania wines and spirits round out the offerings for your drinking pleasure, at our beautiful new bar!

Crooked Eye will also be barrel aging their hand crafted ales right on site!

We have been completely closed since March 2020 and plan to reopen as soon as it is safe to do so. We continue to book shows on a rolling basis, but unfortunately have had to cancel all shows to this point. Please check back often for the latest news on scheduling.
Please note that spaced seating is limited to 30 masked guests due to mandated covid restrictions for the time being. Jamey's has implemented mitigation measures that greatly exceed CDC guidelines to help keep you safe and worry free once we reopen.
However, if you are not ready to return to live indoor concerts once we are up and running, our full HD stereo pay-per-view option is the perfect alternate way to experience the whole show as it happens.
Friday, April 2, 2021

RUPERT WATES

"A prime figure in American music" - Folk And Acoustic Music Exchange

Concert - $15 online advance / $18 door
Kitchen - 6pm, Showtime - 8pm
Rupert Wates was born in London and studied at Oxford University. He has been a full time songwriter since the late 1990s, when he signed a publishing contract with Eaton Music Limited. In London he worked with some of the best performers in the city. Moving in 2001 to Paris, Wates formed his own quartet and began playing live regularly. In fall 2006 he came to the US. He is now based in New York City and Colorado. Since coming to the US, he has won more than 40 songwriting and performing awards (www.rupertwatesmusic.com/awards).
His music is an eclectic mix of acoustic, melodic art/folk, with flavors of jazz, vaudeville and cabaret. He has released nine solo CDs. They have received outstanding reviews in the international online press and tracks from them have been played on radio all over the world. In addition, Wates' songs have been covered by other artists in the UK, Canada and the US. Two full length tribute CDs to his material have been recorded: 'Crazy Puzzle' (2015) by Nashville-based performer Roxie Rogers, and 'Wide Open Heart' (July 2017) by Los Angeles vocalist Susan Kohler. Both these CDs were initiated and funded entirely by the artists themselves, and comprise exclusively songs taken from Rupert Wates' back catalog. Over 20 recordings featuring Wates's songs by other artists were made in 2016, and more are scheduled for 2017 (full list at www.rupertwatesmusic.com/covers).
In 2010 Wates released Joe's Café, an album of 15 original songs based on true stories, each interpreted by a different vocalist, retelling the stories of ordinary American people. Through them we trace the story of America itself: through two world wars, the Dust Bowl depression, Vietnam and the struggle for Civil Rights, all the way to the present day. Recorded live in the studio in a single weekend, the album's warm sound evokes the welcoming atmosphere of an all-night café, where friends gather to share their stories. Featured virtuoso musicians on the recording include Darol Anger on violin and Michael Manring on bass.
Joe's Café has been presented very successfully at Festivals throughout North America, and in other venues in New York City and in the southeastern United States. The show won Best Music Revue in the 2010 San Francisco Fringe Festival. More information about Joe's Cafe is at www.bitemusiclimited.com.
In 2014, Wates joined forces with Toronto-based virtuoso pianist Bartosz Hadala to form a piano/guitar duo called The Nightwatchers (www.thenightwatchers.com). The duo tour Canada and Europe regularly. In March 2015 they recorded and released a debut CD entitled The Nightwatchers, featuring some of the standout songs of Wates' extensive catalog.
Rupert Wates averages 120 live shows every year, in front of audiences totaling more than 3,500, in acoustic venues in every state in America, in Canada and in Europe. He performs sometimes alone, sometimes with his trio or his quartet. He prefers smaller listening rooms where the audience is up close and the emphasis is on the music. He was voted an Artist Of The Year in both 2013 and 2016 by the international house concert network Concerts In Your Home (www.concertsinyourhome.com), and for five years running he has been the most booked performer on their database of several hundred artists. In 2018, Wates was a Finalist in the Kerrville New Folk Song Contest, and an Emerging Artist at Falconridge Folk Festival.

Despite Wates' British background, and underpinning the universality of his music's appeal, Folk And Acoustic Music Exchange has called him "a prime figure in American music'' (www.acousticmusic.com) and goes on: "This is one gifted sonofabitch... If you're not hip to this guy yet you're missing out."
Audiences everywhere respond to Wates' brand of melodic art/folk—haunting songs that ring true.
Discography: Lamentations (2020), Full Circle (2019),The Lights Of Paris (2017), Colorado Mornings (2016), The Nightwatchers (2015), The Rank Outsiders Ball (2014), At the Losers' Motel (2012), Joe's Café (2010), Dear Life (2008), Coast to Coast (2007) and Sweet or Bitter Wine (2005).
Saturday, April 3, 2021

VENOM BLUES BAND

No strangers at Jamey's, Venom Blues is coming back to kick it up one more time!

Concert - $15 online advance / $18 door
Kitchen - 6pm, Showtime - 8pm
The Mid-Atlantic's hottest Blues band performing original work and remakes of Blues greats such as Muddy Waters, Johnny Winter, Robert Cray, the Chambers Brothers and other Blues legends. Venom Blues appears throughout Delaware, Maryland, New Jersey and Pennsylvania and rolls out several sets of seriously smokin' Blues tracks that will have you out on the floor "stompin' yo' feet". This ain't your Grandmomma's Blues, so come prepared to hear a little something special and don't be surprised if you get bit by the seduction that is "The Blues"!
With the understanding that The Blues is an art form that deserves serious attention to detail, The Blues also leaves a lot of room for interpretation and innovation. Venom Blues carries that one step further into today's music scene with a bit more edge and a lot more energy. The musical dynamics and variety of styles presented at a Venom Blues show always leaves the crowd "wantin' mo", so c'mon down y'all, don't be shy. Give Venom Blues a try!
Venom Blues was formed in late 2005 by veterans of the Delaware and Northeast music scene, who collectively, have well over a hundred years of musical experience. They were brought together by an extreme desire to rekindle the flames of the artistry known as The Blues and carry it forward to a new generation. Delaware has seen it's share of the best Blues musicians that have toured the world. Venom Blues seeks to carry on that tradition, so keep your eyes open - The Blues can strike real fast...
We'd definitely like to give appreciation to those lovers of "da blues" who continue to make every show special and who have moved us to #4 locally in Wilmington and #33 regionally in Philadelphia on Reverbnation's charts. We thank you!
Due to the dedication of our fans the blues continues its dominance in the musical world!
Remember...
We don't play the blues, we release it!
Make sure you check out the fourth and latest CD from Venom Blues! Just Waiting!...
Friday, April 9, 2021

MICROCORGI

Three world renowned musicians astonish audiences the globe over with their Avant-Otherworld-Jazz. Don't miss them.

Concert - $15 online advance / $18 door
Kitchen - 6pm, Showtime - 8pm
The band MicroCorgi is a NYC based trio composed of three musicians: pianist Andrew McGowan, guitarist Yuto Kanazawa, and drummer Ilya Dynov. They hail from far corners of the globe and have diverse influences such as European Jazz, Japanese rock, Afro-beat, and New Orleans brass band music. Each have received great recognition of their talents, but when they met and started making sounds together in 2018 they found themselves learning from each other and creating something new. Their unique "organ trio" format has the bass duties handled in turns by McGowan and Kanazawa. The combination of piano, synth bass, guitar, and drums results in a musical relationship akin to that established by Jimmy Smith and Wes Montgomery, and which has been explored by guitarists Pat Metheny and Gilad Hekselman. Their sound has a minimalist aesthetic reminiscent of Philip Glass, combined with a soulful truth indebted to Black American Music. Their album MicroCosmos is a sonic universe permeated by synth-bass future-funk, catchy melodies, and atmospheric vibes.
Saturday, April 10, 2021

LAURA CHEADLE FAMILY BAND
with Norman Taylor Duo

"She is perpetual motion, boundless energy, and shares her love of music with everyone present … Laura is incapable of standing still, staying on the stage, or even keeping her shoes on." STAGE Magazine

Concert - $15 online advance / $18 door
Kitchen - 6pm, Showtime - 8pm
If you're longing for some real music that you can feel in your heart, lyrics that speak to your soul, and a live performance with the power to blow the roof off the sky, you can stop right here. If you're tired of all the staged choreography, blinding light shows, capes, costumes, lip-synching and auto-tunes that seems to have taken over live performances, you have found a place to rest, refresh, and renew. Welcome to the world of Laura Cheadle.
Along with her Family Band, she has opened for some of the biggest names in the business and won numerous awards, including "Best Indie Jazz/Blues Band" at WXPN sponsored Tri-State Indie Music Awards. She has performed on stages from NYC to London, appeared on 6ABC's "Tuned In" as the very first viewer's choice, the "NBC 10" Show, and the National reality show "Next Great Family Band." Laura was recently featured in Curve Magazine, named one of "100 Women We Love" in Go Magazine, and declared a "Super Woman" in South Jersey Magazine for her active Charity Work.
As Traveler Guitar's newest Brand Ambassador, her solo career is starting to explode, performing a set at NAMM2020, filming specialized performance and educational video segments for Next Level Guitar's site, and having recently been honored with the Musician of the Decade award for her body of work and trend-setting style. One of her original compositions was recently included in a popular TV show, and she participated in a Philadelphia Film project with a seamlessly acted feature role in the short film "Ether."
Never one to measure herself according to the trends of the times or the female singer "flavor of the month," Laura has carved out her own lane since she began performing as a child, and she has done it the old-fashioned way, on pure talent. Gifted with a voice powerful enough to shake rafters, and tender enough to navigate the entire range of the emotional scale, Laura Cheadle is a singer commanding more than just a listen or a look. Her albums, like her concerts, are an experience. Inseparable from the truth of the songs she writes, the raw emotion that tears out of her reaches deep into your heart with the kind of performance her audiences remember long after the last notes have been played.
Norman Taylor is a singer/songwriter/acoustic blues and soul performer from the Philadelphia area. His musical style is based in the country blues of people like Robert Johnson and Skip James, and contemporary acoustic blues men like Keb Mo, Eric Bibb and Guy Davis. Norman also draws influence from country, 70's rock, soul, gospel and a variety of musical forms.
Taylor has been an opening act for blues men Guy Davis, Corey Harris, singer-songwriter Phil Roy, Pat Wictor, Alexis P Suter, Warner Willams and Jay Summerour, Chris Smithers, Marcia Ball, Trombone Shorty, Janiva Magness, Popa Chubby,Cedric Burnside Project,Jarekus Singelton, Bobby Rush and the legendary rock band ZZ Top. In addition to these openers Norman has also played festivals such as Piccolo Speleto Early Bird Blues festival in Charleston SC, Down Home Blues Festival Charleston SC, Jersey Shore Jazz and Blues Festival, Lehigh River Blues Jam, 2nd Street Festival in Philadelphia, South street Festival in Philadelphia, Nerfa Covention, Briggs Farm Blues Festival, Camp Jam in the Pines–where he played on the same bill as headliners Ronnie Baker Brooks–and the State Street Blues Stroll in Media PA where he performed on the same bill with headliners Rory Block, Lonnie Shields, and Sharrie Williams, Alvin Young Blood Heart. Norman has also played the Roots Ramble Festival in Media PA and the Philadelphia Folk Festival.
Norman's music has been played on Jonny Meister's Blues Show on WXPN in Philadelphia and Tony Colter BB Kings Bluesville on SiriusXM Radio. Norman's Blue Soul CD on Soul Stew Records was nominated for best acoustic blues album for 2014. His label mates include The Billy Thompson Band, Warner Williams, Jay Summerour, Eric Selby, Mary Hott, Rob Gillette, Abigail Palmer Group and Bob Eike.
Friday, April 16, 2021

KATIE BARBATO

"The peace-loving Philly native has an innate knack for soaring major/ minor key transitions, imbued with timely, sweet-spot lyrics and supported with rich, cinematic accompaniment. Comparisons to Neko Case and Gillian Welch are perhaps a little too obvious here, as Katie seems to carve out her own niche as a folk rock formalist who creates from a deep well of experience." -The Vinyl District


RISE TWAIN

"He is brilliant; a musical prodigy"

A Philadelphia-based duo offering material ranging from anthemic to plaintive, grand to intimate, fertile to destructive

Concert - $15 online advance / $18 door
Kitchen - 6pm, Showtime - 8pm
Katie Barbato is currently in the studio working on her 10th album "The Trail of Us". The album will feature 14 tracks with production and engineering by multi-instrumentalist Brett William Kull (Grey Eye Glances, Echolyn). Katie is a three-time finalist in the International Songwriting Competition. She has performed at the Philadelphia Folk Festival, and she is a regularly featured artist on WXPN, the University of Pennsylvania's public radio station. In addition to releasing her own music, Barbato composes music for TV and film, such as the theme she wrote for the movie Sugar, starring Shenae Grimes and Marshall Allman. Her song "Magical Ending" was recently featured in the Netflix drama "Yankee", the MTV series "Busch Family Brewed", and several of her songs have been featured on the Australian television show "Neighbours".
Katie has shared the stage with Lucy Wainwright Roche, Mutlu, Shawn Mullins, Melissa Ferrick, Deb Talan and Steve Tannen, Citizen Cope with Meshell Ndegeocello, Ginger Coyle, Liz Longley, Danielle Miraglia, Rise Twain, Darlingside, Mckain Lakey, and Liz Cooper and the Stampede.
"It's a work of beauty all around, evocative of just the sort of reflective songwriting and artistry that we could never get enough from out of those like Barbato." -For Folk's Sake
"The Philadelphia native has been cultivating her unique style of twangy, heartfelt, socially aware folk rock since she migrated from Boston a few years back. Her sound is fully formed and wonderfully nuanced, like a mystic lovechild of Jeff Tweedy and Gillian Welch. She combines the purity of the latter of with the offbeat Sky Blue Sky-era country of Wilco, striking a delicate balance between self-effacement and deeply meaningful songwriting. I guess a spoon full of sugar does help the medicine go down…" The Vinyl District
Jeremy Beck & Brett Kull are Rise Twain.
One of the many musical endeavors by Brett, including work with Grey Eye Glances and Echolyn, music for film and video. Brett Kull is a musician, producer, engineer and teacher.
Says Kull: "I've had the good fortune of working with some people that have pulled me out of musical ditches and led me into new areas of creating, listening, and thinking about music. These folks remind me of my first worldly formative years when an older family member or acquaintance would point to that cool poster on the wall, or pop on an album and say, "you've gotta check this out!" Those moments were like stepping into the wardrobe leading to Narnia.
Despite the countless times I've hit the record button…I still feel those powerful moments of newness and wonder when I hear a cool musical change, or hear an artist tap into the great flow of uninhibited creation. It is in those moments that I realize I still have so much to learn."
https://www.facebook.com/risetwain
Saturday, April 17, 2021

HARRY WALTHER BAND

Regional favorites debut performance at Jamey's

Concert - No Cover Charge
Kitchen - 6pm, Showtime - 8pm

Since 1996, The Harry Walther Band has been rocking the tristate area with their story telling style of music along the lines of Bruce Springsteen and Bob Dylan. They are an energetic and entertaining Americana rock and roll band with deep country roots. They have been entertaining the Philly music scene by performing a wide scale of classic covers as well as original songs ranging from rock to folk to
country rock. Covers include everything from Elvis, Beatles, Stones, Allman Brothers, ELO, Neil Young, Tom Petty, Marshall Tucker, Johnny Cash and so much more! With the great line up Harry has put together, a Harry Walther Band live show will never fail to rock the house down.
http://www.harrywaltherband.net/
Friday, April 23, 2021

KING SOLOMON HICKS

"When you're around good musicians, it gives you that spark -- 'I want to do what you do. I want to hold my own,'" says Hicks, who started playing guitar when he was six years old. "But being around those types of musicians also taught me to NOT be the fastest guitar player. I wanted to be the one who knew the most riffs and drew on a lot of knowledge so I could play anything, and with anyone."

Concert - $15 online advance / $18 door
Kitchen - 6pm, Showtime - 8pm
King Solomon Hicks grew up in Harlem "around a lot of great musicians." That certainly shows on HARLEM, an 11-song salute to those roots -- and how the 24-year-old guitarist and singer has turned them into his own fierce and distinctive style over the years.

The set, produced by multiple Grammy Award winner Kirk Yano (Miles Davis, Public Enemy, Mariah Carey), showcases Hicks as a writer, player and interpreter. Originals such as the roadhouse ready "421 South Main," the gospel shuffle of "Have Mercy on Me" and the aching instrumental "Riverside Drive" rub musical elbows with staples such as "Every Day I Sing the Blues" and "It's Alright," a Latin-tinged take on Blood, Sweat & Tears' "I Love You More Than You Will Ever Know," a funked-up romp through Gary Wright's "Love is Alive" and a searing rendition of Sonny Boy Williamson's "Help me" that closes the album.

Hicks' playing and singing shine throughout HARLEM, blending reverent familiar with vigorous fresh, the work of an artist deeply rooted in blues birthed decades before him but equally invested in finding his own way of playing it. Yes, every day he sings the blues, but in a manner only Hicks himself can.
"This has been a long time coming," Hicks says of his first major recording, "but I'm really happy with the sound and the way everybody played. This music is where I come from. It's really special to be able to record these songs -- and really important to get 'em right."

Hicks has been steeped in music for as long as he can remember. Harlem, he says, "is not like New Orleans, where music is 24 hours a day -- but it's close." His father and mother played music at home constantly. His mother also took him, as a youth, to local nightspots such as the Lennox Lounge, Saint Nick's and the Cotton Club, where Hicks witnessed performances that made a significant impact on his outlet and ambitions. "When you're around good musicians, it gives you that spark -- 'I want to do what you do. I want to hold my own,'" says Hicks, who started playing guitar when he was six years old. "But being around those types of musicians also taught me to NOT be the fastest guitar player. I wanted to be the one who knew the most riffs and drew on a lot of knowledge so I could play anything, and with anyone."
The self-described "kid in school that had a guitar on his back, interrupting all the classes," Hicks was on stage at the Cotton Club when he was 13, and during high school as part of a 15-piece band playing there three nights a week. "The owner saw I was serious and genuinely loved the music," Hicks recalls. He also learned a great deal from playing rhythm guitar at first, gradually developing his lead and soloing skills at gigs as well as at private parties and open jams -- the latter of which provided a kind of master class for the developing artists.

"I wouldn't know the song or the key of the song; They'd say, 'Hey, go...' and either you sank that day or you swam, and if you didn't get it you got to try to come back the next week and do it again," he remembers.
Hicks, not surprisingly, stayed afloat during those encounters, building a reputation on the scene that began to spread outside of the New York area -- while his home turf expanded to venues such as the Iridium, the Red Rooster, Ashford & Simpson's Sugar Bar, Terra Blues and more. After high school Hicks began playing in Europe, opening for Jeff Beck and Ringo Starr, playing festivals in Spain and France, as well as at the Cotton Club in Tokyo, and being booked on KISS Kruise V in 2017 and on this year's Joe Bonamassa Blues Alive at Sea Cruise. He's shared stages with the likes of Tony Bennett, Beth Hart, George Thorogood & the Destroyers, Mavis Staples, Paul Shaffer and others.

Hicks also became a member of the Blues Foundation in Memphis and he has Judged the IBC's in Memphis [International Blues Challenge]" along with being a supporter of young Blues Musicians and The Blues Foundation.. He paid his own success forward by teaching music for the Children's Aid Society and working with the Harlem Arts Alliance and the New York City Jazzmobile.

"It's a lot of hard work and responsibility," Hicks notes. "The older I get, it's not just playing music just for me anymore. It's playing music for people to feel good and enjoy themselves, maybe take their minds off their problems."

Hicks and Yano started working on HARLEM two years ago, finishing up during late 2019. "It was just about getting my own sound together," explains Hicks, who was aided by a corps of players that includes members of Soulive, Lettuce, Jack White and Hank William Jr.'s band and others -- including Foghat/Savoy Brown veteran Roger Earl, who plays drums on the smooth, R&B flavored take on Fred Koller's "What the Devil Loves." "I wanted to have a foot in the blues, like coming back home to mama," Hicks says. "But I didn't want it to be traditional. I wanted people to feel like they're in a juke joint, listening to what the blues sounds like in 2019, my own spin on it."

Hicks certainly achieves that on HARLEM, and he's planning on more for the future. As well-traveled as he is Hicks has a long list of places he hasn't played yet that he intends to add to his itinerary. There are also more original songs he plans to release after future forays into the recording studio.
"This is like a first impression," he says of HARLEM. "I want people to know me as a musician first. I'm trying to get my roots planted with the blues fans, and later I'll cross over into some different worlds. There's a lot I want to do -- I'm patient, but at the same time I'm really ready for people to hear my music. Can't wait, actually..."

Saturday, April 24, 2021

FRANK PORTER

Solo Acoustic Performance

Concert - $15 online advance / $18 door
Kitchen - 6pm, Showtime - 8pm
Frank Porter is an award-winning professional guitarist, independent songwriter and band leader with over 30 years of experience. He is a dedicated and reliable professional entertainer who writes and performs his own original acoustic songs, upbeat and unique instrumentals, as well as select classic rock cover songs. Blues, folk and rock primarily influence Frank's music. Frank signed with Tate Music Group for his "Who I Am" album in 2013, released an independent live album in 2015 titled simply, "Frank Porter–Live," and is already working on a new studio album and DVD for 2017.
Honors he received include winning first place in the Gibson/Epiphone-sponsored Guitarfest in 2008 at the House Of Guitars in Rochester, NY, and in 2015, taking 6th place in the instrumental category of Indie International's worldwide songwriting contest with his song, "Fly" (where the winner was trained at The Academy of Music in Dresden, Germany). That's pretty good for a self-taught musician and songwriter!
Venues he has appeared at include Steel Stacks in Bethlehem, PA; the Lititz Chocolate Walk in Lititz, PA; "MakeMusicNewYork" Festival, CBGB's and Gussy's Bar in NYC; Cosmic Cafe at Boathouse Row, Connie's Ric Rac, The Fire, Legendary Dobbs, Warmdaddys, Love Park, The Fringe Festival and World Café Live in Philadelphia; John and Peter's in New Hope, PA; Lehigh Valley Farm Fest, Mayfair, Macungie Memorial Park, Crocodile Rock (where his band opened for Jackyl and Taylor Hicks) in the Lehigh Valley; Hollystock 2016, Cooper River Park, The BoneYard and Le Grand Fromage in New Jersey. Frank also has been featured in various area magazines, and on radio and television shows.
https://www.reverbnation.com/frankporteracoustic
Friday, April 30, 2021

JACK WEST

Solo Acoustic Performance.Come hear the future.

Concert - $15 online advance / $18 door
Kitchen - 6pm, Showtime - 8pm
Jack West and his music are growing up in front of our own eyes and ears. The now-16-year-old Rochester, NY, rock star may have any number of influences, but his new songs represent a teenager transforming into a real artist. Since the first of the year, West has put out two new tracks, including the upbeat technopop of "The Last Arcade" in June, and "Forever," a lush, indie-pop guitar number. Both were mixed by Barrett Jones [Nirvana, Foo Fighters], who produced West's debut album last year, For the Record. More new songs will be released on streaming services through the end of the year and into next.
Jack West's most recent effort, Live at Easy Street Records, a six-song EP recorded at the famed Seattle indie retailer featuring a cover of Audioslave's "Like a Stone," shows off his six-piece band in front of a packed room. Store owner Matt Vaughan commented that the band "killed it," adding, "I had no idea he had this kind of following already."
Every Sunday! Starting 4/4/21


SUNDAY BLUES BRUNCH & JAM

• Philly Blues Society Meet-up
• featuring the Philly Blues Kings

No Cover Charge! 12:00 pm to 3:00 pm
Blues lovers and players have made Jamey's their home away from home, and know that this is the best place to come for some really good and inexpensive eats, ales on tap from Crooked Eye Brewery, fresh ground coffee and espresso, great music, and friendly people. The vibe is home-like and cool, and the sound is out of this world. Jamey's provides a full professional grade backline, so players only need to bring their instrument or personal microphone to jump up on stage and jam. Everyone is required to wear a mask, including vocalists. Unfortunately, we can't allow harmonica or horn players due to virus transmission concerns until the pandemic has passed.
The open mic jam runs from noon to 2 pm, and the smoking hot Philly Blues Kings lays down a set from 2 to 3 pm.
The Philly Blues Society hosts the weekly meet-up where members new and old can come to play, eat, drink, chat and enjoy a day soaked in the blues. Many guests also like to host gatherings or parties during the brunch, as there are tables and chairs for dining, and comfortable seats to listen to the music - and it does not cost them a thing to meet up there! Plus, it is wheelchair accessible, and has plenty of free local parking. Being right in the center of downtown Lansdowne, next to the train station, there is abundant public transportation as well.
Check out the mouth watering brunch menu on our menu page.
No reservations are needed. Just load up some friends and head on down!
http://www.phillyblueskings.com
Every Thursday! Starting 4/8/21


THURSDAY NIGHT JAZZ JAM

• featuring the Dave Reiter Trio

No Cover Charge! 6:00 pm Kitchen - Jam 8:00 to 10:00 pm
Jamey's is proud to be the newest home base for the Philadelphia region's world class jazz community. We welcome players and lovers of all things jazz to come and hang your hat and enjoy an evening of outstanding live music, at no charge, in our cool and classy listening room and restaurant. We feature a full professional backline including a dual manual Hammond organ with leslie, Nord keyboard, Bucks County drums and an assortment of top quality amplifiers... not to mention the best sound system of any small club on the east coast.
The Dave Reiter Trio lays down the backing for some out of this world jazz to happen, and you never know who might show up to join in. Reiter is a long time jazz pro, and is equally at home on the 7 string guitar, Nord keyboard or our top of the line Hammond organ setup. Bill Marconi is on drums, his name is known to jazz aficionados around the world. Holding down the bottom on most nights, is first-call Philly bassist, George Livanos.
Doors open at 6pm for dinner, no reservations needed, and the music generally starts at 8pm. There is abundant local free parking, and we are a few steps from the Lansdowne train from Philly. We feature fresh cold ales on tap from the Crooked Eye Brewery, Fresh brewed Green Street Coffee, espressos and our excellent dinner menu earns rave reviews... all at modest prices. Our friendly staff is at your service.
Won't you join us for a great night out?
---
YOU SAID IT...
"BY FAR the best live music venue on the East Coast"
"...the coolest venue in the universe..."
"Best. Venue. Ever."
"We just bought a house in Lansdowne to be closer to Jamey's"
"Truly the very coolest venue for live music ANYWHERE"
The Lightyears: "Jamey's House of Music is in our top 3 all time venues to play along side The 02 Arena & Marquee Club, London"
"We can't wait until you have your venue up and running again!! It's recognized as one of the top small venues in the region, if not in the entire country!!"
- Black Oak Artists
"Home. It's doesn't get any warmer than being in Jamey's House!"
"We've played every kind of venue imaginable on several world tours, and I have to tell you that this is probably the best venue we have ever played. It's simply brilliant. Thank you for everything done to perfection."
"Jamey Reilly couldn't possibly have created a finer oasis for musicians to perform. It's really a gem. SERIOUSLY! Everybody try and get a date there!!! (Just leave some room for us because we're definitely going back!!!)"
"Amazing! A hidden, intimate live music venue with impeccable sound. Sat at long tables next to total strangers and it felt like being with family. Delicious food (and great craft beer the night I was there). It's rare to find a venue owner who cares this passionately about the music! Two big thumbs up."
"Last night we debuted at Jamey Reilly's Jamey's House of Music. Jamey has outdone himself. He has an incredible backline, and the sound, which he engineers is exquisite. Working with Jamey helps make performing seamless. He knows what he is doing and is an excellent communicator. He is also a musician, which helps a great deal (the man has ears). The food at this venue is incredible. The flavor-I can't begin to find the words to express how excellent it is. If you have not been to Jamey's House of Music, get down there, catch a show. Get there early and enjoy the amazing cuisine. It will blow your mind."
"This small room is by far the best sounding music venue I've ever experienced. It's a truly exceptional labor of love..."
"Not enough room here to tell you how fabulous this venue is—music, people, food, on-tap beer, and staff are all top drawer! Prices are fantastic! The photos are shrimp over grits and a fabulous vegan burger with vegan bacon!"
"THE place to Jam!!! Jamey is the man, the myth, the legend. Great equipment & exceptional drum set."
"Jamey's is the BEST. People who never heard of the band will show up to listen, because they KNOW Jamey books the official bands, has the great food, great sound, great atmosphere...and now great craft beer. WORLD CLASS JOINT, yo!"
"I tell everyone about Jamey and Jamey's House of Music. Everyone in Nashville knows about this place. I play some of the best rooms in the world, like the Bluebird, Douglas Corner, Third and Lindsley, places with great sound systems, and nothing beats the sound in this room. ...This is my favorite place to play in the whole world."
"The sound is absolutely perfect. I could hear every note of every instrument. Just incredible."
"Great pro sound, fantastic food, great beer and an owner that is a super nice human!!!"
"Congratulations to the incredible Jamey Reilly for spending this (COVID shutdown) time improving facilities at the already fabulous Jamey's House of Music, the best music venue in the Philadelphia area."
I'm a "venue snob" and this place is AWESOME ! Cozy, intimate, acoustically A+, comfy seating, bathroom is spotless, people are warm & friendly ... can't wait to return !
"... a dream performance space. Perfect acoustics, top quality production values, a visually lovely setting, and an overall aesthetic ambience that, like a tea ceremony, lifts every gesture to it's highest level. It's perfection, both for the audience and the performers."
"Intimate music venue with great artists. Offers several craft beers on tap— a full bar bar with Pennsylvania spirits and cider is soon to come. The excellent food and friendly service are an added delight. Highly recommend Jamey's for an enjoyable evening of music and dinner at a reasonable price. Also very gluten friendly."
"Totally going again soon! A++++++!!!"
"I can't even explain how delicious everything was."
"One word. ..incredible!"
"Awesome food..."

---
Jamey's House of Music Tee Shirts Are Now Available!
High quality, black, all cotton Champion tagless shirts with 5 color silk screen
in sizes S to XXL. Only $20!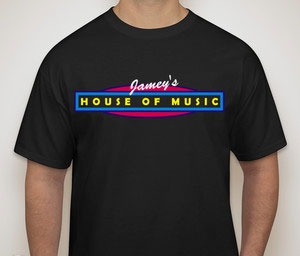 We happily accept cash, and these major charge cards

---
JAMEY'S HOUSE OF MUSIC
Livehouse, Restaurant and Bar
32 S. Lansdowne Ave. Lansdowne PA 19050
Call - 215.477.9985 • Fax - 215-879-1457
jamey@jameyshouseofmusic.com
greg@jameyshouseofmusic.com for booking