HOME | TICKETS | MENU | ABOUT | FAQ |
Artists: for booking go to the FAQ page for the avails calendar and details on making submissions
Only open if a show is booked... check below!
Friday and Saturday Concerts
> 6:00 pm dinner, no reservations needed
8:00 pm showtime
First Sunday Blues Brunch
12:00 pm to 3:00 pm
First Sunday Each Month


FIRST SUNDAYS BLUES BRUNCH
and Blues Jam Open Mic
• Philly Blues Society Meet-up
• featuring the Philly Blues Kings

FREE ADMISSION! 12:00 pm to 3:00 pm
Blues lovers and blues players have made the new Jamey's their home away from home for over a year now, and know that this is the best place to come for some really good and inexpensive eats, fresh ground coffee and espresso, great music, and friendly people. The vibe is home-like and cool, and the sound is out of this world. Jamey's provides a full professional grade backline, so players only need to bring their instrument to jump up on stage and jam.
The open mic jam runs from noon to 1:30 pm, and the smoking hot Philly Blues Kings lays down a set from 1:30 to 3 pm.
The Philly Blues Society hosts the monthly meet-up where members new and old can come to play, eat, chat and enjoy a day soaked in the blues. Many guests also like to host gatherings or parties during the brunch, as there are tables and chairs for dining, and comfortable seats to listen to the music - and it does not cost them a thing to meet up there! Plus, it is wheelchair accessible, is BYOB, and has plenty of free local parking. Being right in the center of downtown Lansdowne, next to the train station, there is abundant public transportation as well.
Check out the mouth watering brunch menu on our menu page.
No reservations are needed. Just load up some friends and head on down!
http://www.phillyblueskings.com
Friday, March 22, 2019

LOS VAGOS


Latin Jazz Reimagined and Redefined
Concert - $15 online advance / $18 door
Dinner - 6pm, Showtime - 8pm


Los Vagos Band's strength of character comes from the sum of its' parts. While collectively a delicious texture of sounds, the members have gigged internationally, nationally, and, locally all of whom have billed as leaders for many years.
Jocko Macnelly is a mult-instrumentalist, composer, arranger, and teacher. At any given moment, he is as likely to break into a calypso tune as to be writing a choral arrangement of an African Soukous song. He has performed with such diverse talents as Billy Eckstein, Lou Donaldson, Phyllis Diller, Archie Bell, A House of Freaks, the Richmond Virginia Symphony Orchestra, Carter Beauford, and Tim Reynolds.  www.theotherjocko.com
Dylan Taylor  is an American bassist, cellist, composer, and arranger. Dylan's compositions display his music diversity by weaving together AfroCuban, Fusion, Straight-Ahead, Blues, and Avant-garde. He has provided the bottom anchor for artists such as Lee Konitz, Freddie Hubbard, Mose Allison, and Larry Coryell. Taylor's musical score for the feature film, "Takao Dancer" was premiered at the Tokyo Film Festival. www.dylantaylor.com
Percussionist, Jim Hamilton, performs Brazilian, Turkish, Arab, Israeli, global, Avant-garde, Jazz, and Progressive Rock. He has traveled the world and performed with Boyz II Men, Toni Braxton, Paul Winter, Jamaladeen Tecuma, Calvin Weston, and Gerald Alston. After touting Japan and Europe, Jum has settled in his hometown of Philadelphia, Pa. To open recording studio and concert venue, Rittenhouse Soundworks. www.rittenhoussoundworks.com
Kelly Meashey is a vocalist, flautist, and songwriter whose voice "reflects the study of horns (as seen through her phrasing) as well as the passion of Soul and Jazz performers." (Cadence magazine). She has performed in concert at The Chestnut Cabaret, Steel City, Chaplin's, The Music Cafe, The Uptown Jazz Hour series, The Art Museum of Phila., Berks Jazzfest, and Jazzbridge's Jazz in the Wood. Whether she is singing in a cover band, with Philly's Jazz masters, or as a solo voice with dancers, her style is highly improvisational. She co-led on two recordings: Inner Urge with Randy Sarles in the Dreambox Media label, and, Songs of Living with Dylan Taylor on C.I.M.P. (Creative Improvised Music Projects)  www.kellymeasheymusic.com
Together, Los Vagos performs a collage of textures including African, Brazilian, Carribean and American Jazz and popular music, as well as originals.
https://www.facebook.com/LosVagosBand/
Saturday, March 23, 2019

BONOMO

SKIP DENENBERG & COMPANY


Adam Bonomo: "...everything that is serene, smooth, and soulful"
-Quiet Lunch

"The end result is elegance for the ears to behold—something truly captivating"
-popmatters

"an instantly soothing yet rich sound"
-Moxipop


Skip Denenberg, praised by artist Peter Himmelman as "an organic songwriter of the finest caliber" and by music critic, Chris Smith as "proof that there is hope for the American song", Skip is earning a loyal following everywhere he plays, one fan at a time. 
Concert - $15 online advance / $18 door
Dinner - 6pm, Showtime - 8pm


Formed by NYC musician Adam Bonomo, indie acoustic outfit BONOMO is a project that pulls at the heart strings with symphonic resonance and a distinct take on indie-folk music. Influenced by the sounds of folk, jazz, gospel, and classical music, BONOMO is a melting pot of true artistry and the finest pioneering genres of all time. On a mission to unify musical traditions and audiences alike, the ensemble is set of visionaries inspired by the sounds of yesterday while simultaneously crafting a resonance all their own.
BONOMO is a winner of the John lennon songwriting competition and the CASC Songwriting Competition. Bonomo is the RECIPIENT of the audience choice award for their video "water" by director and photographer marian sell. They have also won spots in the Top 5 at the Indie International Songwriting Competition, the Top 3 at the New Song Music Competition, and Third Place in the Nashville Film Festival.
 It isn't writing the theme song "Don't Bet The Farm" that Skip Denenberg remembers most about Farm Aid. Nor is it playing the song for over 5000 people with Willie Nelson and the band backing him up, nor being described by Willie as one of his favorite new songwriters, nor even sharing the stage with his heroes Steve Earle, Neil Young, and Willie Nelson. The most memorable moment for Skip came after the show when the caterer approached him backstage to tell him how much Skip's songwriting had touched him, and he just had to come back and tell him so. 
This is the magic of Skip and his music -- honest, powerful songs that brush against the elusive common nerve that every songwriter seeks to tap. Skip's music has a distinct American feel that seems instantly familiar and comfortable. As a film and television composer, Skip has scored programs and promos ranging from Sesame Street to Olympic Highlight reels, and was a contributing writer for the 2012 Grammy winning Best Children's Album, along with being nominated for 7 Mid-Atlantic Emmys.   
He has shared stages with such artists as Willie Nelson, Donovan, John Oates, Warren Zevon, Richie Havens, Steve Earle, Dar Williams, Al Kooper, Steve Forbert, Jerry Jeff Walker, Ron Sexsmith, the Saw Doctors, The Neville Brothers, and many others. 
He is the songwriter for the Philadelphia Phillies, and can be heard on WIP's Sports Radio's "Morning Show". His popular children's songs are regularly featured on WXPN's "Kid's Corner". 
Friday, March 29, 2019

MALCOLM HOLCOMBE


"I think for most songwriters, songs are like clothing. Malcolm's songs are his skin," writes fellow Nashville tunesmith David Olney. "They are a direct expression of who is as a man."

"People like to say Malcolm Holcombe is a national treasure, and they got that right," adds R.B. Morris, an East Tennessee singer-songwriter, playwright and the former poet laureate of the City of Knoxville. "He stands on all the old American music traditions and takes them his own way into a very individual music expression."
Concert - $15 online advance / $18 door
Dinner - 6pm, Showtime - 8pm


Malcolm Holcombe grew up in western North Carolina, home to some of the planet's oldest mountains and some of America's deepest musical traditions. Radio and TV fueled Malcolm's musical passions as a kid, and music became even more important after he lost both his parents relatively young.
He toured with bands and landed in Nashville, where he took up an inconspicuous station at the back of the house - the very back - at Douglas Corner, one of the city's best singer/songwriter venues. Stories began to circulate about the mysterious dishwasher with the subterranean voice and oracle-like talent. Sadly so did stories of wildly inconsistent behavior - profound sweetness crossed by bouts of stunning abrasiveness.
He flirted with an official music career. But his stunning debut album made for Geffen Records was abruptly shelved, producing melodrama that only exacerbated Malcolm's drinking and depression. A business that once had a place for complicated genius turned its back on him, and he teetered near the edge.
Moving back to the North Carolina hills proved a powerful tonic. Holcombe let in help where before he'd pushed it away. With deep faith in God and a commitment to his art, Holcombe repaired himself and his career.
And that's a pretty good nod to the effect of hearing Holcombe sing. If you've not seen him in a live setting, this is what you have to do. His presence is spooky and timeless, as one imagines it was like to see Son House or Leadbelly. No emotional stone is left unturned.
While you plan for this important experience, collect Malcolm Holcombe albums... He is cryptic, demanding, polarizing, bold, passionate and free, a combination badly needed in our time of infinite trivia. He's even more interesting for having made a remarkable journey of recovery and discovery.
https://www.malcolmholcombe.com
Saturday, March 30, 2019

DURHAM COUNTY POETS


"There's something about the Durham County Poets that leaves you feeling that everything might be OK in the world after all. There's a human spirit that lives in these people and their music is the medium that allows that spirit to roam free."

"The band is anchored by lead vocalist Kevin Harvey, who has to be one of Canada's most underrated blues singers"
Concert - $15 online advance / $18 door
Dinner - 6pm, Showtime - 8pm


The Durham County Poets are a lively and soulful group, who write and perform an eclectic blend of blues and folk, with tinges of gospel and swing tossed in for good measure. They are five seasoned musicians, all of whom are songwriters, who work together individually and collaboratively in composing their music. Delving into a variety of styles and genres, their musical influences include a broad range of artists. From The Band to James Taylor, Muddy Waters to Dire Straits...They have managed to put it all together to create their own musical style. The obvious joie de vivre expressed while performing together is reflected in the good-time feel that the band creates, which has been captivating their audiences consistently since their inception in 2011.
Fronted by Kevin Harvey, a self proclaimed blues crooner on lead vocals, The Durham County Poets also feature David Whyte on electric guitars and vocals, Neil Elsmore on guitars and vocals, Carl Rufh on double bass and vocals and Rob Couture (formerly of The Echo Hunters) on drums and percussion.
Durham County Poets sont originaires de la Vallée de la Châteauguay situé au Québec, Canada. Leurs influences sont variées, du blues au folk, du jazz au ragtime, entre autres. Chaque membre apporte un fond musical différent qui se marie au son folk soul du groupe. À ce jour, ils ont enregistré deux albums et ont joué un grand nombre de festivals, concerts et clubs de la côte Est des États-Unis et du Canada.
https://www.durhamcountypoets.com
Friday, April 5, 2019

BENJAMIN VO BLUES BAND

"Favoring the deeper and darker blues, Benjamin's band offers heavy swinging beats, smoky piano accompaniment, powerful vocals, and haunting lead guitar lines. From slow burning electric blues, to high energy slide guitar ditties, to mighty delta numbers, you are guaranteed a dynamic show."
- Rich Ruoff, Lancaster Roots and Blues
Concert - $15 online advance / $18 door
Dinner - 6pm, Showtime - 8pm
Born on October 20th, I guess that makes me a Libra-Scorpio cusp, huh? Don't know if that's a good thing or a bad thing, but at least I'm alive and well. Well, I've got the blues. And with the help of a few of my good friends, I was able to get some of it on tape. A lot of it is slow burning electric blues but I threw in a couple acoustic pieces in there as well. Hope you enjoy, thanks for listening - Benjamin
"...intense yet tasteful playing, heartfelt singing with attractive vibrato and warm vocal tone, and a directness to the songs." - Bruce Iglauer (Alligator Records)
"The Bandcamp website is ideal for picking up an unprecedented blues rock talent from time to time. In this case, it is the thirty-year-old guitarist and singer Benjamin Vo." - Peter Marinus (Blues Magazine)
"...powerful voice, compelling songs, and sheer brilliance on guitar." - Sam Campbell (Gig Spots)
"The blues were solid from the young performer, and the talk around me showed every person there was paying attention." - Tory Gates (Broadway World Music)
"These guys laid down some truly unforgettable slow and powerful blues and Benjamin's guitar work was purely amazing, you could feel every note pouring from his soul..." - Tom Butler (Billtown Blues Notes)
"You play like a motherfucker!" - Bernie Worrell (Funkadelic/Parliament)
https://benjaminvo.bandcamp.com/

Saturday, April 6, 2019

ROBERT KIMBROUGH SR.
BLUES CONNECTION

Robert Kimbrough Sr Blues Connection took home the 1st place band trophy in the International Blues Society's 15th Annual Mississippi Delta Regional Blues Challenge in Indianola, Mississippi. Robert and the band will be bringing their world renowned delta blues style to Jamey's
Concert - $15 online advance / $18 door
Dinner - 6pm, Showtime - 8pm


Robert Kimbrough Sr continues the Cotton Patch Soul Blues style created by his father, the legendary Junior Kimbrough. From an early age, Robert was steeped in the sounds and life of North Mississippi and its distinctive style of blues. Growing up, Robert listened, first-hand to Mississippi blues royalty that played with his father at home, at Junior's Juke Joint Club, and the ever frequent weekend house party and porch jam session. The blues was simply part of everyday life as a Kimbrough. Robert continues his father's musical tradition, along with some of his siblings. You can often find many of them sharing the stage on any given night in Mississippi. The Kimbrough name, along with the Burnside name, is part of a blues dynasty that remains strong today, bringing people from all over the world to see and hear them play.
The Cotton Patch Soul Blues style that Robert plays is a straight link to the music that his father originated in North Mississippi. It is a deep soul sound that can be linked back to his ancestors coming from the cotton fields, singing and 'hollering' as they worked in the tall rows of Mississippi cotton. This distinct and somewhat underground style of blues is rooted in hypnotic, rhythms and dance-able grooves. The Black Keys released an entire album in 2006 of Junior Kimbrough cover songs called Chulahoma: The Songs of Junior Kimbrough. Up until the mid 80s, the only way to hear this music was to visit a church-turned-blues-den founded by Junior Kimbrough in Chulahoma, MS that unfortunately burned down in 2000.
Friday, April 12, 2019

ARIELLE

A singer, a songwriter, a musician, an activist, Arielle is a believer, a seer, an engineer, an innovator. She's a natural born talent with a proficiency for mind-bending musicianship, on par with the world's finest. With soul baring lyrics and melodies that burrow in your brain, she effortlessly emotes refrains with a four-octave range. It resonates, it reverberates, it nourishes the great escape. Arielle will appear with her band on her US Suspension/Dimension Tour.
Concert - $15 online advance / $20 door
Dinner - 6pm, Showtime - 8pm


Discovered in 2010 by guitarist Nuno Bettencourt, known for his work with Extreme and Rihanna, she signed with an indie record label. In the years that followed, she made a name for herself touring throughout North America and the UK, opening and playing with Heart, Joan Jett, Graham Nash, Joe Bonamassa, Guns N Roses, members of Deep Purple, Eric Johnson, Gregg Allman and Cee Lo Green, which included a main stage slot at Coachella.
Good fortune ensued when Arielle was handpicked by guitarist Brian May for a key role in the London based musical, "We Will Rock You" a production based on the songs of his band Queen. The notoriety and acclaim she received from her performances for one of West End's most-beloved, and longest running musicals, was a great accomplishment. From the cover of Guitar Player Magazine, to being recognized by country superstar Vince Gill as one of the "Top 5 Best New Guitarists", to being cast as a guitar player on the hit TV show Nashville, Arielle is quickly becoming a force on the scene.
Arielle is considered a music industry triple threat because she could enjoy an impressive career solely as a singer, songwriter or guitar player, but she has combined all three of those gifts to create a unique artistry that defies genres and borders.
She recently opened for Eric Johnson on his 3-month long tour earlier this year, as well as played and/or opened for Vince Gill, Gregg Allman, Heart, Joan Jett, Country Joe McDonald, Eric Johnson, Paul Gilbert, Andy Timmons, and many more. She has already made the cover of Guitar Player magazine and released the single "California," which reached No. 3 on CMT Pure Charts.
She is the guitar player for Avery in the TV show Nashville, where she currently resides. Her voice gains comparison to Karen Carpenter and Eva Cassidy for the purity with a fouroctave range.
Arielle has an associate degree from the Musician's Institute in L.A. and studied at London's Institute of Contemporary Music Performance. Queen's Brian May created a guitar role specifically for her in the West End musical We Will Rock You. She also played guitar on tour with Cee Lo Green.
Her most recent release, 'My Gypsy Heart,' her classic folk rock release debuted for 8 weeks on the Billboard Charts in 11 different categories.
Arielle is also a dolphin and whale activist, and is currently working on a unique guitar line, based off her custom prototype, Two-Tone, with Brian May (Queen). Whether it's her guitar playing or singing, she never feels the need to show off. Indeed, she adheres to the philosophy that less can be more when it comes to expressing experiences through her songs. "The hardships and the insecurities are the reasons why I'm able to be vulnerable and real" she says.
Saturday, April 13, 2019

JOHN BYRNE BAND

"..a powerful, deeply moving work that will stay with you long after you have heard it"
- Sing Out

"The Vibe of it (The Immigrant and the Orphan) is, at once, as rough as rock and as elegant as a calm ocean..each song on this album carries an honesty, integrity and quiet passion that will draw you into its world for years to come" - Terry Roland - No Depression
Concert - $15 online advance / $18 door
Dinner - 6pm, Showtime - 8pm


The John Byrne Band is led by Dublin native and Philadelphia-based John Byrne. Their debut album, After the Wake, was released to critical acclaim on both sides of the Atlantic in 2011. With influences ranging from Tom Waits to Planxty, John's songwriting honors and expands upon the musical and lyrical traditions of his native and adopted homes. John and the band followed up After the Wake in early 2013 with an album of Celtic and American traditional tunes. The album, Celtic/Folk, pushed the band on to the FolkDJ Charts, reaching number 36 in May 2015. Their third release, another collection of John Byrne originals, entitled "The Immigrant and the Orphan", was released in Sept 2015. The album, once again, draws heavily on John's love of Americana and Celtic Folk music and with the support of DJs around the country entered the US FolkDJ Charts at number 40. Critics have called it "..a powerful, deeply moving work that will stay with you long after you have heard it" (Michael Tearson-Sing Out); "The Vibe of it (The Immigrant and the Orphan) is, at once, as rough as rock and as elegant as a calm ocean...each song on this album carries an honesty, integrity and quiet passion that will draw you into its world for years to come" (Terry Roland - No Depression); "If any element of Celtic, Americana or Indie-Folk is your thing, then this album is an absolute yes" (Beehive Candy); "It's a gorgeous, nostalgic record filled with themes of loss, hope, history and lost loves; everything that tugs at your soul and spills your blood and guts...The Immigrant and the Orphan scorches the earth and emerges tough as nails" (Jane Roser - That Music Mag)
The album was released to a sold-out crowd at the storied World Cafe Live in Philadelphia and 2 weeks later to a sold-out crowd at the Mercantile in Dublin, Ireland. John has toured with or opened up for acts as diverse as The Hothouse Flowers, Ian Gillan (of Deep Purple), Gaelic Storm, Murder by Death, Finbar Furey, Luka Bloom, The Saw Doctors, The Solas, Sharon Shannon, The Young Dubliners and The Greencards.
In 2017, John returned to his Irish roots, recording an album with his father, brother and other noted musicians. The album, "John J.Byrne and the Twangmen" consisted of old Dublin Street songs along with some American/Canadian folk tunes, with John's Dad taking the vocals. Special appearances by Andy Keenan (Amos Lee, Jennifer Nettles) and Robbie Malone (Lir, David Gray) along with members of the Irish band Home Brew helped get the attention of the Irish National Archives, who almost immediately added the album to their collection of folk recordings.
Both as a solo/acoustic act, and a full 6-piece band, John logs in over 150 shows per year, building a loyal and devoted following. His next record, another collection of John Byrne originals, is scheduled for release in 2019.
Friday, April 19, 2019

RUPERT WATES

"A prime figure in American music,"
- Folk and American Music Exchange

"If you're not hip to this guy, you're missing a lot."
- Mark Tucker, FAME
Concert - $15 online advance / $18 door
Dinner - 6pm, Showtime - 8pm
Rupert Wates was born in London and studied at Oxford University. He has been a full time songwriter since the late 1990s, when he signed a publishing contract with Eaton Music Limited. In London he worked with some of the best performers in the city. Moving in 2001 to Paris, Wates formed his own quartet and began playing live regularly. In fall 2006 he came to the US. He is now based in New York City and Colorado. Since coming to the US, he has won more than 40 songwriting and performing awards
Rupert Wates averages 120 live shows every year, in front of audiences totaling more than 3,500, in acoustic venues in every state in America, in Canada and in Europe. He performs sometimes alone, sometimes with his trio or his quartet. He prefers smaller listening rooms where the audience is up close and the emphasis is on the music. He was voted an Artist Of The Year in both 2013 and 2016 by the international house concert network Concerts In Your Home (www.concertsinyourhome.com), and for five years running he has been the most booked performer on their database of several hundred artists. In 2018, Wates was a Finalist in the Kerrville New Folk Song Contest, and an Emerging Artist at Falconridge Folk Festival.
https://www.rupertwatesmusic.com
Saturday, April 20, 2019

ROBIN BULLOCK

"Celtic Guitar God"
- Baltimore City Paper

"In the tight-wire game of solo acoustic, there's no escaping the core issue: how's your touch? Your tone? Your time? Just how well CAN you play? Masterfully, if you're Robin Bullock."
- Guitar Player
Concert - $15 online advance / $18 door
Dinner - 6pm, Showtime - 8pm
Robin has been named one of the "100 Greatest Acoustic Guitarists" by DigitalDreamDoor.com, honored with Player's Choice and Editor's Pick awards from Acoustic Guitar Magazine, and hailed as a "Celtic guitar god" by Baltimore City Paper, "one of the best folk instrumentalists in the business" by Sing Out! Magazine and a "master" by Cashbox Magazine. He's toured internationally for many years as sideman with Grammy-winning folk legends Janis Ian and Tom Paxton (who says about Robin "his musicianship has always been world-class"), along the way releasing over twenty CDs of his own and performing solo in venues large and small. Robin is equally at home with the intimacy of house concerts and clubs, the joyous revelry of festivals and the magnificence of such venues as Washington DC's Kennedy Center and London's Queen Elizabeth Hall
His virtuosity on guitar, cittern and mandolin blends the ancient melodies of the Celtic lands, their vigorous American descendants, and the masterworks of the Baroque and Renaissance eras into one powerful musical vision. The 17th-century harp tunes of legendary Irish bard Turlough O'Carolan, the spirited jigs and reels of rural Ireland, the haunting ballads of the southern Appalachians and the timeless compositions of Bach, Dowland and Francesco da Milano all find a musical common ground in Robin's music, where lightning-fast fingerwork one moment is perfectly balanced with tender, quiet intimacy the next. A warm, friendly presence onstage, Robin effortlessly creates a magical world for the audience with his multi-instrumental wizardry, taking them on an unforgettable journey into the deep heart's core and through the music of the spheres.
Friday, April 26, 2019

PRESTON REED

"… widely thought of as the world's most gifted guitarist"
- Total Guitar

"Preston Reed invented integrated percussive guitar playing in the late 1980's, revolutionising the way the acoustic guitar is played and inspiring generations of musicians around the world ever since."
Concert - $15 online advance / $18 door
Dinner - 6pm, Showtime - 8pm
Rulebreaker. Trailblazer. Visionary. Phenomenon. And yet, even the breathless plaudits of the world press don't quite do him justice. When Preston Reed picks up an acoustic guitar, words will fail you.
To watch Reed perform is to witness the bending of reality. The New York master tweaks the nose of musical convention, pokes the eye of received wisdom and burns the rulebook of the past. Using an evolution of the two-handed acoustic technique he pioneered in 1987, he fuses chord-based grooves, soaring melodic runs and polyrhythmic percussion that integrates the breathtaking potential of the guitar body. The power and depth of his original compositions are as unique as the man's execution, from his roots in blues, rock, funk and jazz to explorations in Middle Eastern and neo-classical styles, Reed's music embraces familiar sounds in a fresh and original way. Preston Reed doesn't need a band. He is the band.
Over 30 years after his idiosyncratic style was born, Reed's seismic global impact has created a sea of guitarists playing in his style, many of them inspired by 1994's hit instructional DVD, The Guitar Of Preston Reed: Expanding The Realm Of Acoustic Playing. Today at the height of his game, Reed's recordings and live performances still define the sound of the pioneering compositional guitar genre he invented over a quarter century ago.
The studio is his playground, but the road is Reed's natural habitat. This is a man in motion. His music represents a border-hopping universal language, and fittingly, tour bookings have drawn him across the planet, for performances that leave cultural ripples in their wake, from Europe to Australia, China to the US and beyond.
Reed's musical journey has endless twists and turns, but there's one distinct line in the sand. It was drawn in the summer of 1987, as the guitarist sat in his Minneapolis apartment and wracked his brain for a way to escape his musical rut. Until that point, Reed's path had been familiar. As a child of the '60s, he cites his earliest memory as The Rolling Stones' hit The Last Time, whose classic lick led him to early flirtations with the ukulele and a grounding in basic chords courtesy of his father. He wrote his first song at eight – a number called The Lonely Night – before a course of regimented classical lessons wilted his passion.
But fate wasn't finished with Preston Reed. At 15, the bug bit again, as Reed attended a Hot Tuna show in New York and was floored by the bluesy fretwork of Jorma Kaukonen. That night, his guitar was retrieved from the closet and took up permanent residence on his lap, with Reed drawing inspiration from acoustic legends like John Fahey and Leo Kottke, developing his own voice along the way. He was still just 17 when whispers of his talent buzzed through the music circuit following a live debut in support of beat poet Allen Ginsberg at the Smithsonian Institute.
Starting with 1979's Acoustic Guitar, a volley of thrilling albums spread Reed's reputation, and by 1988 he had signed a major deal with MCA. But behind closed doors, the guitarist was frustrated. Though spellbinding by any standard, his playing had reached a plateau; his muse held in a stranglehold by the physical limitations of the instrument. Then the thunderbolt struck. Reed wiped his technique clean, stepped into the void and made his first attempt at the two-handed fretboard attack that would change his trajectory forever. Creatively and commercially, things would never be the same again.
If Reed were the type of musician to look back, he could reflect on four decades of glories, including gigs with Bonnie Raitt and Linda Ronstadt, burgeoning sales of his 16 (and counting) studio albums, sold-out venues across various continents, untold hits on YouTube and the praise of both the man on the street and fellow six-string pioneers like Al DiMeola and Michael Hedges. If he were a statistician, he might refer to the 1997 live satellite broadcast on Turkish television that saw an audience of 120 million in 17 countries flood the switchboards after his performance.
But Reed doesn't deal in nostalgia. Some 31 years after he changed the face of the acoustic guitar, this trailblazing artist still tours and records with a passion that flows into the hearts, heads and feet of his audiences.
Preston Reed is an artist with a four-decade habit of defying expectation at every turn, nobody knows where his journey will take him next – not even the man himself. The one thing we know for sure is that it'll be one hell of a ride…

Saturday, April 27, 2019

ANDY & JUDY DAIGLE

"Reflections was in the Top 25 on the Folk DJ Chart for 3 months, reaching a high of #9 and has been on the charts for 4 months."

"Andy and Judy are consummate singer-songwriters and, although their music was new to our audience, all joined in with gusto when the performers sang sing-alongs."
-Richard Cichelli, Monocasy Creek House Concerts Nazareth, PA

Concert - $15 online advance / $18 door
Dinner - 6pm, Showtime - 8pm
Top Albums for Dec 2018 - #24 Reflections
Top Artists for Dec 2018 - #12 Andy & Judy
Top Albums for Nov 2018 - #9 Reflections
Top Artists for Nov 2018 - #9 Andy & Judy
Top Songs for Nov 2018 - #17 Turn Off the Noise
Top Albums for Oct 2018 - #25 Reflections
Top Artists for Oct 2018 - #25 Andy & Judy
Top Albums for July 2017 - #11 This Old Town
Top Songs for July 2017 - #14 I'll Call You When I Get There
New England natives Andy & Judy Daigle have been singing together since 2009. They began writing songs in 2011. Today, this talented folk duo performs regularly at coffeehouses, festivals, libraries, and stages where they have been featured artists, openers and headliners. They tour through New England, the Mid-Atlantic, Midwest and Great Lakes Regions and have been featured on popular folk music radio programs. Their third album, Follow Your Dream, was chosen #1 Top pick for 2015 by Four Strong Winds (John Rumsey), KVMR Nevada City, CA. This Old Town¸ their fourth album, was also chosen as a Top 10 pick for 2017 by Four Strong Winds, as well as being named a Top CD of 2017 by Nick Noble at WICN, Worcester, MA.
Andy & Judy do a masterful job of involving the audience in their performances. Sing-a-longs and smiles are the norm at one of their concerts. Their close harmonies blend Judy's evocative alto and Andy's deep baritone. Beginning instrumentally with a classic folk guitar base, Andy & Judy have deepened their sound through the addition of mandolin, banjo, piano, harmonica, ukulele, and with support musicians, bass, violin and percussion. The instrumental complexity presented on their five CDs, Riverbend, Dragonfly, Follow Your Dream, This Old Town, and Reflections, support the increasing lyrical depth of their compositions.
Even though their songwriting style has its roots firmly planted in traditional and folk music, the influences of country, gospel, blues, and bluegrass, can be heard in their songs. Historical people, places and events are common themes. Their songs are carefully crafted and performed so that the listener experiences all of the emotions woven into their music.
Judy is from southeastern Massachusetts where she was introduced to folk music at an early age through her mom's Peter, Paul and Mary records. She started guitar lessons at age 6 with the hope of joining her church folk group. A few years later she stopped playing guitar and joined the school choir. When she started performing with Andy she went back to the guitar and added piano, mandolin, and ukulele to the mix.
Andy was born in Maine and spent most of his youth in upstate New York, where he grew up listening to folk and church music while traveling with his family before eventually settling in the Boston area. He has taught himself to play guitar, banjo and the harmonica.
Friday, May 3, 2019

LITTLE WALTER HARMONICA TRIBUTE


with STEVE GUYGER, NICK TRILL, RYAN HART, JAMES DAY, and an All Star Band

The second annual Little Walter birthday celebration, featuring four stellar players and an all star backing band for two hours of non stop blues! The last show sold out, don't wait to buy your tickets!

Concert - $15 online advance / $18 door
Dinner - 6pm, Showtime - 8pm
Marion Walter Jacobs (May 1, 1930 – February 15, 1968), known as Little Walter, was an American blues musician, singer, and songwriter, whose revolutionary approach to the harmonica and impact on succeeding generations earned comparisons for him to such seminal artists as Django Reinhardt, Charlie Parker and Jimi Hendrix. His virtuosity and musical innovations fundamentally altered many listeners' expectations of what was possible on blues harmonica. He was inducted into The Rock and Roll Hall of Fame in 2008 in the category Sideman, the only artist to be inducted specifically as a harmonica player. The music journalist Bill Dahl described Little Walter as "king of all post-war blues harpists", who "took the humble mouth organ in dazzling amplified directions that were unimaginable prior to his ascendancy." His legacy has been enormous: he is widely credited by blues historians as the artist primarily responsible for establishing the standard vocabulary for modern blues and blues rock harmonica players.
Philadelphia is home to one of the finest blues harp players in the world, much to the surprise of people not "inside" the blues scene. Over the past forty-plus years, 2009 Handy Award nominee Steve Guyger has been dishing out some of the finest blues to be heard anywhere. Whether in a duo, trio, or with his band, The Excellos, Steve always rocks the house.
Steve has toured with the late Jimmy Rogers, among others, and has played with many of the great Chicago bluesmen and contemporary players, yet he remains one of the best kept secrets in blues. The late William Clarke called Steve "the best harp player I've ever seen." Mark Hummel called him "a monster player." If you have heard Steve play, you know what they're talking about. If you've never heard him, you're missing a major page in your blues portfolio.
Steve began playing harp back in the late 60's on a harmonica given to him by his future sister-in-law. Sometime later, his brother turned him on to Paul Butterfield. Steve's passion for the blues harp took him to Chicago to learn at the feet of the masters of the art. Each trip taught him skills that he brought back to the local bands in which he paid his dues.
Steve has shared the stage with the greats in Chicago and the contemporary harp players touring the world today, names like Little Sammy Davis, Carey Bell, Rick Estrin, Rod Piazza, Kim Wilson, Mark Hummel, Charlie Musselwhite and many others. His playing, vocals, songwriting and stage presence have earned him a place among the best of the players on stage today.
NICK TRILL HAS BEEN PLAYING BLUES PROFESSIONALLY SINCE 1977. BORN IN ENGLAND, NICK MOVED TO THE NEW YORK CITY AREA WHEN HE WAS THREE. AS A TEENAGER HE LISTENED TO BANDS LIKE CANNED HEAT AND PAUL BUTTERFIELD. HE STARTED JAMMING WITH HIS B. B. KING LOVING GUITAR PLAYING FRIENDS JUST AFTER HIGH SCHOOL. NICK COULDN'T PLAY GUITAR BUT HE COULD SING; WHICH IS JUST AS WELL AS THIS WAY HE GOT TO PICK THE SONG AND LEAD THE BAND.
IN 1978 HE STARTED HIS OWN BAND: THE CRAWLING KINGSNAKE BLUES BAND. THEY PLAYED LOCALLY FOR SEVERAL YEARS AND IN NYC AT FOLK CITY ( BOB DYLAN'S FIRST NYC GIG). AFTER A COUPLE OF YEARS NICK MOVED TO NYC AND CHANGED THE NAME OF THE BAND TO TEENAGE BEAT, AFTER THE LITTLE WALTER SONG. THEY PLAYED REGULARLY AT THE LEGENDARY DAN LYNCH IN THE EARLY 1980'S ALONG MANY LUMINARIES SUCH AS STEVER GUYGER, BILL DICEY, ROBERT ROSS AND THE HOLMES BROTHERS TO NAME A FEW. THEY ALSO HAD SOME GREAT PLAYERS SIT IN WITH THE BAND LIKE HUBERT SUMLIN AND JAMES COTTON.
NICK MOVED TO SOUTH FLORIDA IN 1995 AND STARTED A NEW BAND CALLED THE THRILLSEEKERS AND PLAYED MANY GIGS ALL THROUGHOUT FLORIDA.
THE MUSIC SPEAKS FOR ITSELF; HARD DRIVING, SWINGING CHICAGO BLUES.
"YOU GOT TO LIVE IT TO GIVE IT", states the first line from Ryan Hartt & the Blue Hearts' latest CD, "Call My Name". In their 12 years together, Ryan Hartt & the Blue Hearts have, indeed, lived it. They've logged countless gigs and countless miles in a Honda minivan, playing clubs and festivals throughout the Northeast and beyond. Being in a blues band in today's music market is never easy. Nonetheless, the band keeps moving forward, outlasting musical trends and clubs that have come and gone.
Though the band will always be rooted in the Chicago and West Coast blues they have built their reputation on, "Call My Name" expands their sound with soul, proto-rock & roll and even ska. Their songwriting has matured equally. Certainly the common blues themes of love lost and found are here, but the songs on "Call My Name" also reflect the changes and growth of the band members over the last seven years with topics ranging from depression to choosing music over a relationship to the grind of a gigging blues band. Yet no matter what, as the last line of the of the last song says, Ryan Hartt & the Blue Hearts "will be back next Friday night".
James Day is a southern blues artist from the Mississippi Gulf Coast town of Biloxi. He sent his twenties living in New Orleans sucking up all that Americana, New Orleans R&B, and blues. His day jobs included being a fish fry man, which is the name of the band he put together after moving to Philly. Becoming a favorite in the area they become the backing band for many traveling blues stars, one of them was James Harman in 2003. Harman and his guitarist , Nathan James loved James Day and had such a good time that Harman offered to produce his next record. How do you pass up an offer like that? This isn't a Harman record he plays on and not just monster advice, attitude, fine production (plus background vocals on "Fish Where They Bite" one of the best tunes on the CD. Day plays all the harp, some guitar, vocals and kazoos. Nathan James on the other hand lays down some greasy lines that require napkins. Hmmmmmmmm, sounds familiar. As most James Harman touched material it is full of real tall tales, grooves, and humor. All the many styles mesh effortlessly including Jonny Viau's tenor arrangements with Tony Matoian's baritone. You also hear many styles of harp from James Day as he's sucked them up like a sponge over each discovery of a new harp man during his life. James Day and the Fish Fry play "Jump Blues and New Orleans Grooves" all over the East Coast. The opening cut "Blues on a Fuse" explains the blueprint of Firecracker. "Down The Shore" as it is pronounced in Philly, not let's go down to the shore is a big chuck of summer behavior in Delaware and Jersey. "Too Many Tattoos has Sonny Leyland not able to stop the boogie….thank god. A fantastic closer that makes you go Ahhhhhhhhhhhhhhh, it ain't over is it? Shit! Put that on again. Let's introduce The Sizzlin' Fish Fry that will get you on your feet or prosthetics at live gigs! They are Jeff Michael (acoustic bass), Ron Baldwin (piano), Mark Thornton (percussion), Greg Snyder (guitar), and Mark Shewchuk (drummer).
---
YOU SAID IT...
"BY FAR the best live music venue on the East Coast"
"Jamey Reilly couldn't possibly have created a finer oasis for musicians to perform. It's really a gem. SERIOUSLY! Everybody try and get a date there!!! (Just leave some room for us because we're definitely going back!!!)"
"Last night we debuted at Jamey Reilly's Jamey's House of Music. Jamey has outdone himself. He has an incredible backline, and the sound, which he engineers is exquisite. Working with Jamey helps make performing seamless. He knows what he is doing and is an excellent communicator. He is also a musician, which helps a great deal (the man has ears). The food at this venue is incredible. The flavor-I can't begin to find the words to express how excellent it is. If you have not been to Jamey's House of Music, get down there, catch a show. Get there early and enjoy the amazing cuisine. It will blow your mind."
"This small room is by far the best sounding music venue I've ever experienced. It's a truly exceptional labor of love..."
"THE place to Jam!!! Jamey is the man, the myth, the legend. Great equipment & exceptional drum set."
"We've played every kind of venue imaginable on several world tours, and I have to tell you that this is probably the best venue we have ever played. It's simply brilliant. Thank you for everything done to perfection."
"I tell everyone about Jamey and Jamey's House of Music. Everyone in Nashville knows about this place. I play some of the best rooms in the world, like the Bluebird, Douglas Corner, Third and Lindsley, places with great sound systems, and nothing beats the sound in this room. ...This is my favorite place to play in the whole world."
"The sound is absolutely perfect. I could hear every note of every instrument. Just incredible."
I'm a "venue snob" and this place is AWESOME ! Cozy, intimate, acoustically A+, comfy seating, bathroom is spotless, people are warm & friendly ... can't wait to return !
"Best. Venue. Ever."
"... a dream performance space. Perfect acoustics, top quality production values, a visually lovely setting, and an overall aesthetic ambience that, like a tea ceremony, lifts every gesture to it's highest level. It's perfection, both for the audience and the performers."
"Totally going again soon! A++++++!!!"
"I can't even explain how delicious everything was."
"One word. ..incredible!"
"Awesome food..."

---
Jamey's House of Music Tee Shirts Are Now Available!
High quality, black, all cotton Champion tagless shirts with 5 color silk screen
in sizes S to XXL. Only $20!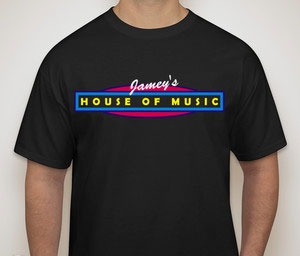 We happily accept cash, and these major charge cards

---
JAMEY'S HOUSE OF MUSIC
Livehouse and BYOB Cafe
32 S. Lansdowne Ave. Lansdowne PA 19050
Call or text - 215.477.9985 • Fax - 215-879-1457
jamey@jameyshouseofmusic.com