HOME | TICKETS | MENU | ABOUT | FAQ |
Artists: for booking go to the FAQ page for the avails calendar and details on making submissions
Only open if a show is booked... check below!
Friday and Saturday Concerts
> 6:00 pm dinner, no reservations needed
8:00 pm showtime
First Sunday Blues Brunch
12:00 pm to 3:00 pm
First Sunday Each Month


FIRST SUNDAYS BLUES BRUNCH
and Blues Jam Open Mic
• Philly Blues Society Meet-up
• featuring the Philly Blues Kings

FREE ADMISSION! 12:00 pm to 3:00 pm
Blues lovers and blues players have made the new Jamey's their home away from home for over a year now, and know that this is the best place to come for some really good and inexpensive eats, fresh ground coffee and espresso, great music, and friendly people. The vibe is home-like and cool, and the sound is out of this world. Jamey's provides a full professional grade backline, so players only need to bring their instrument to jump up on stage and jam.
The open mic jam runs from noon to 2:00 pm, and the smoking hot Philly Blues Kings lays down a set from 2:00 to 3 pm.
The Philly Blues Society hosts the monthly meet-up where members new and old can come to play, eat, chat and enjoy a day soaked in the blues. Many guests also like to host gatherings or parties during the brunch, as there are tables and chairs for dining, and comfortable seats to listen to the music - and it does not cost them a thing to meet up there! Plus, it is wheelchair accessible, is BYOB, and has plenty of free local parking. Being right in the center of downtown Lansdowne, next to the train station, there is abundant public transportation as well.
Check out the mouth watering brunch menu on our menu page.
No reservations are needed. Just load up some friends and head on down!
http://www.phillyblueskings.com

Friday, August 23, 2019

SUZANNE CLOUD
TYRONE BROWN
TOM GLENN

Back for some more good jazz from the all American songbook as well as originals, and a heaping dash of irreverent commentary on just about everything...

Concert - $15 online advance / $18 door
Dinner - 6pm, Showtime - 8pm
Jazz singer-songwriter Suzanne Cloud has been combining jazz with politics and cultural commentary since 1996 when she teamed up with over 20 Philly musicians to create her classic CD With A Little Help From My Friends (now in re-issue). She performs jazz classics and originals,"with a healthy dose of funk, dissonance, biting satire, and moral outrage"...Cloud's voice ranges from melodic oration and soulful wails to sultry moans and mockingly saccharine excess, effects aided by her powerful projection, smooth glissandi, and effortless ornamentation." (All About Jazz) But before that, she was schooled by Philly's finest jazz glitterati: Eddie Green, Tyrone Brown, Johnny Coles, Jimmy Oliver, Sam Dockery and Evelyn Simms.

Cloud has teamed up with composer/guitarist Tom Glenn, an Emmy-award winner for his musical work with NJ Public TV and a monster musician who has toured and recorded with many top R&B stars, to write songs and record together. http://www.tomglennmusic.com/

And to make the night even sweeter, my friend and mentor, the legendary bassist Tyrone Brown will be with us. Ty was the mainstay with bebop pioneer Max Roach for many, many years and has played on many seminal albums and CDs during his professional life. https://musicians.allaboutjazz.com/tyronebrown

Come out and see what we've been working on! http://suzanne.cloud
Saturday, August 24, 2019

BLUE PLATE SPECIALS

Jump and swing straight outa the fifties. Smokin' tunes and tight arrangements that hit the ground running, hold the corners, stop on a dime and give 9 cents change. When they hit the stage the party starts and the joint jumps until closing time.

Concert - $15 online advance / $18 door
Dinner - 6pm, Showtime - 8pm
The Blue Plate Specials have just joined legends Dibbs Preston and The Rockats; Charlie Gracie; and Robert Gordon on Lancaster, PA-based Lanark Records. The Blue Plate Specials recorded their first full- length album with the Lanark family in September, 2014, and it's a scorcher! BPS is a 6-piece Jump/Swing/Blues/Rockin'/Roots band with smokin' tunes and tight arrangements that hit the ground running, hold the corners, stop on a dime and give 9 cents change. When they hit the stage the party starts and the joint jumps until closing time.
Charlie does the songwriting and is out front with vocals and guitar. He loves to interact with the crowd and never fails to get them dancing and make them a part of the show. When The Blue Plate Specials serve it up, adult beverages is consumed, commandments is broke, babies is conceived and a rockin' time is had by all.
The Blue Plate Specials are:
Charlie Frey - Guitar & Vocals
Walt Beier - Tenor & Baritone Saxes, Clarinet, Flute
Alan Sheltzer - Keys
Brad Haberle - Bass & Vocals
Larry Hinkel - Drums
Nerissa Wolfson - Vocals
http://www.blueplatespecials.net/
Saturday, August 31, 2019

DAVE WEINER
AND THE PHILLY PLAYERS

Come and witness the birth of a new supergroup. Dave Weiner has played guitar for the Steve Vai Band for 20 plus years, and is excited to present his long-awaited passion project for the first ever gig at Jamey's. They don't even have a name yet!

Concert - $15 online advance / $18 door
Dinner - 6pm, Showtime - 8pm
From Dave: " We are most definitely on! I've written new music that is a combination of Blues, Rock, Funk, Soul and Singer/songwriter. I've put together a new band and we actually have our first rehearsal this Saturday at Turtle Studio in South Philly. We're going to do mostly originals, maybe a couple of covers. This new band is the priority in my professional life and it's going to be awesome. Very excited to do our first live show at your venue."
Featuring: Dave Weiner (guitar), Michelle Leigh (vox), Matt Landis (keys), Rob Smith (bass), Mike Czimback (drums).
https://www.facebook.com/daveweinermusic/
Friday, September 6, 2019

HIROYA TSUKAMOTO

Eclectic, immersive and mesmerizing; International acclaimed guitarist and songwriter Hiroya Tsukamoto takes us on an innovative, impressionistic journey filled with earthty, organic soundscapes that impart a mood of peace and tranquility.

Concert - $15 online advance / $18 door
Dinner - 6pm, Showtime - 8pm
Hiroya Tsukamoto is a one-of-a-kind guitarist and composer based in NYC.
He was born and grew up in a small town outside of Kyoto, Japan. Hiroya began playing banjo when he was thirteen years old and a year after, he started playing guitar. In 2000, he received a scholarship to Berklee College of Music and came to the US. Hiroya formed a group called Interoceanico (Inter-Oceacnic) which consists of eight musicians from different countries including Latin Grammy Colombian singer Marta Gomez and they released three acclaimed records.
Hiroya has been leading concerts internationally including several appearances at Blue Note in NYC and Japanese National Television (NHK). Hiroya developed a unique solo style combing looping and storytelling and he has been playing around 130 shows a year across the country and internationally. In 2018, he won 2nd place in International Finger Style Guitar Championship
Saturday, September 7, 2019

VENOM BLUES

Careful you don't get bit...

Concert - $15 online advance / $18 door
Dinner - 6pm, Showtime - 8pm
The Mid-Atlantic's hottest Blues band performing original work and remakes of Blues greats such as Muddy Waters, Johnny Winter, Robert Cray, the Chambers Brothers and other Blues legends. Venom Blues appears throughout Delaware, Maryland, New Jersey and Pennsylvania and rolls out several sets of seriously smokin' Blues tracks that will have you out on the floor "stompin' yo' feet". This ain't your Grandmomma's Blues, so come prepared to hear a little something special and don't be surprised if you get bit by the seduction that is "The Blues"!
With the understanding that The Blues is an art form that deserves serious attention to detail, The Blues also leaves a lot of room for interpretation and innovation. Venom Blues carries that one step further into today's music scene with a bit more edge and a lot more energy. The musical dynamics and variety of styles presented at a Venom Blues show always leaves the crowd "wantin' mo", so c'mon down y'all, don't be shy. Give Venom Blues a try!
Venom Blues was formed in late 2005 by veterans of the Delaware and Northeast music scene, who collectively, have well over a hundred years of musical experience. They were brought together by an extreme desire to rekindle the flames of the artistry known as The Blues and carry it forward to a new generation. Delaware has seen it's share of the best Blues musicians that have toured the world. Venom Blues seeks to carry on that tradition, so keep your eyes open - The Blues can strike real fast...
http://www.venomblues.com/main.asp
Friday, September 13, 2019

PACKRAT'S SMOKEHOUSE

KINGS OF THE FLORIDA SWAMP BLUES… THAT'S THE MUSIC OF PACKRAT'S SMOKEHOUSE!

Concert - $30 online advance / $35 door
Dinner - 6pm, Showtime - 8pm
PACKRAT'S SMOKEHOUSE IS A FLORIDA SWAMP BLUES BAND OUT OF NEW SMYRNA BEACH, FL. THE BAND WAS CREATED BY ANTHONY "PACKRAT" THOMPSON IN 1989.
"You'd be hard-pressed to find a more authentic American blues band today than Packrat's Smokehouse. These veterans have been in the swamp for a couple of decades now and, like good thick swamp ooze, just get better with age. If you want REAL blues at your event or venue, be smart and put these men on the bill. Hammercy!"
— Gary Erwin (Shrimp City Slim) - Carolina Downhome Blues Festival (Camden, SC)
Packrat's Smokehouse House had the crowds talking several weeks after...... These guys will take you from church down into the alley in a matter of minutes..... Can't miss this crowd favorite........
Gil Anthony... Blues Power Radio Host / KBA recipient / Wiregrass Blues Festival
Their songs tell tales of old Florida Legends, Folklore and Ghost Stories of days gone by & blues classics.

Anthony "Packrat" Thompson and Robert "Lightning Boy"Thomas(aka Top), are founding members of the 4 piece swamp blues band Smokehouse which formed in 1989 in New Smyrna Beach, Fl. Specializing in Florida Swamp Blues, they are powered by the songwriting, storytelling, lead vocals, harmonica, guitar and percussion of leader, " Packrat". Born in Lake Helen, Florida and raised in New Smyrna Beach, Florida, "Packrat's" exposure to the blues came at an early age due to his mother Willie B. Spellars interest in the blues greats. Listening to the records of John Lee Hooker, Jimmy Reed and Howlin' Wolf and hitting the juke joints and roadhouses in South Florida which featured live blues entertainment, made this music just part of everyday life. But the music of Sonny Boy Williamson is what influenced "Packrat" the most as a young man and sent him in the direction of being a musician.

"Packrat" began his professional career as a drummer in the south Florida area in the 70's where he and Robert Thomas met as members of a local soul band. But "Packrat" soon gave up the drums in favor of the harmonica and years later it was a common interest in roots blues music that brought he and Robert together again when Smokehouse was originally formed in the fall of 1989. Then in '95 the name changed to "Packrat's Smokehouse" and to this day the group is known across the world for its music- Florida Swamp Blues(by Men of the Swamp).

Robert Thomas-vocals and guitar. A native of New Smyrna Beach, Florida, Robert has played the Florida club circuit since 1973. As guitarist-vocalist for the popular Central Florida band, "The Payne Brothers Band", his first musical efforts were in the southern rock tradition. A collector of vintage blues records, his interest in traditional South-Eastern blues grew along with his desire to play in this style. In the spring of 1987 he formed "Town Crier" and recorded several sides for King Snake Records featuring performances by Kenny Neal and Lucky Peterson of Alligator Records. His association with King Snake Records led to an introduction to legendary Lazy Lester and participation in Lester's 1988 tour as his guitarist and opening act. Robert can be heard on the Alligator release of Lazy Lester's "Harp and Soul". In 1989, Robert toured the East Coast blues club circuit with the Florida blues quartet "Blue House", which frequently featured the legendary Noble "Thin Man" Watts on saxophone. Now with Packrat's Smokehouse, he continues to serve up Florida Swamp Blues.

Aaron "Pop" Watson- drums, vocals. Aaron, known to most as "Ba-Bro", began playing playing drums as a youngster in his hometown, Daytona Beach, Florida and joined SMOKEHOUSE in 1993. At the age of 15 he began playing the nightclub circuit with his band director, Gideon Pettway. As a teenager, he also played in bands for high school proms both in and out of town. Deemed the best drummer in the area and the teacher of many locals, including John Livingston, Lorenzo Laws, Leroy "Bo Pete" Robinson, Robert Popwell, The Johnson Brothers of Deland, Florida and son Aaron L. Aaron's professional career can be traced playing in the officer's club while in the Army to "drumming" for recording greats, Rufus Thomas, Joe Simon, Joe Davis' revival group, Wilbur Harrison, The Drifters, Betty Swann, Arthur Conley, Bill Stewart, Ollie Woodson(The Temptations) and others. Having been a member of The American Federation of Musicians, Aaron has made stage appearances with Gary Puckett and the Union Gap and Martha and the Vandellas to name a few. On the homefront, Aaron played beachside for many years with The Duke Gainous Quartet, Lawrence
"Bird" Burdine, Lindsay Morris and The Universals and several other local jazz and pop bands. Kenny "The Wizard" Sly-bass guitar and vocals. Born in New York City, NY in 1961. Kenny began playing guitar at the age of 9 but switched to trumpet after his older brother broke his electric guitar. Soon, Kenny started playing trumpet in middle and high school band but saw a Live Funk group playing which caused him to pick up the bass in 1976. His influences range from the blues to funk heavy metal and even Latin and reggae. Kenny got his professional start with music playing with bands on military bases on the island of Puerto Rico. After years of playing in the Daytona area, in 1995 he joined SMOKEHOUSE as the newest member and has been with the band ever since.
Saturday, September 14, 2019

CHRISTINE HAVRILLA
AND GYPSY FUZZ
with Tim Schumacher on guitar

"Considered one of the hardest working women in music, Christine Havrilla has been wowing audiences since the tender age of 5. With her child prodigy-come-of-age guitar virtuosity, a supremely passionate and emotive voice, and an arsenal of wondersongs that have endeared her to a loving and devoted audience, she is in a class all her own. She calls her unique style neofunkadelicfolkpoptwangrock, but we simply call her brilliant."

Concert - $20 online advance / $25 door
Dinner - 6pm, Showtime - 8pm
Award-winning Philadelphia native Christine Havrilla brings her "well-built, catchy, smart tunes" (Upstage Magazine) to audiences everywhere, touring nationally solo and with the band in support of her new 2019 album, "Sunless Escapade". Christine utilizes the soft gritty texture of her vocals to express warmth and honesty listeners quickly embrace as well as her aggressive, raw, trash-style guitar playing and looping. With twelve albums and 3 EPs under her belt, What's Up Magazine exclaims, "Christine breaks out the gasoline and sets fire to the typical Roots/Folk genre with blazing guitars."  Ed Kiggins of inD Round raves, "Christine is one of the hardest working women in music. With her child prodigy-come-of-age guitar virtuosity, a supremely passionate and emotive voice, and an arsenal of wondersongs that have endeared her to a loving and devoted audience, she is in a class all of her own. She calls her unique style Neofunkadelicfolkpoptwangrock, but we simply call her brilliant!" Main Line Today Magazine lists Christine as one the 25 "Power Women ready to lead."  "Christine Havrilla is a creative, talented powerhouse wrapped up in one complete package!" exclaims Nor'easter Magazine. Mike "Jacobs" McKenna of Steel Notes Magazine says, "This ambitious Philly native manifests her talent in certain ways that allows her to create eclectic music which will grab your heart and leave a lasting memory.  Her Roots/Folk/Americana background coupled with that unique individuality that she possesses allows her to be a presence that steps into many genres and gives her the tools to crossover to different music formats." Mark Rogers from 93.7 WSTW raves, "…with Gypsy Fuzz, Christine takes especially that rock element and turns it to 11." Named "One of the Top Ten Indie Artists" by The Advocate Magazine, The Washington Post writes, "(Havrilla's) songs are intelligent and moving, the arrangements are incisive and colorful, and, best of all, Havrilla consistently comes across as a confident and seasoned performer." Christine has shared the stage with artists like Brandi Carlile, Chely Wright, Jeffrey Gaines, America, Jill Sobule, Janis Ian, Antigone Rising, Melissa Ferrick, & Davy Knowels to name a few.  Gypsy Fuzz's premier album titled "Searching. Finding. Living.", co-produced by Larry Crane (Elliott Smith, Sleater-Kinney, Cat Power), was listed on Advocate Magazine's not to be missed "Best Overlooked Albums". Christine is listed with Takamine Guitar's Worldwide Artists, Clayton Picks, Audix Mics, was a featured Artist for American Musical Supply's Singer/Songwriter Month (Feb 2015 & 2017), nominated for About.com's Reader's Choice Awards, awarded the 2010 Garden State Film Festival's "Best Contemporary Country Song" for "Blinders", nominated for 3 "Homey Awards" (2015) for 93.7 WSTW, and is called "...raw, simple, wonderful!" by Curve Magazine. Inessa at 101.9 KINK.FM calls Gypsy Fuzz "Yet another fun late-year discovery!" Michaela Majoun, former DJ from 88.5 WXPN, applauds her "terrific, big sound", while Philadelphia Magazine states, "She rocks!"  Christine is noted in the new book by Sean Kay called "Rockin' the Free World" (Dec 2016 Roman & Littlefield).  After three years of releasing "Live Session" Albums (2015-2018), Christine's celebrated the 20th Anniversary of the album "Some Other Thing", with a re-print as well as bringing songs back to the current set list while touring! The new 2019 studio album called "Sunless Escapade" was recorded at Studio 1311 outside of Philadelphia, PA.
Friday, September 20, 2019

THE KENNEDYS

They met in Austin, Texas in 1992, when Pete Kennedy was playing in Nanci Griffith's band. For their first date, they each drove 500 miles to meet at Buddy Holly's grave in Lubbock, Texas. Soon, Maura Kennedy (née Maura Boudreau) joined Griffith's band as a harmony singer, and the Maura and Pete began their career as a duo when they opened for Griffth during her Ireland tour.

Concert - $20 online advance / $25 door
Dinner - 6pm, Showtime - 8pm
At well over a million miles of roadwork, including two stints as members of Nanci Griffith's Blue Moon Orchestra, Pete and Maura Kennedy show no signs of slowing down either on tour or in the creative realm.
Originally based in Austin, Texas, they spent a few years in the Washington DC area before moving to the East Village in New York City, where they have been based for most of the last two decades. The Kennedys are known nationwide as the hosts of the late lamented Dharma Café program on Sirius Satellite Radio, and on Broadway, they are regular cast members of Theatre Within's annual tribute to John Lennon — working in that capacity with Patti Smith, Debbie Harry, Jackson Browne, Cyndi Lauper and a host of others.
Life on the road and time spent in the creative ecosystem of the Village have informed their songwriting over the course of 14 duo albums and half a dozen side projects, and Safe Until Tomorrow is true to that tradition. What sets the album apart is the inclusion of several anthemic, rocking songs of social consciousness that convey a strong message best summed up in one of the song titles: "Be Silent No More." The Kennedys' music has been described as uplifting, empowering and encouraging. In these turbulent times, they rise to the occasion with Safe Until Tomorrow.
http://www.kennedysmusic.com/home.html
Saturday, September 21, 2019

LISA CHAVOUS
"Shaken, not Stirred"

A tribute to Frank Sinatra, Dean Martin, Tom Jones, Eartha Kitt, Sarah Vaughan, Billie Holiday, and many more.

Featuring special guests Greg Farnese and Scott McConnell

Concert - $20 online advance / $25 door
Dinner - 6pm, Showtime - 8pm
"I have recorded with Jonny Copeland, and have known Shemekia Copeland since she was a lttle girl, when I was on the road with her father. I've got to tell you the best female blues vocalist to come along since Shemekia is without a doubt, Lisa Chavous," according to the late jazz and blues sax great, Byard Lancaster, a frequent collaborator, and the man who discovered Kevin Eubanks, the Roots, and Stanley Clark.
Indeed. Lisa ia frequently compared to Tina Turner, Etta James, Aretha Franklin, Ruth Brown, and Irma Thomas, who along with Bilie Holiday and Mahalia Jacksonon are among her primary musical influences. She a been singing in church and performing in shows since she was 5 in a career that encompasses jazzs, blues, soul, gospel and rock. Lisa sees her diverse musical back ground as a way to bring people together, and a way to connect with any and all audiences.
Lisa Chavous was born and raised in Sharon Hill, in suburban Philadelphia, and she began singing in local church choirs and family gatherings at the age of five. In 1989 she began performing with the group Chapter One in banquet halls such as The Twelve Caesars and the Riviera Ballroom. In 1997 Lisa won first prize while competing in the Temple University jazz station talent contest sponsored by B&V outreach. In 1999 she began forming bands that performed for a variety of audiences. These ensembles eventually became known as Lisa Chavous and Friends. Lisa has performed with them in, restaurants, ballrooms, country clubs, and other major venues in southeastern Pennsylvania. Lisa has performed with jazz greats Byard Lancaster, Odean Pope, Trudy Pitts, Pat Martino, Jimmy McGriff and Bootsie Barnes, and is regularly backed by former members of Patti LaBelle's band, as well as by Don Evans, former guitarist for Billy Joel. Lisa, who is a nurse, has also donated her talents at a variety of functions that benefit children's organizations supporting research for multiple sclerosis and the anti-AIDS foundation. Lisa's most recent concert performances have been the West Oak Lane Jazz Festival and the Palmyra, NJ County Festival and she can be frequently found at Stephen's Prime in Media, PA. Lisa's forte is her great versatility in singing jazz, blues, and rhythm & blues, all with tons of soul that projects her sincere love and devotion to her music and that creates powerful audience attraction and response.
https://www.facebook.com/lisa.chavous
Sunday, September 22, 2019

LANSDOWNE ARTS ON THE AVENUE FESTIVAL "BLUES BOULEVARD"

Live music tent by Jamey's House of Music featuring a full day of superb Blues!

Noon to 6 PM
FREE ADMISSION

The Lansdowne Arts Festival has been an annual local favorite, celebrating arts and music in Lansdowne since 2003. This year we expect between 3000 - 4000 to attend and enjoy the live music, food and beer garden, performances, arts and crafts vendors and children's activities.
In 2016, the popular event expanded! Moving outside, the new Lansdowne Arts on the Avenue Festival features live music, artists, performances, demonstrations, activities for the kids, food trucks and a beer garden.
Parking in Lansdowne is free on Sundays! Look for any parking meter on any of the side streets. Or park for free at the municipal lot on N. Highland Avenue near Baltimore Ave. (behind the Dunkin' Donuts) or in the two SEPTA train station lots only one block from the Festival. Lansdowne Arts on the Avenue festival is very close to SEPTA bus stops for buses 109, 113 and 115. It's also just one block away from the SEPTA Lansdowne train station (Media/Elwyn line).
Jamey's House of Music is proud to produce the music for the festival and for a second year, will continue the "Blues Boulevard" theme, with outstanding live blues featuring local and regional talent, as well as an achievement awards ceremony presented to top artists by the Philly Blues Society.
Scheduled performances:
The Lansdowne Symphony Orchestra String Quartet performing blues interpretations - noon to 12:20pm
The Philly Blues Kings - 12:20 to 2:00pm
Philly Blues Society Achievement Awards and performances - 2:00 to 4:00pm
The Ursula Ricks Project - 4:00 to 6:00pm
The Lansdowne Symphony was founded in 1946 to provide music for the First Presbyterian Church of Lansdowne. By 1951 the orchestra had become Lansdowne's community orchestra. Henri Elkan, a well-known musician and music publisher, served as conductor from 1955 to 1980. He initiated collaborations between the orchestra and area dance and choral ensembles and incorporated children's concerts into the annual concert series. Elkan also featured prominent area musicians as soloists at LSO concerts. Widely regarded as the top local community orchestra, the LSO now offers a season of 5 concerts performed at the Upper Darby Performing Arts Center and at other area venues.
The Philly Blues Kings is straight-ahead, low-down, hard-driving, hip-shaking, and super-hot electric blues. PBK has been one of the best kept secrets in Philadelphia for nearly a decade, and boasts some of the best players in the business.
Vocalist Gwen Jackson has a 6-octave voice ranging from the lows of Jazmine Sullivan, to the highs of the late Minnie Riperton. Ms. Jackson has toured the world on cruise lines with Paramount Productions, Cirque du Soliel's "Delirium", and performed as a lead singer on Broadway in "Riverdance". She is one of the most requested voices to record with some of the greatest artists in the music industry.
Her incredible career includes touring and backing such artists as the Rolling Stones, Harry Belafonte, Sheryl Crow, Toots & the Maytals, Alisha Keyes, the Dave Matthews Band and Diana Ross. She has appeared on film, TV and on the theatrical stage.
Harp player Carol Moog is known to be a "huge sound in a small package." Moog played harmonica for many years before launching No Alibi Blues Band. With the fabulous late vocalist Zan Gardner, the band quickly developed a loyal following at Philadelphia's top music venues, such as Warmdaddy's, Tin Angel and World Cafe Live.
Moog continued to perform with what became the original Zan Gardner Blues Band. The high energy blues and funk band appeared with such legends as John Lee Hooker, Koko Taylor, Junior Wells, Buddy Guy, Jimmy Rogers, Leon Russell/Edgar Winter, John Mayall and Roy Buchanan.
Guitarist and vocalist David "Bluesman" Reiter is a consumate multi-instrumentalist and has been backing national acts for many years, including Sydney Ellis, Frankie Lee, Sista Monica Parker, Chris Cain, Larry Garner, Kenny Neal, and a very young Shemekia Copeland (at the original Warmdaddy's). He also backed many local blues and jazz greats including Jeannie Brooks, Zan Gardner, Ron Kraemer, Greg Underwood, Frankie Alston, and our own Georgie Bonds.
Dave was a regular sideman at east coast festivals for several years, including the North Atlantic Blues Festival in Rockland Maine, the Pocono BF, the Hudson River Park BF in Manhattan, Blues & Microbrews in Wilmington, and the annual BF in Monkton MD.
Since completing a Masters of Music in Percussion Performance, drummer Bill Marconi has pursued a wide range of teaching and performing experiences including: The Jimmy Bruno Trio, The L.A.Jazz Workshop Big Band, Trio Nova, The Magic Casino Orchestra (Zurich) and various orchestras and opera companies. Bill has also performed with The Bamboo Jazz Quartet, fusing jazz rhythms and Indian ragas, The Mighty Little Big Band & City Line Swing. He recently has performed with Jazz Volcano.
Bill has studied drumset with Jeff Hamilton, Greg Bissonette and Armand Santarelli among others. He has studied with world percussionists Tony Vacca, Randy Crafton and Ustad Mohammed Lutfi.
Bassist Jamey Reilly was trained on keyboards and guitar at a young age, and has held down the low end since 1965 when he joined the pop group, "The Abstract Design." He has been an avowed blues lover since 1970 when he did a short stint with legendary bluesman John Lee Hooker, and tried to coax Son House out of retirement. It was a reunion performance at Boston's Fenway Theatre that Jamey pulled together, with Paul Butterfield, Mike Bloomfield, Mark Naftalin, John Kahn and Billy Mundi that cemented his life long addiction to the blues.
Philly Blues Society Achievement Awards will honor top regional artists who have distinguished themselves as keepers of the blues flame. Cameo performances will be presented by those artists who are not on tour and unable to attend.
Honorees -
Vanessa Collier (presented at the Briggs Farm Festival)
Shemekia Copeland (Currently on tour)
Randy Lippincott
Steve Guyger
Tony TNT Jones
Georgie Bonds
Big Daddy Al Lamberson
Ursula Ricks
http://www.thephillybluessociety.com/

Ursula Ricks is tha sh*t, period, end of story.......well, that's what her colleagues and fans will tell you. For 32 years, Ursula Ricks has been holdin' court with her unique, spellbinding vocals, unique for it's range, energy, and depth her vocal grabs you by your heart and shake's loose what you don't need, leaving you with a well being in your soul that compels you to discover the Ursula Ricks beyond the entertainer. And if you do so, you'll find just that.....Ursula Ricks, unapologetic, opinionated, big-hearted, and most importantly, authentic.
Born in Baltimore and raised in Texas, Ursula's music takes you on a journey through a life of Funk/Soul/ and Neo-Blues. Even when belting a non-original composition, she has an uncanny knack to somehow convey the originality of the music as if she were the song's originator; maybe because her voice comes from that same place that so many great songs derived, a place of true soul and humanism. Through songs and idea, Ursula creates paths to greater living, leaving her audience free of worries, dancing, laughing, and making friends in a roomful of folks they had never met before. In short, Ursula makes you feel at home. Backed by some of the best musicians in the Baltimore/DC area, Ursula Ricks Project gives a musical experience that is nothing short of riveting.
From Cape May Jazz Festival and Pennsylvania Blues Festivals, ARTscape to Arteach, the Jersey shore to Down the Ocean in Maryland, from Rehobeth Beach and Cape Canveral, Ursula Ricks is the real deal.........her music, voice, and message transcends so many of the divides experienced today. Young and old, black and white, brown and red, rich, poor and middle class, all love and respect her as she does them, bestowing upon her the title of "Queen of Baltimore Soul".
https://lansdowneartsontheavenue.com/
Friday, September 27, 2019

KRISTINA KOLLER
CD Release Party

" Kristina Koller has a fearless musical curiosity that leads her to blend all sorts of elements together into a variety of fresh sounds, and sing over them with complete assurance and ease." - Jerome Wilson at All About Jazz

"Behold the arrival of a great new talent."- C. Michael Bailey at All About Jazz




Concert - $15 online advance / $18 door
Dinner - 6pm, Showtime - 8pm
Always innovative and pushing the limit, Kristina Koller is making her mark in the music world. As a vocalist, arranger and songwriter Kristina utilizes a wide range of music genres to create her unique sound. Evidenced in her widely acclaimed 2018 debut album 'Perception', her take on jazz music in this song collection is both timeless and contemporary, adding interesting textures to uplift old standards for millennial music tastes. Her EP 'At The Poli Club', released in early 2019, captures a snippet of her live show. It exemplifies her extraordinary and expressive vocal dynamics in its purest form, doing what she does best - performing and producing music without bounds. Her second studio album, scheduled for the fall of 2019, will display the latest evolution in Kristina's captivating sound, adding more bohemia and indie-pop to the mix.
Growing up just outside of New York City, Kristina was exposed to a wide array of music & dance which markedly influenced her at an early age. As such, she performed in youth musical theater and eventually branched out artistically, embracing solo performance as a teen singer-songwriter and vocalist in alt-rock bands. Her artistic thirst reached into classical art songs, opera and vocal jazz when she discovered the music of Ella Fitzgerald, Anita O'Day, Sarah Vaughan and Chet Baker. Her embrace of jazz expanded into the performance space during her high school years, joining a quartet that gigged locally in Westchester, NY. On scholarship she studied at The Hartt School's Jackie McLean Institute of Jazz and completed her formal music education at The City College of New York. Kristina developed her musical voice in the NYC jazz scene, performing at venerable haunts such as Smalls, Smoke, Minton's, Mezzrow as well as The Apollo Theater.
With such a diverse artistic foundation, it is no surprise that her innovation for new sounds drives Kristina's creative flow, melding rock, jazz, funk, R&B & alternative genres into her music.

https://www.kristinakoller.net/
Saturday, September 28, 2019

URBAN ACOUSTIC COALITION
Plus Matthew Gordon & SIlvershade Scenery

Jefferson Berry's upbeat and danceable take on Folk, Twang and any other genre that gets in their way.

Concert - $18 online advance / $22 door
Dinner - 6pm, Showtime - 8pm
From the drunk on the town to the cop on the take, there's an interesting tale in the songs of Jefferson Berry. These songs are performed by a collection of unique players: The Urban Acoustic Coalition. The band is anchored by the virtuosity of Bud Burroughs and Dave Brown. 2017's release of The Habit is the fourth collaboration between Berry and keyboard and mandolin wizard Burroughs. Brown and Berry's musical relationship came together with benefit shows for Katrina victims and has grown in the fest campgrounds. Brown plays electric guitar, keyboards, dobro, banjo, mandolin and fretless bass as needed. Complementing this with a variety of guitar styles, Berry's projects bring a danceable style and contemporary point of view to a unique wing of the folk scene.

Singing songs about the city, Berry's Urban Acoustic themes bridge the broad sensibilities of the Americana genre with the tales of city living. Helping out with this singing have been a cadre of excellent female vocalists: Irene Lambrou (lead singer for Almshouse), Emily Drinker (named 2017's Philadelphia Songwriter of the Year), Briana Berry (lead singer for The Berrys) and studio pro Becka Cooper. 
Marky B, one of the area's premier chromatic and blues harmonica players deepens the band's soulful approach. And while appealing to jam band and folk audiences, the band is driven by the bass & drums cadre of Dean McNulty and David Rapoport into what is best described as high-end Folk Rock
https://www.jeffersonberry.com/
Friday, October 4, 2019

SWEARINGEN AND KELLI
Album Release Show

Bridging the gap between modern-day Americana, '70s folksingers and country rebels, Swearingen and Kelli croon about endurance, addiction, and getting things right the second time around.

Concert - $15 online advance / $18 door
Dinner - 6pm, Showtime - 8pm
Cold-Hearted Truth, the third album from Nashville-based duo Swearingen & Kelli, bridges the gap between modern-day Americana and the classic sounds of 1970s singer/songwriters. It's the pair's most collaborative album to date, merging the talents of two artists — both of whom enjoyed acclaimed solo careers before partnering up for Swearingen & Kelli's 2013 debut — into a singular sound filled with close harmonies, swooning pedal steel, gospel piano, analog production, and storytelling both autobiographical and character-driven.
Recorded in a series of live takes with Grammy Award-winning producer Mitch Dane, Cold-Hearted Truth is a collaboratively-written album rooted in honesty. The songs draw inspiration from the bandmates' personal lives and family histories, spinning stories about coal mine towns, southern nights, humble beginnings, and romance. They also shine a light on Swearingen & Kelli's raw, onstage chemistry, sharpened over the years via a long string of shows in symphony halls, opera houses, living rooms, and clubs. Inspired by the rebels and old-school icons of country music — including Kris Kristofferson, Lucinda Williams, Emmylou Harris, and Buddy Miller — Cold-Hearted Truth is a classic album for modern times.
Friday, October 11, 2019

SLIM AND THE PERKOLATORS

One of our favorites is coming back. If you're not careful, Slim will be dancing on your chair while you're still in it. A great showman!

Concert - $15 online advance / $18 door
Dinner - 6pm, Showtime - 8pm
Hey ya'll I'm Harmonica Slim and I'd love to share the ride with you! Born and raised just outside of Philadelphia I grew up in a blue collar neighborhood where things are simple, the Eagles were a way life, and a good day meant playing hockey without getting in a fist fight with your buddy. I love it all, and its molded me into the passionate blues man I am today. The harp is my life, the blues is my savior, and the fans are why I exist to play it!
I began my journey with the blues at the the age of 24. By this point I had been playing harp for 2 years, but I really didn't know what I was doing. I wasn't raised with the blues on my radio and I had no sense of what harp players were supposed to sound like. Through trial and error I spent the first two years learning how to bend notes, play scales, and imitate the guitar riffs of players like Jimmy Page and Duane Allman. It wasn't until I walked into one of the best blues joints in my home city of Philadelphia that I heard a master of the instrument play it right. Mikey Junior who runs the famous Twisted Tail Blues Jam on Sundays was on stage with the house band giving me a true lesson of what the blues is all about. I heard tunes by Little Walter, Sonny Boy Williamson, Junior Wells, and original stuff by Mikey himself. Later I had the privilege of witnessing more mastery of the instrument from one of the east coast's kings of harp Steve Guyger and I knew the blues was my calling in life. Steve was as close to those old masters as I had ever heard and he still wows me to this day. Those moments were the inspiration for my journey, which has led me to become one of the finest harp players in the Philly area. Along the way I met The Perkolator at a Little Red Rooster Band Show where they graciously let me sit in with them. From there it didn't take us long to realize we were gonna be ripping up on some blues together. Now I play with Tim "The Perkolator" Perks both in a duo and in a full band known as Slim and The Perkolators!
Since I began playing the blues live and became a professional, I've been lucky enough to share the stage with many local greats. I've been on stage with harp giants Mikey Junior (PA Blues Hall of Famer), Steve Guyger (Jimmy Rodgers harp player for 17 years and PA Blues Hall Of Famer), "Big Daddy" Albert Lamberson, Doctor Harmonica (Delaware Blues Hall of Famer), guitar greats Filthy Rich McPherson (New York Hall of Famer), Roger Girke (Former Foghat guitarist and Delaware Blues Hall of Famer), "Gypsy" Joe Alves, Joey Fulkerson, Georgie "The Blacksmith" Bonds (PA Blues Hall of Famer) Kevin McCann (Little Red Rooster Band and PA Blues Hall of Famer), bass virtuoso's like Jimmy Pritchard, Tony "TNT" Jones (Bass player for both Sister Sledge and Nina Simone throughout their careers and the only local one to tour with Buddy Guy and Big Mama Thornton), Bj Muntz (Lower Case Blues Band and Delaware Blues Hall of Famer), and drummers like Russ Joel (Delaware Hall of Famer), Howard Burton (toured with the Delphonics), Larry Hinkel, and Dave Marabella( former Robert Hazard drummer). One of my fondest moments was playing the Phoenixville Blues Festival with up and coming future guitar star Radka Kasparcova and her band Time Gap. I also had the honor of being invited to play with my old friend Logan Carpenter at the 1st annual Trenton Porkroll Festival.
https://slimandtheperkolators.com
Saturday, October 12, 2019

CLAUDE BOURBON

"A breathtaking acoustic fusion of blues, jazz, folk, classical and Spanish guitar from a stunning guitar virtuoso..."Altadena News, USA"

Concert - $15 online advance / $18 door
Dinner - 6pm, Showtime - 8pm
Ready for a unique and talented take on a wide range of musical traditions? Claude Bourbon is known throughout Europe and America for amazing guitar performances that take blues, Spanish, and Middle Eastern stylings into uncharted territories.
Claude's inimitable style incorporates all five digits on each hand dancing independently but in unison, plucking, picking and strumming at such speed and precision that his fingers often seem to melt into a blur. Thousands of people in the UK, Europe and USA have enjoyed listening to this virtuoso and for the majority of his audience it is an experience that compels them to return again and again to hear and watch him play, as his fingers lightly dance over the strings of his guitar and create a unique sound that is 'Claude'.
Claude Bourbon weaved his songs through the audience as if on a journey through life taking in different flavours of Europe and beyond. It is very hard to describe the almost endless amalgam of different influences in Claude's playing, all melting into each other, as he moves from classical openings, across a whole continent of cultural roots, from the Balearic's to the Balkans, and then across to the Mississippi Delta, and shoehorned into all that is music that would not have been out of place in the courts of Emperors and Kings.
Now based in the UK, some of this guitarists' influences allow us a fascinating insight into this remarkable musician; Paco De Lucia: Deep Purple's Richie Blackmore; Joaquin Rodrigo; JJ Cale; JS Bach….
Claude has played countless venues, including Glastonbury Festival, Isle of Wight Festival, Colne Great British & Blues Festival, Rock O'Z Arene, Avenches, Switzerland, among others. He has shared the stage in Europe and the USA with countless musicians, Calvin Russel, Charlie Morgan (Elton John, Gary Moore), Jan Akkerman (Focus), Steve Grossman (Miles Davis), Herbie Armstrong ( Van Morisson), Jose barrense Dias and many more.
It's not easy to begin to describe the breadth or mastery of the music you will hear if you are fortunate to catch one of Claude's gigs, it is a sort of sensory experience like no other. A top master of his craft and never appearing to be rushed, he has impeccable timing and makes things that one can only marvel at seem simple.
Experience an evening of exploration in the unique ambiance of the Thumb!
" Claude Bourbon is a unique figure today… his playing is almost indescribable" - The Hook, Charlottesville, USA
"Never heard anyone get that much beautiful sound out of a J-45", Bob, Tucson, AZ
"…This accomplished artist offers tender, compelling performance through highly developed precision. His sound instantly creates ambience – from haunting Spanish moods to lyrical, romantic jazz, Claude Bourbon provides both a rich evening of music for lovers, and a real treat for music lovers…", BBC, UK
"...His fingerpicking is exquisite and if I closed my eyes I could clearly hear two guitars playing. Just when I recongnised a theme he moved on with a mesmerising cascade of notes which kept on flowing. He added a driving bass, for a version of "She knows how to stretch it". By the time he sang the first verse he had 'stretched it' from Spain to the Caucuses, and from the concert hall to the bar room. His forte is obviously his wonderful guitar work, but he does occasionally burst into song and what you then get is something between Bob Dylan and Cat Stevens, combined with a French accent! C'est magnifique." Dave Baily

Friday, October 18, 2019

HONEY AND BLUE

"Regardless of the direction they choose, the chemistry between the couple should yield results worth every bit of listening time."
- James Harker, This Week News

Concert - $15 online advance / $18 door
Dinner - 6pm, Showtime - 8pm
The band, a self-described mix of pop, blues and soul, is fronted by singer/songwriters Adam Darling and Stephanie Amber. The duo recently released their second full length 'All The Feels'. An album that showed listeners they refuse to be defined by any one genre. They have been featured on ABC 6 Good Morning Columbus, Broad and High (PBS), and are fresh off their first east coast tour. The band is thrilled to be back home and working on album number 3. Featuring Dwight Bailey on bass and James Gaiters on drums. In the meantime they are releasing a few singles to keep listeners satisfied and excited for the future!
Born and raised in Ohio, Darling met Amber (a New York native) while working at the same restaurant in Los Angeles. The two were both pursuing a career in music and quickly hit it off, writing together for more than a year before forming their band. After performing all over LA, at sought-after venues like The House of Blues and The Hotel Cafe, the duo moved back to the Midwest to continue work on their first album. Once the duo arrived in Columbus they teamed up with Dwight Bailey and created their self titled first album. One year after that James joined the group and the rest is, as they say, history! They have had the pleasure of performing at Jazz and Ribs Festival, Creekside Blues & Jazz Festival, Columbus Arts Festival - opening for Post Modern Jukebox, Pride Festival - closing the festival out after Martha Wash, and many other exciting festivals.

Saturday, October 19, 2019

SWEET LEDA

One of the hottest bands in the mid-atlantic region. Truly beautiful vocals, spot-on musicianship. You're going to love hearing them at Jamey's

Concert - $15 online advance / $18 door
Dinner - 6pm, Showtime - 8pm
Powered by Julie Cymek's sultry, commanding vocals and electrifying stage presence, Sweet Leda is taking the diverse mid-Atlantic music scene by storm as one of the most exciting and accomplished live acts on the rise. In fact, Lou Plaia (co-founder of Reverbnation) describes them as "the highlight of every festival they play." With its rich blend of new school funk, psychedelic rock, soul and pop, Sweet Leda's heartfelt original music can best be described as a female-fronted, soul-based, Zeppelin meets Chili Peppers!
Sweet Leda's sophomore album Let It In captures the live and raw essence of what can only come from years of steady gigs, blood, sweat, and a few tears. To capture this essence, the band recorded all together in one room, tracking analog to 2" tape. What came out of the process is an intimate, in-your-face, edgy sound that exemplifies Sweet Leda live, and at their best. Let It In was recorded and engineered at WrightWay in Baltimore by IRKO (Jay-Z, J Lo, Pitbull, Talib Kweli), mastered by Brian Lucey (Black Keys, Arctic Monkeys, Beck, Dr John), and produced by Sweet Leda's very own "fifth Beatle," Stephen Joseph Antonelli, who also produced and recorded the band's first album, Need The Music.
Among the band's many milestone achievements are: four Tri State Indie Music Awards, including the Groupie's Choice Award in 2012; Best Emerging Artist DC/Baltimore in The Deli Magazine's reader's poll in 2011; sharing the stage with bands like Galactic, 311, and Jefferson Starship; performing at festivals with the likes of Citizen Cope, G Love, Cake, Live, Lake Street Dive, and Tedeschi Trucks; writing the end-credit title track for the feature film Lovely Molly by Ed Sanchez (Blair Witch Project); being hand-picked by Allman Bros. drummer Butch Trucks to open for his band at the Roots Rock Revival Masters Camp; and performing at Summerfest in Milwaukee 2013 and 2015.
Sweet Leda regularly features tenor-saxophonist Ron Holloway who is listed in the Biographical Encyclopedia of Jazz where veteran jazz critic Ira Gitler described Holloway as a "bear-down-hard-bopper who can blow authentic R&B and croon a ballad with warm, blue feeling." Holloway has worked with the likes of Susan Tedeschi, Dizzy Gillespie, Gil Scott-Heron, Little Feat, and Root Boy Slim. He is currently a member of The Warren Haynes Band in addition to fronting the Ron Holloway Band.

Saturday, October 26, 2019

SATELLITES 9000 JAZZ QUINTET
Sun Ra Celebration

Jazz pioneer Sun Ra will be remembered by the Satellites in a tribute featuring standard and original compostitions

Concert - $15 online advance / $18 door
Dinner - 6pm, Showtime - 8pm
Le Sony'r Ra (born Herman Poole Blount, May 22, 1914 – May 30, 1993), better known as Sun Ra, was an American jazz composer, bandleader, piano and synthesizer player, and poet known for his experimental music, "cosmic" philosophy, prolific output, and theatrical performances. For much of his career, Ra led "The Arkestra", an ensemble with an ever-changing name and flexible line-up.

Satellites 9000 is an ensemble of musicians who came together through the Philadelphia Jazz Projects concert series, "Satellites Are Spinning A Sizzling, Sonic Celebration of Sun RA." Satellites 9000 will present songs from the Sun Ra catalog as well as compositions from other jazz musicians who were inspired by Sun Ra, as well as original compositions inspired by Sun Ra.

SATELLITES 9000 JAZZ QUINTET

Terry Lawson is a Philly-based tenor saxophonist who is among the legendary Philly avant-garde pioneers. Throughout his career, he has played with the Sun Ra Arkestra, is a founding member of the Sonic Liberation Front, has performed with Keith DeStefano, Raymond A. King, Tyrone Hill, Odean Pope Saxophone Choir and many others

Tim Price is a multiple reeds and woodwind player who has had the extreme good fortune to have bands of his own featuring world class stellar players like Lew Tabackin, Bennie Green,Carl Allen, Ray Drummond, Allison Miller and Bill Goodwin. Tim also has been a special guest with Grateful Dead member Bob Weir's RATDOG. Tim has played with musicians like Bennie Green, Ray Drummond, Jon Mayer, Major Holley ,Bert Harris, Terry Lawson, Alan Dawson, Bill Doggett,Brother Jack Mc Duff, Cecil Payne, Kimpedro Rodriguez,Richie Cole, Charlie Watts from the Rolling Stones, Gary Burton, Doc Severinson, Dr. John, , Trudy Pitts, Bootsie Barnes, Sonny Stitt, , Larry Young, Ike Turner and Aretha to name a few.

David Dzubinski's approach to composition and performance incorporates a strong point of reference while journeying in and out of unity and chaos, utilizing harmonic dissonances and rhythms, and creating a lovely dance of tension and release. He displays a rare intensity in his piano and keyboard playing, as well as bold
sensitivity. He has made appearances on four of jazz vocalist/composer Kaylé Brecher's recordings; and one of Dzubinski's compositions was published by Freddie Hubbard's Hubtones Publishing. David Dzubinski has performed with: G. Calvin Weston, Doug Wimbish, Elliott Levin, Corey Glover, Darlene Love, Paul Pesco (Madonna), Mischa Machez, Jason Fraticelli, Anwar Marshall, Sarah Dash, Tim Motzer, Dawn Robinson, John Swana, Gary Us Bonds, Tom Spiker, Warren Oree, Frank Butrey, Kaylé Brecher, Chico Huff, Mutlu, Josh Lawerance, and others.
Bert Harris has been the bassist and musical director for two Philadelphia Jazz Projects celebrating the contributions of Sun Ra Satellites Are Spinning. Bert's composition, "Sunday Sermon on Mars, Homage to Sun Ra" will be published in the second edition of the Philadelphia Real Book as will "Blues for Trayvon." Bert studied jazz bass with Al Stauffer and Buster Williams.
Kimpedro Rodriguez is a multi talented drummer and visual artist .He was the musical director for several of the Philadelphia Jazz Projects Sun Ra Mixtape's and the Sun Ra Concerts celebrating the works of Sun Ra. Kimpedero leads several groups under his leadership in Kimpedro's NuGruv Network
Thursday, October 31, 2019

HALLOWEEN BLUES JAM PARTY
Sponsored by the Philly Blues Society and Jamey's House of Music

Come on out and chase the goblins away!

$5 at the door / FREE if you are in costume!
8pm to 12:30am

The party of the year!! All blues players and blues lovers are welcome to join the fun. Doors open at 8pm and the jam runs to 12:30am. Bring your instrument if you play, and some friends too. Inexpensive and delicious a la carte dinner will be served until late, and BYOB is welcome. Wear a costume and get in free. No tickets or reservations needed, just show up at the door! Free parking in nearby lots.
This is going to be the best halloween party in town, with the best players on tap. Names like Mikey Jr, Georgie Bonds, Gypsy Joe Alves, Big Daddy Lamberson and the Philly Blues Kings are already confirmed, and many more will be added.
We have a full professional backline in place, and sound that will leave you howling like a werewolf.
To make it even better, we will have a donation and raffle for superb prizes, with the proceeds being split between the Jamey's House of Music liquor license fund and the Philly Blues Society.
This is one jam that you won't want to miss!!

Saturday, November 2, 2019

THE ITALIAN JOB

Bringing cheers from Italy, Massimo and Gloria present a fresh take on (mostly) American blues and traditional music. Simple and fun.

Concert - $15 online advance / $18 door
Dinner - 6pm, Showtime - 8pm
Hi guys, my name is Massimo Bevilacqua, I am a pro musician based in Italy, (acoustic guitar, harp, vocal, stomp box) (singer, washboard and snare) and I will travel USA next October with Gloria Turrini, as "The Italian Job", for our 14th US tour.
The show is an essential one, without frills which strikes listeners right to the heart, for its simplicity, genuineness and passion: a range of blues standards, classic country, Americana and ballads, both covers and originals, that will take the listener on a journey through 150 years of American -and a little Italian- history, culture and music.

Friday, November 8, 2019

ROBIN BULLOCK

"Uncanny ability to combine precision, virtuosity and soul…his reputation as one of the best folk instrumentalists in the business is well-deserved. "

"Celtic guitar god"

Concert - $15 online advance / $18 door
Dinner - 6pm, Showtime - 8pm
Robin has been named one of the "100 Greatest Acoustic Guitarists" by DigitalDreamDoor.com, honored with Player's Choice and Editor's Pick awards from Acoustic Guitar Magazine, and hailed as a "Celtic guitar god" by Baltimore City Paper, "one of the best folk instrumentalists in the business" by Sing Out! Magazine and a "master" by Cashbox Magazine. He's toured internationally for many years as sideman with Grammy-winning folk legends Janis Ian and Tom Paxton (who says about Robin "his musicianship has always been world-class"), along the way releasing over twenty CDs of his own and performing solo in venues large and small. Robin is equally at home with the intimacy of house concerts and clubs, the joyous revelry of festivals and the magnificence of such venues as Washington DC's Kennedy Center and London's Queen Elizabeth Hall
His virtuosity on guitar, cittern and mandolin blends the ancient melodies of the Celtic lands, their vigorous American descendants, and the masterworks of the Baroque and Renaissance eras into one powerful musical vision. The 17th-century harp tunes of legendary Irish bard Turlough O'Carolan, the spirited jigs and reels of rural Ireland, the haunting ballads of the southern Appalachians and the timeless compositions of Bach, Dowland and Francesco da Milano all find a musical common ground in Robin's music, where lightning-fast fingerwork one moment is perfectly balanced with tender, quiet intimacy the next. A warm, friendly presence onstage, Robin effortlessly creates a magical world for the audience with his multi-instrumental wizardry, taking them on an unforgettable journey into the deep heart's core and through the music of the spheres.
Saturday, November 9, 2019

BILLY KEMP

"About Billy Kemp, I think he his quite good. He reminds me of some Austin type songwriters; also a cross between Leroy Preston and Loudon Wainwright both excellent writers. He's better than 90% of the music I receive."
- Roseanne Cash

Concert - $15 online advance / $18 door
Dinner - 6pm, Showtime - 8pm
A Baltimore native and Tennessee resident, Billy Kemp is a musician, songwriter, singer, composer and producer. He is a multi-instrumentalist but is best known for his tasteful and inventive guitar playing. He performs passionate home made songs and compositions, mostly roots music.
Billy first made points in his hometown by forming the Paradise Pickers, a hybrid of country and rock which released one record in 1980. During the '80s, Billy followed his heart and went to Nashville. While based in Music City, he toured internationally with Tommy Overstreet, Terri Gibbs and Bandana. In town, he performed on the Grand Ole Opry with Jeanne Pruett.
Billy returned to Maryland in 1988 and released one album with the reformed Paradise Rockers before landing the spot as lead guitarist for renegade rock-n-roller Tommy Conwell and the Young Rumblers living the rock-star lifestyle. He composed and recorded music for Maryland Public Television and produced numerous CDs for regional artists in the Baltimore/DC area.
He also recorded and released two CDs on his own label, Willbilly Records. In 2000 Billy formed a new roots-rock ensemble, Willbilly—his nickname in high school because of his love for country, folk and blues music. He also expanded his role as a producer and studio-owner, establishing a successful recording facility in rural Maryland.
From 2006-2016 Kemp wrote, recorded and performed with the critically acclaimed, Appalachian Folk duo, Jeni & Billy.
Billy released a new solo CD, Another Life in August of 2017.
In 2018, Billy released The Painter's Bucket, a collection of previously released and unreleased songs from 1983-2018.
His concerts include songs from his latest releases, as well as selections from a rich and extensive back-catalogue. From Lone Star country to urban shuffles and Appalachian waltzes, Billy remains a songwriter with a love of story.
Friday, November 15, 2019

SIRENS IN THE ROUND
An Evening of Soulful, Searing Song

Lizanne Knott, Lili Anel and Ketherine Rondeau are three of our all-time favorite singer-songwriters. What a joy to have all three together for a night of beautiful music, heartfelt stories and pure fun

Concert - $15 online advance / $18 door
Dinner - 6pm, Showtime - 8pm
Acclaimed singer-songwriters Lizanne Knott, Lili Anel, and Katherine Rondeau are coming together for Sirens in the Round, an intimate evening of soulful, searing, personal songs and stories.

Lizanne Knott is a multi-award-winning singer-songwriter from Northwestern Pennsylvania. In 2018 Lizanne was nominated as a Reader's Choice recipient by No Depression. A true world traveler, she has put her musical stamp not only in Philly, but in Nashville, TN and throughout the UK as well through her work on the Proper Music label. A voice as capable of beautiful clarity as it is of conveying whispering sensuality. Filling the grand old hall throughout, it raises hairs and spirits alike. (Belfast Telegraph, Queens Hall, IRL)
www.lizanneknott.com

Lili Anel considers music a calling. The guitarist, singer-songwriter grew up in New York City where she discovered her passion for music and began her journey. Defying categorization she calls her music a hybrid of "jazz/folk/soul/pop" combined with a powerfully unique vocal style bringing her to the forefront. In 2018 Lili was a PEW Center for Arts and Heritage Fellowship Nominee. A uniquely gifted artist that is raw, ethereal and incredibly real. Lili sounds like no one but herself, a rare gift in an industry of clones. (Brent Black/Not Just Jazz)
www.lilianel.com

Katherine Rondeau is a full-throttle singer-songwriter who focuses her passion for classic folk music through a thoroughly modern lens, Katherine's strong, soulful voice rings out like a bell on a clear summer's night. Her music really shines on stage – her roots-inspired songs and engaging style have made her a festival favorite. A 2018 Falcon Ridge Emerging Artist, Katherine's smooth, rich alto, and outstanding songwriting captivates the audience wherever she goes. (Wanda Fischer, WAMC-FM)
Saturday, November 16, 2019

JON DEE GRAHAM
with Ben De La Cour

"What I learned pretty early on was the stuff that moved me was simple. Not in the sense of the obvious but in the sense that the fewer moving parts a machine has, the less likely it is to break or to do something that's not its job. … There's so much to be said for letting the listener's imagination do what it's there for."

Concert - $15 online advance / $18 door
Dinner - 6pm, Showtime - 8pm
Jon Dee Graham is a guitarist and songwriter from Austin, Texas. A former member of the True Believers with Alejandro Escovedo, Graham is the only musician ever to be inducted into the Austin Music Hall of Fame three times.
Jon Dee Graham is most well known for his solo work, including the critically acclaimed records "Escape from Monster Island", "Hooray For The Moon", and "Full". He is also well known for his tenure in The Skunks, Austin's very first punk band, and roots-rock pioneers The True Believers with Alejandro Escovedo. Jon Dee has also played guitar with acts such as John Doe (X, The Knitters), Exene Cervenka (X), Michelle Shocked, Alejandro Escovedo, Kelly Willis, and The Gourds and has had his songs covered by many artists, including Patty Smythe, Patty Griffin and James McMurtry.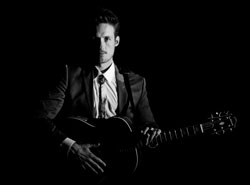 What happens when the unstoppable force of our dreams meets the immovable object of reality? It's unclear… but Ben de la Cour is hell-bent on finding out.
Raised in Brooklyn, Ben de la Cour was playing New York City dive bars with his brother a full decade before he could legally drink. A high-school dropout and former amateur boxer, he received his education by listening to his parent's record collection – full of everything from Bob Dylan and The Everly Brothers to Black Sabbath and Lynyrd Skynyrd. At the tender age of nineteen he spent a year in Havana training with members of the Cuban national boxing team before moving to London with his brother to revive their doom metal band, Dead Man's Root. They lived in a van and toured around Europe until 2008 when de la Cour returned to the states with a head full of softer, bruised, but no less intense acoustic songs.
"Ben de la Cour writes rich and uncompromising narratives of lyrical fierceness and rough beauty."
– MAVERICK MAGAZINE
"Plaintive story-songs showcasing affecting, plainspoken vocals and narrative lyricism."
– AMERICAN SONGWRITER
"Who takes the pulse of middle America? Ben de la Cour does, a songwriter who with punk rock tenacity vividly expresses the state of a nation on the brink and losing hope in its future, of a people grasping at straws."
– MAKING A SCENE
"Ben de la Cour has a 12-round heart – his songs are so alive they scare me."
– JON DEE GRAHAM
Friday, November 22, 2019

STEVE KATZ


An intimate evening of stories and song with Steve Katz, one of the seminal figures in modern rock and blues music, founding member of Blood, Sweat and Tears and the Blues Project, musician, author and producer.

Concert - $20 online advance / $25 door
Dinner - 6pm, Showtime - 8pm
Steve Katz's professional career started in the late fifties on a local Schenectady, New York television program called Teenage Barn. Accompanied by piano, Steve would sing such hits of the day as "Tammy" and "April Love". At 15, Steve studied guitar with Dave Van Ronk and Reverend Gary Davis. It was at this time that he met and befriended guitarist Stefan Grossman. Steve & Stefan would sometimes act as road managers for Reverend Davis and, in so doing, met many of the great "rediscovered" blues men of an earlier era, like Son House, Skip James and Mississippi John Hurt.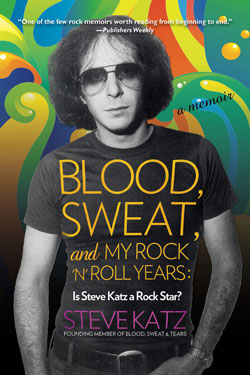 There were many other young musicians and potential college dropouts around Greenwich Village during this time who were as obsessed with American roots music as Steve, whether it be bluegrass or blues. Many would look for a common ground in which to play music together and some, including Steve, Stefan, Maria Muldaur, John Sebastian and David Grisman found the common denominator in jug band music – the music of Cannon's Jug Stompers and The Memphis Jug Band. They and some other friends formed the Even Dozen Jug Band and were courted by Elektra Records for whom they recorded an album in 1964. Dwarfed by some of the finest young guitarists of the time, Steve opted to play washboard in the band. He would later use the same tactic of avoiding tough chords by mastering the harmonica.
After a brief sabbatical from college, Steve, while teaching guitar in Greenwich Village, was asked to audition for the Danny Kalb Quartet as a two-week substitute for the vacationing Artie Traum. Frightened by the power of the sound of an electric guitar and amp, Steve turned his volume to zero, thereby making no discernible mistakes. He got the job. Artie never came back, Al Kooper joined, and they had the Blues Project, a foray of young white middle-class musicians into the amplified world of Chicago blues. But they worked out of New York, and it was the mid-sixties, so the Blues Project experimented, dabbled in their own style and gave Steve an opportunity to showcase his own songs, as did Al and Danny. The Blues Project recorded three albums while together in their first incarnation. "Steve's Song", on the Projections album was the first original song that Steve had recorded.
The Blues Project, after two glorious years as house band at the Cafe Au Go Go and Murray the K's last "submarine race-watching" spectacular at the the RKO 58th Street theater in New York, decided to break up, playing the Monterey Pop Festival as their last major gig. The Blues Project's lasting contribution during its short life was to open the airwaves of radio to more album-oriented Rock. All attempts at singles failed but, like the consciousness of the era, people looked for alternatives in fashion, politics, lifestyles and musical tastes. The Blues Project gave people an alternative and, at the same time, made people aware of music that they might never have otherwise heard.
After the demise of the Blues Project, Steve, Al Kooper, Bobby Colomby and Jim Fielder decided to work up a set, mainly of Al's new songs, for a benefit concert whereby enough money would be raised to send Al to London where he wanted to live. Joined by Fred Lipsius on alto sax, the concert raised enough money for Al to get a cab to the airport. There was no choice but to start another band. Influenced by the Electric Flag and an album by the Buckinghams entitled Time and Charges, a horn section was utilized with rock arrangements that were a touch more sophisticated than most horn arrangements in rock up to that time. Thus, the formation of Blood, Sweat & Tears, a Columbia Records contract, and the album Child is Father to the Man. Recorded and mixed in only two weeks, the album sold moderately well but was a huge critical success. Steve sang one original song ("Megan's Gypsy Eyes") and a song by his friend, the late Tim Buckley.
Al left Blood, Sweat & Tears after only six months and while they were reorganizing, Steve wrote record reviews for Eye Magazine, a Cosmopolitan spin-off. Getting the record company to continue with the band without Kooper was difficult. Auditions were held and David Clayton-Thomas was hired as lead singer. Columbia reluctantly agreed to go ahead with a new album. That album sold six million copies worldwide and fostered three number one singles, a major feat for 1969. Steve continued with Blood, Sweat & Tears for six years, during which time the group received a large number of accolades. They won three Grammies, were voted best band by the Playboy Jazz and Pop Poll two years in a row, and won three major Downbeat awards, to name a few. Steve wrote many songs during his tenure with BS&T, including his well-loved "Sometimes in Winter".
In 1972 Steve met Lou Reed and they quickly became friends. After the commercial failure of Lou's album Berlin, Steve was asked to produce his next record. Steve jumped at the opportunity to start a new career and produced Rock & Roll Animal and Sally Can't Dance for Lou. After a number of productions during this period, including the wonderful Nightlights by Elliott Murphy, Steve wanted to return again to playing music.
Although American Flyer was not a performing band, it gave Steve another creative outlet in which to work and talented people to work with. Steve was joined by the prolific writer Eric Kaz, Craig Fuller from Pure Prairie League, and Doug Yule from The Velvet Underground. The first of their two albums was produced by George Martin who was interrogated constantly by Steve about his production techniques with The Beatles.
Steve was offered an opportunity to get closer to the business of music in 1977 with his appointment as East Coast Director of A&R and later as Vice President of Mercury Records. The highlight of the three years that Steve spent at Mercury was his being able to produce the great Irish group Horslips. Rather than sit in his office listening to 12-minute conga solos on disco demo tapes, Steve opted to spend a good deal of time in Ireland during this period and produced three albums for the group. As a New York A&R executive in Dublin, Steve had also passed on a young group by the name of U2, a decision that Steve would regret for the rest of his life.
It was during his visits to Ireland that Steve became enamored with all things Irish, especially the traditional music and Irish literature. Horslips had originally been an acoustic band that sang some of their songs in Gaelic, and the band members made Steve aware of great Irish traditional music. This awareness turned into obsession and in 1987, Steve became Managing Director of Green Linnet Records, the foremost record label of traditional Irish music in America. Steve stayed on at Green Linnet for five years, during which time he married his one true love, Alison Palmer, a ceramic artist.
As time passed, Alison's craft achieved popularity and recognition. Alison and Steve soon found that they had a thriving small business. Steve recently released his first solo album, The Juggle. He still performs, does book talks, is a professional photographer, and has produced a memoir, published by Lyons Press. Steve and Alison live in Kent, Connecticut with their African Grey Parrots, TuTu and KuKu, their two dogs, Paco and Frankie, and the remains of their guinea pig, Sid.
http://stevekatzmusic.wordpress.com/
http://www.huffingtonpost.com/steven-rosen/steve-katz_b_7421934.html
Friday, November 29, 2019

THE COAL CAVE HOLLOW BOYS


"Best bluegrass I have heard in a long time! Can't wait to hear them again."

"Best band I've ever heard by far!"

Concert - $15 online advance / $18 door
Dinner - 6pm, Showtime - 8pm
The Coal Cave Hollow Boys, based out of Columbus, Ohio, are known as a bluegrass band, yet they masterfully weave rock and classic country into their sound. They bring their high energy onslaught of flat picking guitar, mandolin chopping, banjo frenzied, bass filled sound to every show. 
In 2017, Lincoln Mash, lead singer and guitarist, teamed up with experienced regional musicians, Thomas Adams (mandolin) and Pete Mendenhall (bass), to establish the TCCHB. Mash started playing guitar at the age of 7 and his fast and flawless guitar picking will bring applause from any crowd. His vocals carry sounds seasoned beyond his years.
TCCHB have shared the stage with notable bands such as Billy Strings, Reverend Payton's Big Damn Band, Restless Leg String Band, and Town Mountain
---
YOU SAID IT...
"BY FAR the best live music venue on the East Coast"
"We just bought a house in Lansdowne to be closer to Jamey's"
"Truly the very coolest venue for live music ANYWHERE"
The Lightyears: "Jamey's House of Music is in our top 3 all time venues to play along side The 02 Arena & Marquee Club, London"
"Jamey Reilly couldn't possibly have created a finer oasis for musicians to perform. It's really a gem. SERIOUSLY! Everybody try and get a date there!!! (Just leave some room for us because we're definitely going back!!!)"
"Last night we debuted at Jamey Reilly's Jamey's House of Music. Jamey has outdone himself. He has an incredible backline, and the sound, which he engineers is exquisite. Working with Jamey helps make performing seamless. He knows what he is doing and is an excellent communicator. He is also a musician, which helps a great deal (the man has ears). The food at this venue is incredible. The flavor-I can't begin to find the words to express how excellent it is. If you have not been to Jamey's House of Music, get down there, catch a show. Get there early and enjoy the amazing cuisine. It will blow your mind."
"This small room is by far the best sounding music venue I've ever experienced. It's a truly exceptional labor of love..."
"THE place to Jam!!! Jamey is the man, the myth, the legend. Great equipment & exceptional drum set."
"We've played every kind of venue imaginable on several world tours, and I have to tell you that this is probably the best venue we have ever played. It's simply brilliant. Thank you for everything done to perfection."
"I tell everyone about Jamey and Jamey's House of Music. Everyone in Nashville knows about this place. I play some of the best rooms in the world, like the Bluebird, Douglas Corner, Third and Lindsley, places with great sound systems, and nothing beats the sound in this room. ...This is my favorite place to play in the whole world."
"The sound is absolutely perfect. I could hear every note of every instrument. Just incredible."
I'm a "venue snob" and this place is AWESOME ! Cozy, intimate, acoustically A+, comfy seating, bathroom is spotless, people are warm & friendly ... can't wait to return !
"Best. Venue. Ever."
"... a dream performance space. Perfect acoustics, top quality production values, a visually lovely setting, and an overall aesthetic ambience that, like a tea ceremony, lifts every gesture to it's highest level. It's perfection, both for the audience and the performers."
"Totally going again soon! A++++++!!!"
"I can't even explain how delicious everything was."
"One word. ..incredible!"
"Awesome food..."

---
Jamey's House of Music Tee Shirts Are Now Available!
High quality, black, all cotton Champion tagless shirts with 5 color silk screen
in sizes S to XXL. Only $20!
We happily accept cash, and these major charge cards

---
JAMEY'S HOUSE OF MUSIC
Livehouse and BYOB Cafe
32 S. Lansdowne Ave. Lansdowne PA 19050
Call or text - 215.477.9985 • Fax - 215-879-1457
jamey@jameyshouseofmusic.com